Russians bankrupt Santa Claus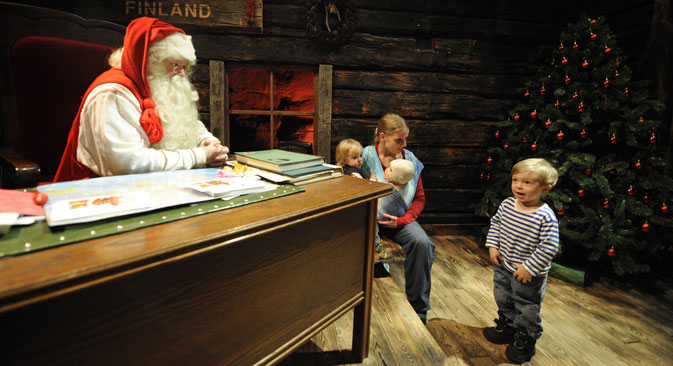 Santa Claus listens to childrens' wish lists', in his "office" in Rovaniemi, Finland. Source: AFP / East News
The Santa Claus office in Finland is broke - and Russians are to blame.
The Santa Claus Village in northern Finland has declared bankruptcy due to its inability to pay taxes amounting to 200,000 euros ($223,000).
According to Reuters, Santa's sad financial condition is related to a drastic reduction of tourists from Russia, who were his most frequent guests. There has also been a reduction of tourists from Greece, Spain, Italy and Portugal.
"First there were less tourists from Greece, then Spain," complains Yarmo Kariniemi, managing director of the Santa Claus village in the Finnish town of Rovaniemi, in the province of Lapland. "That was followed by fewer Italians, Portuguese and finally Russians."
The management of the theme park says that it still has another week to settle the fiscal issue and hopes that it will be able to avoid closing the Santa Claus residence. Kariniemi remarks that half of the amount owed has already been collected.
Last year almost 300,000 tourists visited Santa Claus's office. After the reduction of Russian tourists, the Japanese have become the residence's most frequent guests.
All rights reserved by Rossiyskaya Gazeta.