'It's all guesswork': Russian entrepreneurs on the falling ruble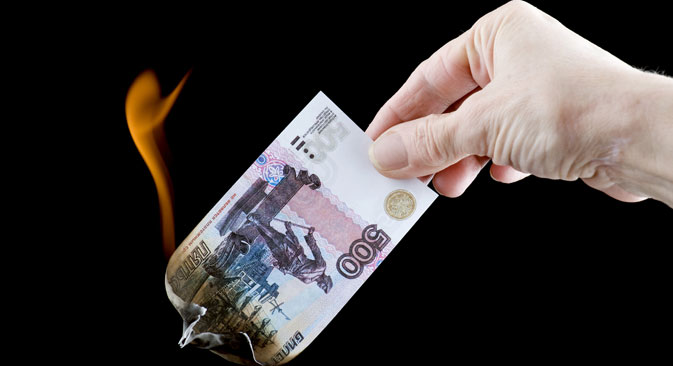 Amid turmoil on global financial markets, the Russian ruble fell to a historic low against the U.S. dollar on Aug. 24, while the key stock market index, the RTS, dropped 6 percent. Source: Shutterstock
As the Russian ruble hit another record low on Aug. 24, the heads of several major Russian companies spoke about what the devaluation means for their activities
Alexander Borisov, CEO, Polysan Scientific and Technological Pharmaceutical Company
We are somewhat nervous about our future. We have to import some raw materials and equipment, so we depend heavily on currency fluctuations. Under current conditions, our ruble profits are shrinking. We can't count on major investments, so, for example, we are not able to start expanding our production plant. I think this situation of uncertainty will last until the end of the year.
Denis Fyodorov, CEO, Gazprom Energoholding LLC
We are going to see how the situation plays out, wait for the government to take some steps. This pertains particularly to our service contracts, which envisage all payments in euros. About a month and a half ago we started working out various strategies for our company. But we have recently tightened our belts so much that any further attempts to do so threatens our reliability. So it is all about the state now, it has to assume at least some of the responsibility.
Roman Trotsenko, board chairman, AEON Corporation (investment group engaged in multiple industries and operating in Russia, Germany, the Netherlands, Ukraine and Kazakhstan)
Over the next six months we will see the ruble fluctuate within the range of 60 to 80 rubles against the U.S. dollar. A weak ruble is not really a problem, it is rather these constant fluctuations that cause inconvenience: Companies have trouble planning their actions because of such volatility. However, it is in fact a plus for the economy, as the situation allows an entire sector, namely the manufacturing industry, to become more competitive. But this will take time. As for us, we have little debt, and it is mostly ruble debt. We prefer to think of ourselves as a company operating in Russia and in rubles.
Maxim Tadevosyan, deputy director, Rambler&Co
Our main task is to develop an efficient business model regardless of what is happening on the market. The instability will eventually be done with, and we have reserves to survive it and move on. We keep our eyes on the big picture – for instance, we are not cutting our investment projects back, although these will only start paying off in three to five years. We stick to the strategy we have previously chosen. We are not making any forecasts for the end of the year. As for now, we see that the display advertising generates more revenue in the second half of the year than in the first. There is, however, a risk in that if the current currency situation does not change, the revenues coming from large car industry and real estate companies will be reduced.
Andrey Ryabinsky, majority shareholder in the MITs property development company
Most of the major enterprises determined their priorities and financial strategies in the past year, and we are no exception. MITs is a large developer, and we make affordable housing. Thanks to a stable demand and the housing subsidies, our market remains stable. The costs of construction and the solvency of the population is another issue. Such drastic and prolonged changes in currency exchange rates force the developers to raise prices, one way or another.
Alexander Korsik, president, Bashneft
[Talking about oil prices] is guesswork, there is no simple answer here. We made provisions for some measures back when we were planning for this year, and we are sticking to this plan. Some of our projects – like the exploration and acquisition of new assets - can be canceled or postponed, if need be, while some of them will be completed no matter what. During the first half of the year, we abandoned several projects (we have postponed some exploration missions until next year, for instance), but in the second half, right before [the oil prices] began falling again, we relaxed a little bit. However, we can stop financing some projects at any time.
First published in Russian in RBC Daily
All rights reserved by Rossiyskaya Gazeta.