Russian pension funds invest $2.7 billion in infrastructure projects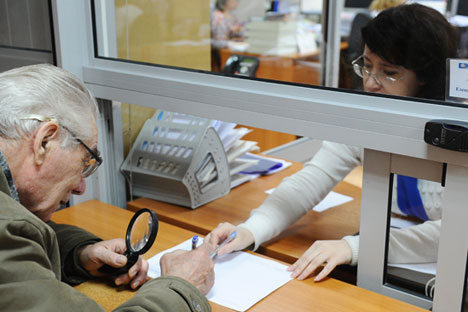 An old man fills in a document at an office of Russia's Pension Fund in Ryazan. Source: Alexander Ryumin/TASS
Russian authorities have gone ahead with plans to invest retirement assets into infrastructure projects: Non-state pension funds have invested almost $2.7 billion in non-financial sector companies, including those in the energy and construction industries. However, experts disagree on the wisdom of the move.
Following a pension reform finalized earlier this year, Russian authorities are pushing ahead with controversial plans to use retirement pools to finance long-term infrastructure projects, including road construction and oil and gas field development.
In the second quarter of 2015, non-state pension funds made major investments in non-financial sector companies, spending almost 190 billion rubles ($2.7 billion) or 11 percent of their total assets, Russia's Ministry of Finance said in a recent report.
According to the ministry, retirement assets totaled 3.6 trillion rubles ($50.8 billion) as of July 1, 2015, with private pension managers wielding 1.7 trillion rubles ($24 billion). The rest of the assets are managed by Vnesheconombank, Russia's state-owned development corporation.
Investing in infrastructure
As the report by the Ministry of Finance shows, non-state pension funds used most of the invested assets – 128.8 billion rubles ($1.8 billion) – to buy bonds issued by non-financial sector companies.
A total of 25 billion rubles ($353 million) was invested in bonds from the Bashneft oil company and 22 billion rubles ($310.6 million) was spent on RZD (Russian Railways) bonds, while 11 billion rubles ($155 million) went on bonds issued by Rosseti, Russia's largest energy company, and 2 billion rubles ($28 million) was invested in bonds issued by the Sistema investment holding.
Each of these companies possess approved investment programs which involve the development of new oil and gas fields, infrastructure modernization and more.
Another 15.5 billion rubles ($218.8 million) of retirement assets has been invested in the construction of a new highway linking Moscow and St. Petersburg.
The remaining 60 billion rubles ($847 million) was used to finance housing projects, which included buying the bonds of Russia's Agency for Housing Mortgage Lending (a state-owned entity similar to Fannie Mae and Freddie Mac).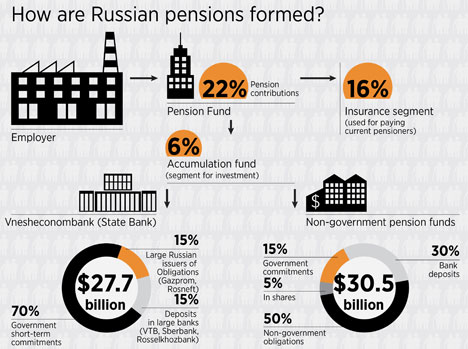 Click to enlarge the infographics
"Most of the savings invested by pension funds were used to buy bonds from Russian companies that are implementing infrastructure projects," said Semyon Nemtsov, an analyst at the Russ-Invest investment company.
According to Nemtsov, retirement assets could serve as a great way to develop the economy, given Russia's difficult financial situation and the inability of the country's biggest companies to borrow abroad due to Western sanctions imposed over Moscow's role in the Ukraine conflict.
A controversial step
The Russian government decided to use retirement pools to finance long-term investment projects back in April 2015, after a briefing with Prime Minister Dmitry Medvedev.
Russian ministers responsible for social affairs (the so-called "social bloc" led by Deputy Prime Minister Olga Golodets) spoke out against the initiative, pointing out that Russia's pension funds did not have any experience of investing in non-financial sector. Nevertheless, the government has eventually taken the controversial step.
"Pension funds financing infrastructure projects is mostly a good thing, and it corresponds to the reasoning behind the recent implementation of a defined contribution element in the pension system of Russia: We are talking about longer term money here, and it should work for the economy," said Ilya Balakirev, chief analyst at investment company UFS.
However, some experts, such as Georgy Vashchenko, head of Russian stock market operations at the Freedom Finance investment company, disagree.
"We do need to support the non-financial sector, but financing yet another series of 'construction projects of the century' at the expense of future generations is not really a great idea at the moment," said Vashchenko.
Besides, he added, many of the projects that are being funded this way are aimed at supporting commodity exports, "which is quite risky, considering commodity prices are falling."
Vashchenko belives that, to make commodity exports profitable, Russia will have to restrain the growth of transport infrastructure maintenance costs, which means investing retirement assets in infrastructure projects will no longer provide steady positive returns.
All rights reserved by Rossiyskaya Gazeta.