First foreign fixed-price store on its way to Russia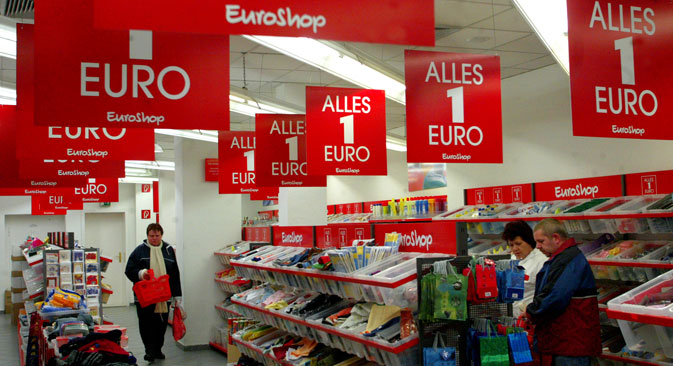 Euroshop operates 225 stores in Germany. Source: DPA / Vostok photo
DPA/Vostock-Photo
German chain Euroshop has plans to enter the Russian market.
The German fixed-price chain Euroshop is to enter the Russian market, the business daily RBK reports.
A Euroshop representative confirmed the report, noting that the company's stores will open in Russia "at the latest by 2016."
According to INFOLine-Analitika, foreign fixed-price chains were not represented in Russia until now.
Euroshop, which operates 225 stores in Germany, is one of the leading European fixed-price chains (all items cost €1, or $1.12). The range includes household goods, textiles, toys, stationery, as well as certain types of food (biscuits, chewing gum, candy and other products).
Popular concept
There will be few competitors for Euroshop in Russia. The country has so far only three fixed-price chain – Fix Price, Zaodno and Fan Price.
Fix Price sells all items for 45 rubles ($0.66), while Zaodno offers its customers a price spread between 39, 69 and 99 rubles, depending on the product category. Unlike its main competitor, Fan Price sells alcohol in its shops.
During the crisis, the fixed-price segment proved to be one of the most enduring.
According to the international consulting company Colliers International, the proportion of vacant properties in the shopping streets of Moscow increased from 8.5 to 11.8 percent in the first half of 2015.
However, the greatest number of requests for street-retail premises in the first half of the year came from low-price retailers; the company cited the fixed-price chains Fix Price and Zaodno as an example.
All rights reserved by Rossiyskaya Gazeta.