Gazprom finds new European clients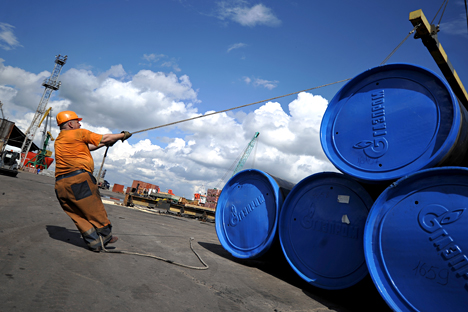 A worker on duty in the "Economiya" stevedoring sector of Arkhangelsk Sea Commercial Port. Source: Ramil Sitdikov/RIA Novosti
Ramil Sitdikov/RIA Novosti
Four-day gas auction gauged a success for Russian natural gas giant.
For the first time ever Gazprom has held an auction to sell gas.
The sale took place between September 7 and 10, resulting in securing deals for one billion of a total of 3.2 billion cubic meters due to be offered between October 2015 and March 2016.
Organizers, Gazprom Export, said deal prices were higher than average for long-term contracts in Central and Northern Europe and higher than the current spot prices at European hubs.
Gazprom made about 40 deals during the auction, with 15 contractors from 39 companies. Deals were mostly struck with medium-sized companies and traders without long-term contracts, according to a source quoted by business daily Kommersant.
Elena Burmistrova, head of Gazprom Export said that future auctions could be held "at other Western and Eastern European points of delivery."
Kommersant's sources said buying gas for transit through Ukraine could be of interest to European buyers if they could solve the challenges to transportation through the country.
All rights reserved by Rossiyskaya Gazeta.