Google accused of breaking Russian anti-monopoly laws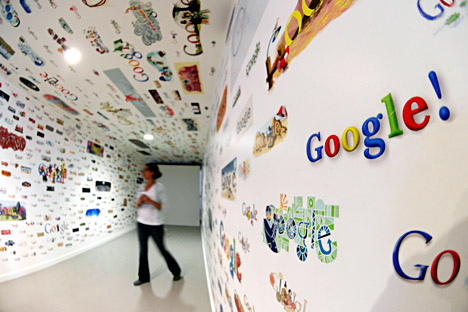 Russian regulator deems Google broke competition law. Source: Zuma\TASS
Zuma\TASS
The Russian Federal Antimonopoly Service has accused Google of violating the law on competition by only allowing access to its Google Play apps store on certain conditions that exclude rivals such as Russian internet giant Yandex.
Russia's Committee of the Federal Antimonopoly Service (FAS) has accused Google of violating the country's laws on competition, according to the director of FAS's information technology department, Vladimir Kudryantsev.
A decision and injunction to stop Google abusing its dominant market position is to be prepared within 10 working days and sent to the parties.
"We have determined that actions of Google Inc. and Google Ireland Limited violate Part 1, Article 10 of the On Competition Protection Law," explained Kudryantsev on Sept. 14.
"The violations occurred when contractors – producers of mobile devices destined for sale in Russia – were given the Google Play apps store only on certain conditions."
The conditions include the mandatory pre-installation along with Google Play of a series of Google applications, their positioning in priority locations on the screen, a mandatory installation of the Google search engine by default, and a ban on the pre-installation of applications from other companies.
Besides the above-mentioned conditions, there were also agreements on the producers being banned from pre-installing competitors' applications. In particular, there is a suspicion that Russian search engine giant Yandex was directly indicated in the agreements.
Yandex shut out by Google conditions
In February, based on a claim from Yandex, FAS initiated proceedings against Google for having violated the antimonopoly legislation by promoting Google Play, Google Maps and YouTube services for Android.
Yandex confirmed on many occasions that mobile device producers had refused to pre-install its services due to demands from its competitor. In particular, companies such as Fly, Explay, and Prestigio (which all work on the Android operating system) refused to collaborate with Yandex, citing Google's conditions.
Now Google is being threatened with a fine from 1 to 15 percent of its turnover on the market in 2014, the year in which the violation took place, according to FAS.
"This means the market of pre-installed apps stores," explained Kudryantsev, who said the case contains 200 volumes of documents and a large quantity of information consists of commercial secrets.
Restoration of competition
According to Liveinternet, in August 2015 Yandex's share in the Russian search engine market was 57 percent and Google's was 35.2 percent.
Analysts at Renaissance Capital note that Yandex's share in Android devices in the second quarter of 2015 decreased to 39 percent (it was 42 percent in January-March of the current year) and in the Chrome browser to 38 percent (45 percent a year ago).
The Google Russia press office refused to comment on the issue, saying that the company will "study FAS's decision when it receives it."
Yandex's press office told the Kommersant business daily that it would "welcome FAS's decision." "We are waiting for the injunction and the entire decision and believe that it will help restore competition on the market," said the Yandex spokesperson.
Too early to call
Despite the fact that the EU Commission has already begun a formal investigation of the same practices, Russia is the first jurisdiction that has officially recognized them as being anticompetitive, said the Yandex press office.
The world has seen successful precedents to such decisions: In 2009, after formal proceedings that involved Google, Opera and Mozilla, the EU obliged Microsoft to offer European customers a window for choosing browsers with the computer's first activation.
However, it is still too early to make conclusions about the affair. Anton Babenko, a partner at the Pavda and Epstein legal firm, says that FAS's decision may be challenged in a court of arbitration and it is not guaranteed that it will "stand" in court.
"Google's prospects will largely be determined by the volume of evidence provided by companies, as well as by technical inspections," said Babenko.
First published in Russian in Kommersant
All rights reserved by Rossiyskaya Gazeta.