Gazprom sells 1.23 billion cubic meters at first gas auction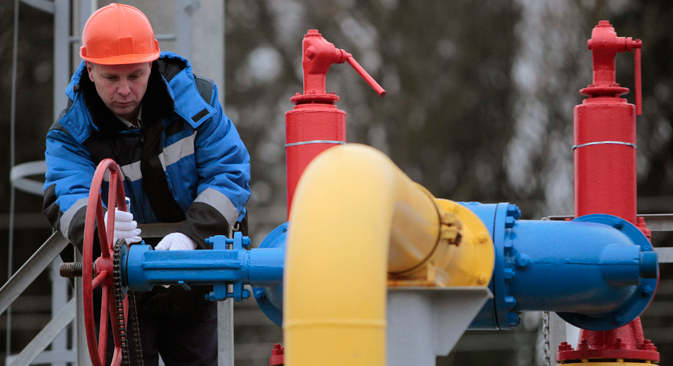 Gazprom made about 40 deals during the auction, with 15 contractors from 39 companies. Source: Reuters
Russia's energy behemoth Gazprom has sold around 1.23 billion cubic meters of gas at its first auction, for an average price of 203.2 euros per 1,000 cubic meters. While Gazprom hopes to sell 10 percent of export gas using this method only in several years, analysts believe this will only be possible in several years.
Russian gas giant Gazprom is hailing its first gas auction as a success, with the company selling approximately a third (1.23 billion cubic meters) of the 3.2 billion cubic meters of gas auctioned between Sept. 7 and 10, with six-month supplies starting on Oct. 1.
In the course of the auction about 40 deals were made with 15 contractors from 39 companies. According to the RBK newspaper, among the participants were E.ON, Engie, Eni, Total, RWE, BP, Novatek, and Goldman Sachs, as well as traders Gunvor, Glencore and Vitol.
Gazprom's press release says that the average price was 203.2 euros per 1,000 cubic meters and was higher than that of Gazprom Export for the upcoming winter period (October 2015 – March 2016), as well as that of the European gas hubs. Buyers purchased several lots, each of a small dimension.
Gazprom's price maneuver was successful and has brought it additional resources, while also helping the company avoid a situation in which selling gas at auctions would have resulted in a failure to select volumes according to existing long-term contracts.
Gazprom itself believes that the auction's results were positive and even counts on selling 10 percent of its export gas for the 2016-2017 heating season under the hammer. This announcement was made after the auction by the company's deputy chairman, Alexander Medvedev.
A tenth of Gazprom's export gas amounts to about 12 billion cubic meters and about three percent of the volume of the EU's gas market.
A new strategic approach
In general, analysts view Gazprom's experiment in a positive light, with Eugen Weinberg, a commodities expert at Commerzbank, describing the auction as "a long-awaited step from them towards a more transparent and competitive pricing." As Weinberg pointed out, over the last few years the whole pricing system has moved toward exchange-based prices.
"Prices on the spot market do not suit Gazprom. It intends to attract new buyers from the spot market or dealers," explained analyst from the oil and gas sector at Raiffeisen Andrei Polischuk.
According to Polischuk, such auctions are a part of the company's strategic approach, which takes into consideration the growth of the LNG share in Europe. With the restrictions on sellers introduced by the EU's Third Energy Package, Gazprom needs to increase its supplies to Europe.
Gazprom is now forced to maneuver in complicated conditions in which gas prices have fallen by almost 30 percent and is trying to raise export revenues at the expense of an increase of volumes sold.
At the beginning of September representative of Gazprom Export Valery Nemov told Bloomberg that this year the Russian energy giant wants to increase its export volumes to Europe and Turkey by seven percent in order to compensate the fall in prices.
Low gas prices keep Europe interested
EU countries that dream of freeing themselves from dependence on Russian gas are trying to replace it with LNG and are counting on Iranian gas in the long term. However, for now low prices on Russian gas and the insufficient technical possibilities of several EU countries to receive LNG are making Russian imports more attractive.
In August, Europe decreased its purchases of LNG for a third month in a row since buyers increased their volumes of fuel bought from Russia, writes Bloomberg, citing information provided by Genscape. The volume of imported LNG fell in August by 3.4 percent year-on-year, while Russian pipeline fuel supplies grew by about 20 percent, according to Gazprom.
Analysts, however, doubt that in the next heating season Gazprom will be able to sell 10 percent of its export volumes to Europe through auctions. Polischuk says that sales volumes will depend on the growth of demand for Russian gas, but in any case the figure of 10 percent is realistic only in 10-15 years. In his opinion, the 1.23 billion cubic meters of gas sold at the last auction is not a bad result in view of the higher price, if compared to long-term contracts.
All rights reserved by Rossiyskaya Gazeta.