Home comforts: Russians learn to love the staycation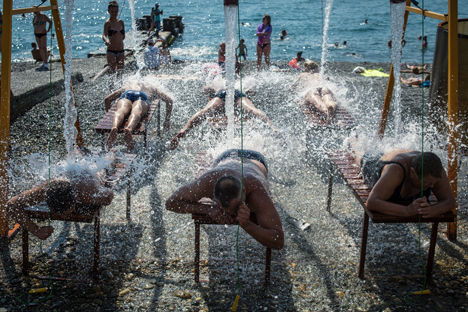 Holiday in the sun: tourists in the 
Black Sea resort 
of Adler, Russia. Source: Mikhail Mokrushin / RIA Novosti
Holiday trends: A fall in outbound tourism by almost 34 percent was the steepest for 20 years, according to the Russian Travel Industry Union. RBTH takes a closer look at the figures.
During the economic boom of President Putin's first two terms, which had long periods of double-digit growth, Russian visitors were a familiar sight in many parts of Europe. But some destinations were more popular than others.
For the Russian elite, London and the Côte D'Azur reigned supreme. The middle class preferred more affordable resorts in Spain and Turkey. Indeed, there's little doubt that the Russian surge compensated for diminished inter-European tourism after the financial crash.
Cannes has long been the playground of movie stars and royalty. But in the past decade, it wasn't the Aga Khan or Hollywood stars making waves, it was the nouveau riche of Moscow. In 2015, the local view is that the number of Russian visitors has nosedived spectacularly.
Russian-owned cars are less obvious, but Moscow-registered Toyota Land Cruisers and St. Petersburg Porsche Cayennes can still be found. A Mini Cooper with Archangelsk plates was parked on the Croisette earlier this month. But the number of "RU" vehicles now pales in comparison with their German and British counterparts.
Litmus test
The Russian shops in Cannes are perhaps the best barometer of the resort's popularity. The Russian store in the Californie district is so authentic that it could be mistaken for one in Krasnodar. Owner Marcel admits business is down. "I'd estimate by about 30 percent. The number of visitors has dropped hugely this year. However, there is a large permanent Russian population in Cannes, and they will always need this service," he says.
Marcel is also pretty sure where his missing clients have gone. "Sochi. They are mostly in Sochi. After all, this is what Putin wants," he says. "Maybe we will move there and open a French shop," his wife Tanya quips.
It's not just the prosperous south of France that's suffering: Russian trips to Turkey are down from two million to 1.4 million; visits to Germany have fallen by 30 percent; and Greek holidays have slumped by 54 percent. Even cheap Bulgaria has seen numbers drop by 36 percent. Further afield, in places such as Vietnam and Azerbaijan, there are reports of masses of empty hotel rooms formerly occupied by Russians. Turkey's figures are especially interesting. The 600,000 fall in Russian visitors has been partly offset by a 200,000 rise in Germans. This suggests that even wealthy Germans can't compensate for the loss of business from Turkey's giant Eurasian partner.
The big spenders
In Spain, a year-on-year decline in Russian visitors of 41 percent has been almost cancelled out by a 40 percent jump in Americans. Nevertheless, this does not compensate for a huge drop in spending. The average Russian spends $180 a day, twice the figure for the Americans. Some countries have tried to box clever. Egypt, which has had troubles of its own in recent years, has suggested allowing Russian tour operators to pay in roubles rather than dollars. Cairo's move to protect the lucrative Russian market has seen the country replace Turkey as the most popular with Russian visitors.
Italy, hit by a 31 percent fall in Russian visitors, is also fighting back. The Italian embassy in Moscow has launched a Russian-language website, called La Tua Italia (Your Italy), which informs prospective Russian tourists about Italian destinations. Parts of the site are dedicated to the Expo world fair in Milan and low-cost flights. There are also some discounts. But it all seems to be of little help; and some industry players are quite pessimistic.
"My average of Russian clients is still the same, but it is easy to recognise all over town that it is not the way it was in the past," Tuscan hotelier Salvatore Madonna told The Guardian. "Friends with shops and restaurants are talking about it. From what I have heard from the Italian government, there are almost 80 percent fewer Russian clients than there were."
"The decline in tourist traffic in Europe is even greater if we look at the data of the countries not in the European Union," says Russian Travel Industry Union (RTIU) spokeswoman Irina Tyurina. "In particular, the decline in Norway was 37 percent, Switzerland 28 percent, Montenegro 14.5 percent, and Serbia 11 percent."
Historic decline
The RTIU figures confirm the evidence, both anecdotal and official. The Russian travel industry has never seen such a sharp decline in business. Not even in 1998 when the country defaulted on foreign debts or in 2009, when the world economy collapsed. The falls in those years were 24 percent and 23 percent respectively. Mostly because of enduring visa restrictions, travel agencies remain popular in Russia. The Ryanair-style concept of DIY holidays has yet to catch on to any great extent so the current crisis threatens thousands of jobs.
Meanwhile, domestic Russian destinations report bumper years. Vladivostok and Sochi are welcoming people who once insisted on the beaches of Thailand and Marbella.
"People have begun to travel around their own country and found that it's not as scary as they thought", says Irina Schegolkova of the government agency Rostourism. At the same time, Crimea is enjoying a relatively busy summer, considering that the peninsula is in effect closed to its former markets in Ukraine and the EU. The "Golden Ring", historic sites route, that surrounds Moscow has also benefitted from the trend as patriotic Russians shun beaches for cultural tours.
Another problem for tour operators is that from Sept. 14 all Russians have to submit fingerprints before they can get Schengen visas. This will not help struggling European resorts either. And the Kremlin has told security officials not to travel abroad. The ruble crisis means that Russian spending power abroad has more or less halved. If western anti-Russian sanctions continue and global oil prices do not rise, it might be a long time before Russian tourist numbers return to pre-crisis levels.
All rights reserved by Rossiyskaya Gazeta.