Russia goes up in global competitiveness ranking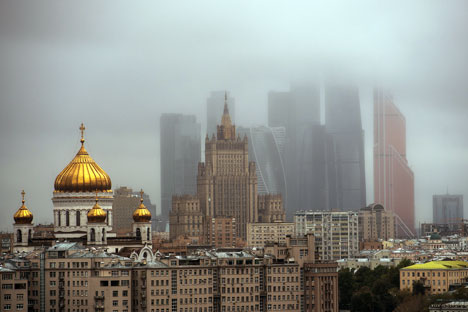 The size of the market, fairly stable macroeconomic indicators, the available human resources and basic infrastructure are still the strengths of Russia's competitiveness, say WEF experts. Source: Ramil Sitdikov / RIA Novosti
Russia has climbed eight places in the rating calculated by the World Economic Forum.
Russia has climbed to 45th place in the global competitiveness ranking, which is compiled annually by the World Economic Forum (WEF).
In last year's report, Russia was in 53rd position, behind Mauritius, the Philippines, Turkey and several other countries.
"The current growth of Russia is connected with changes in the methodology of assessment of the internal market, the improvement of factors related to the efficiency of markets for goods and services that have occurred due to the reduction of administrative barriers in some areas, and in part to the deterioration of the situation in other countries, previously ahead of Russia, for example, Turkey," Alexei Prazdnichnykh, the coordinator of the WEF's competitiveness program in Russia, told Rossiyskaya Gazeta.
The report also noted improvements in the regulation of business and domestic competition. In addition, after Russia's WTO accession in 2012, it has reduced import tariffs, which also has a positive effect, in terms of the WEF.
The size of the market, fairly stable macroeconomic indicators, the available human resources and basic infrastructure are still the strengths of Russia's competitiveness, say WEF experts.
However, according to Prazdnichnykh, opportunities for further progress by Russia in the Davos Forum's flagship ranking are threatening to run out due to Moscow's geopolitical confrontation with the West and low commodity prices.
Switzerland ranks as the world's most competitive country according to the WEF – for the seventh year in a row. Second place went to Singapore, while the United States was in third. The top five leaders also include Germany and the Netherlands. China remained in 28th position, as in last year's ranking.
Based on reports by Rossiyskaya Gazeta and RBK Daily.
All rights reserved by Rossiyskaya Gazeta.