Struggling Russian airline Transaero to be declared bankrupt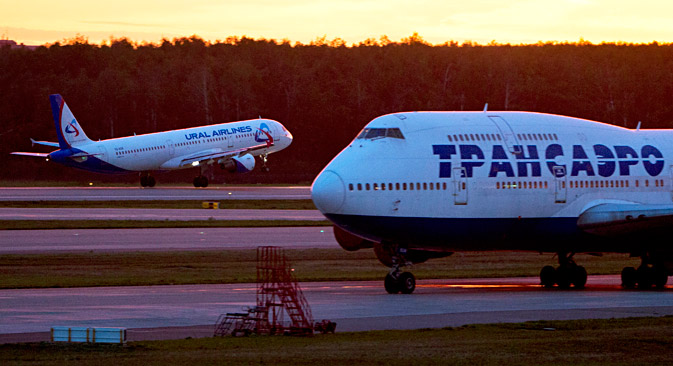 Russian experts say that bankruptcy for Transaero would be the worst possible outcome in the situation. Source: Sergei Bobylev / TASS
Instead of being sold to Aeroflot as earlier reported, Russia's debt-laden second-largest airline Transaero is to be declared bankrupt. Russian experts say the company's collapse will result in people across the country losing transport links.
Russia's second-largest airline Transaero, purchased by Aeroflot in early September for a nominal sum of 1 ruble, is on the brink of folding after government officials appear to have made the decision to file for bankruptcy for the debt-laden company.
The RBK news agency reports that the issue was discussed during a meeting headed by Russian Prime Minister Dmitry Medvedev on Oct. 1, 2015. The government has now banned Transaero from selling any further tickets.
According to Minister of Economic Development Alexei Ulyukayev, attempts to find other ways of resolving the situation concerning Transaero have been unsuccessful.
Shares in the company on the Moscow Stock Exchange fell by 38 percent in response to the statement. Russian experts say that bankruptcy for Transaero would be the worst possible outcome in the situation.
The main reasons
The controlling stake in Transaero was originally supposed to be given to Russia's largest airline, Aeroflot, with both companies' boards of directors approving the decision in early September. However, the deal was suspended.
The reasons could have been Transaero's "bad debts," which would be difficult for Aeroflot to restructure and pay back, says Emil Martirosyan, a professor at the Russian Presidential Academy of National Economy and Public Administration.
According to Martirosyan, Transaero's creditors include foreign institutions, which will seek to recover their loans according to international rules. In such a case bankruptcy and receivership are better because they will satisfy everyone, he said.
Dmitry Baranov, a leading expert at Finam Management, says that none of the company's creditors has filed a claim against the bankruptcy, even though Russian lenders Sberbank and Alpha Bank have already announced such plans.
"The company's bankruptcy will not benefit anyone, including its creditors, and many populated areas will not have good transportation accessibility," said Baranov.
The company's main owners, the Pleshakov family, have also said they are against bankruptcy, stating that they are ready to transfer their Transaero shares to a consortium of banks.
According to Anna Bazoyeva, an analyst at investment company UFS, there is still no unambiguous decision about Transaero, but the chances of Transaero declaring bankruptcy are high and the market is preparing precisely for this scenario.
Bazoyeva points out that both company bonds have fell by 40 percent and now have the value of default bonds – 42 and 33 percent of the nominal value.
The advantages and disadvantages of the bankruptcy
Bazoeva, like a number of other Russian experts, believes that Transaero's bankruptcy is a negative decision.
"This example will once again remind businesses that aggressive growth based on borrowed money is a road leading to nowhere," she said, adding that while financial institutes (banks and leasing companies) would be the main victims of the bankruptcy, it would also affect Transaero shareholders, mainly private individuals.
However, according to Georgy Vaschenko, Director of Operations on Russia's Capital Market at Freedom Finance, Aeroflot can go along with this decision if it is unable to agree with the creditors.
"With the help of the bankruptcy Aeroflot can free itself of expensive offices and parts of the old and useless airplanes," he said.
Transaero's overall debt is estimated at 260 billion rubles ($3.9 billion), of which 80 billion rubles ($1.2 billion) is owed to the banks. Currently, Aeroflot is carrying out the company's operations.
All rights reserved by Rossiyskaya Gazeta.