QS conference puts Nizhny Novgorod on 'world's educational map'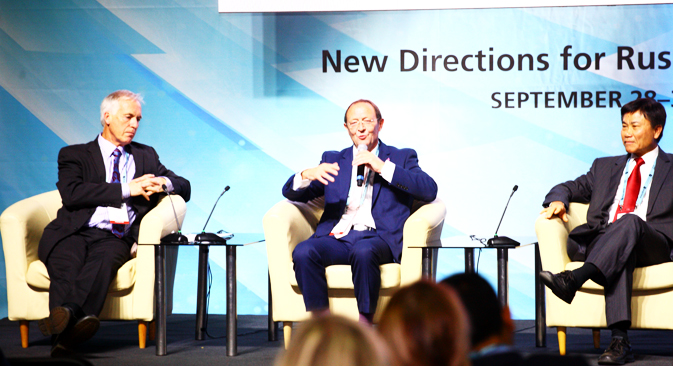 Lobachevsky University hosted the QS Worldwide conference and exhibition. Source: Press photo
In late September, Lobachevsky University in Nizhny Novgorod hosted the inaugural QS Worldwide conference and exhibition. The international conference was supported by Russia's Project 5-100, which aims to maximize the global competitiveness of the country's top universities.
More than 300 academics, deans, university presidents and chancellors from 32 countries and 118 institutions converged in the Russian city of Nizhny Novgorod for the inaugural QS Worldwide conference and exhibition in late September. The city's Lobachevsky University hosted the event.
The conference, which was held along with a seminar of Project 5-100 "put Nizhny Novgorod on the international education map, as it's not very well known," said Mandy Mok, managing director of QS Asia.
"This was the biggest event of this kind ever to be held in Russia," Dr Isak Froumin, academic supervisor of the Institute of Education of the Higher School of Economics, told RBTH. "This is a forum for universities that have a common desire to grow as world classuniversities. And since they need to learn from each other, the conference is also an opportunity to share experiences."
According to Timothy Schmidt, advisor to the Vice-Rector for Academic Affairs at Russia's National University of Science and Technology MISiS, the event's organizers "did a good job in selecting their speakers who are well informed and giving opinions on matters."
QS (Quacquarelli Symonds) annually publishes the QS World University Rankings. It publishes global overall and subject rankings, alongside independent regional tables for Asia, Latin America and the BRICS.
The Nizhny Novgorod conference had a noticeable presence from the BRICS countries. "It was great to start networking within the BRICS countries," Tshidiso Konese of the University of Johannesburg said. "It was an eye-opening experience for us."
World-class universities
According to Froumin, thanks to Project 5-100 and the efforts made by Russian universities, the latter managed to overcome the conservative constraints of the country's education system. At the moment, "you can find something innovative in almost every Russian higher education institution", said Froumin, noting that it is one of the criteria of world-class universities.
He added that Russia has "about ten to twenty universities that effectively set the creative momentum, and most of them are a part of the Project 5-100."
Julia Grinkevich, Director of Internationalization in the Higher School of Economics. Source: Press photo
A path to success
Professor Sibrandes Poppema, president of the University of Groningen, Netherlands, and one of the participants of the QS Worldwide conference, said any university willing to become one of the world's best must invest in young scientists.
"Send them abroad to do post doctorial studies for instance," Poppema said. "They will come back to Russia. And before they go, offer them a job already. So get young people at the faculty to learn what standards are in the world."
He added that this was the same approach Peter the Great had when he visited Holland. "Go to places where people are doing well. You need the youngsters to make the change," Poppema said. He called on universities to focus on a few particular disciplines.
A boon for Nizhny Novgorod
Evgeny Chuprunov, rector of Lobachevsky University said hosting the QS Worldwide was expensive and involved a lot of effort, but added, "all of it was worth the connections and experience we acquired there."
"From 1956 till 1991, Nizhny Novgorod was a closed city (it used to house several military production facilities and was inaccessible both to foreigners and most non-residents)," Chupronov added. "This meant that during all those years, no one could come to us and we couldn't go anywhere. After the city became open in 1991, the university began taking measures to become an international establishment."
Tshidiso Konese said the University of Johannesburg is already looking at establishing a partnership with Lobachevsky University.
All rights reserved by Rossiyskaya Gazeta.