Russians pay tribute to the 'Iron Lady'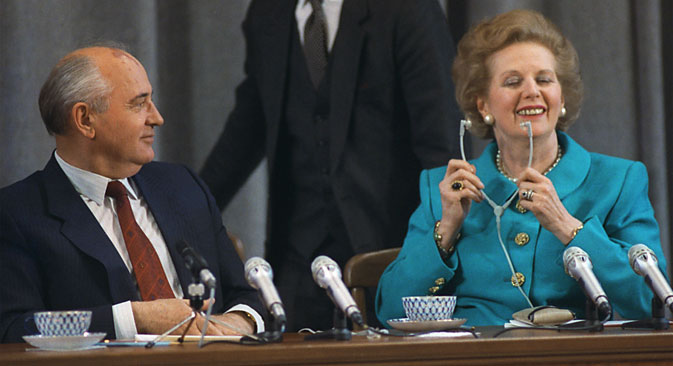 President of the USSR Mikhail Gorbachev and Prime Minister of Great Britain Margaret Thatcher hold the press-conference for Soviet and foreign journalists, 1990. Source: TASS / Vladimir Musaelyan; Valentin Kuzmin
A quarter of a century after she stood down as Prime Minister, Margaret Thatcher remains one of Russia's most respected British statesmen. On the 90th anniversary of the "Iron Lady's" birth RBTH draws together observations of Russian politicians and commentators who knew her.
Mikhail Gorbachev, Soviet and Russian statesman, first and last President of the USSR, on Thatcher as a politician:
Thatcher was a politician whose word carried lots of weight. Our first meeting in 1984 laid the foundation for relations that were sometimes complex, often uneven, but always serious and responsible on both sides. Gradually human relations were also built, which with time became friendlier. In the end we always manage to find a mutual understanding, and this was an important contribution to the change in the atmosphere between our country and the West, as well as to the end of the Cold War.
Margaret Thatcher was a strong-willed and persevering woman. She had an amiable attitude towards the Soviet Union and loved it when Moscow would send messages through her to the US. She really liked the role of the influential intermediary between two superpowers. She was insistent, had no mercy for subordinates and forced them to do whatever was necessary, in her opinion, to further UK interests and for the benefit of world policy. She never refused me an audience when I represented the USSR in the UK. There was one incident when Mikhail Gorbachev was flying from the US to Moscow and I was informed that he wanted to stop in London and meet Thatcher. I called her guards immediately so that they would tell her. In the end she hosted me early in the morning and I even intruded on her morning coffee.
In 1976 Margaret Thatcher announced that, "Russians are inclined to world domination." It was then that in one of my publications I called her the "Iron Lady." I associated two things with her: her inflexibility and the image of the "iron" German Chancellor Bismark. Later many competitors insisted they had created the nickname. [Another sources credit Captain Yuri Gavrilov, writing in Soviet newspaper Red Star in January 1976, with coining the term. Thatcher herself attributed it to the TASS news agency - RBTH]
I enjoyed watching how she squashed three leading Soviet political journalists. After the interview they did not appear on the TV for a long while. It was something that in the early period of Perestroika the whole country loved to watch.
Margaret Thatcher and I were good friends for a long time. I first met her in 1977, a month after my release from prison. Back then she was the leader of the opposition and became Prime Minister only in 1979. She was an amazing, exceptional person. I think she was the best British Prime Minister after Winston Churchill. Thanks to her England currently is in a better state than continental Europe. She defeated many elements of socialism, including the dictatorial powers of the trades unions.
Boris Nemtsov, the late Russian statesman, murdered in Moscow in February 2015, who was governor of Nizhny Novgorod region from 1991 to 1997, on Thatcher's visit to Nizhny Novgorod in 1994:
Thatcher entered a private cheese shop and tried a local, or Dutch or Poshekhonsky cheese, I don't remember, and said that it was better and cheaper than similar cheeses in London. In response, the crowd chanted, "Thatcher for Russian President!" She laughed and said, "Whenever Gorbachev comes to London the British also want him to become the UK's Prime Minister."