Flights between Russia and Ukraine to cease completely on Oct. 25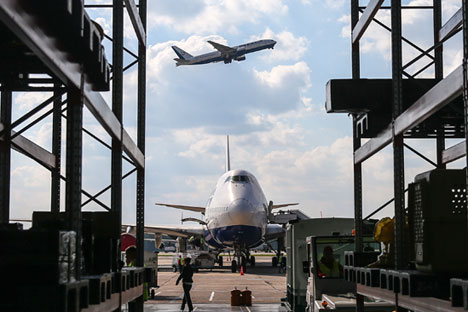 The Ukrainian Cabinet of Ministers ruled to ban Russian airlines from flying to Ukraine. Source: Sergei Bobylev/TASS
Sergei Bobylev / TASS
On Oct. 25 direct flights between Russia and Ukraine will come to an end, after Kiev imposed sanctions on Russian airlines and Moscow responded by banning Ukrainian flights to Russia.
Direct air communication between Russia and Ukraine will be terminated on Oct. 25, Russian Transportation Minister Maxim Sokolov has announced, adding that reciprocal flights between the two countries are ending on Ukraine's initiative.
"The Russian government's attempts to talk with its Ukrainian counterpart were not successful. Recently we received official notification that all Russian airlines will be prohibited from using Ukraine's airspace," said Sokolov.
He remarked that the decision is first and foremost a blow to Ukrainian citizens because 70 percent of the passengers on flights between the two countries were Ukrainian – statistics provided by Russia's Federal Air Transport Agency.
"Since the end of 2013 passenger flows between Russia and Ukraine have fallen significantly and in the first eight months of 2015 only 800,000 people flew between the countries, that is, 100,000 people per month. On October 25, if Ukraine does not change its decision, passenger flows will be zero. From our side we will look for transit opportunities via other countries."
Crimea flights the sticking point
"The decision to ban Russian airline flights to cities in Ukraine, as well as restricting transit, is linked to Kiev's grievances about the these airlines' flights to Crimea," said Oleg Panteleyev, director of the analytical service of the Aviaport Agency, who added that after Oct. 25 sanctions will be imposed on all Russian airlines.
"Ukraine's decision, however, has a political implication since it violates the Agreement on Air Communication Between Two Countries," he said.
As a response to Ukraine's sanctions, the Russian government has closed its airspace to Ukrainian planes, a response Panteleyev describes as "purely practical" and intended to protect Russian companies' commercial interests.
In an interview with RIA Novosti, Transportation Minister Maxim Sokolov noted that in September five Ukrainian airlines "were flying over Russian territory or declared that they were flying."
"The Russian aviation authority's reflex measures were taken in accordance with intergovernmental agreements on air communication," explained Panteleyev.
In his words, the sides had agreed to equal servicing of the routes connecting cities in Russia and Ukraine.
After the Ukrainian government banned Aeroflot and Transaero, Russia lost at least eight daily flights operated by these two companies alone. In response, by banning eight Ukrainian flights, Russia's aviation authority practically left Ukrainian companies without any opportunity to fly to Russia.
'Myopic decision'
"It can be supposed that the current conflict may evolve into a ban on direct air communication between the two countries," said analyst Sergei Ilyin, who added that "this is a myopic decision with an obvious political subtext, which will have a detrimental effect, mostly on Ukrainian and Russian passengers."
"Ukrainian airports will also lose several hundred thousand passengers, without being more precise, because a part of the passenger flows will move to connecting flights in other countries," said Panteleyev.
However, he believes that Russian airlines will suffer more since today they transport more passengers.
All rights reserved by Rossiyskaya Gazeta.