Russian eSports could bring billions of dollars to investors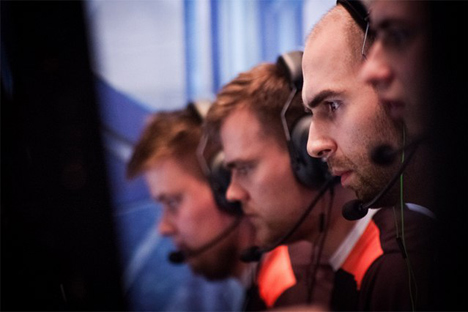 What is the future for the eSports in Russia?
Press photo
Billionaire businessman Alisher Usmanov is to pour $100 million into Russia's largest eSports club. The funds will be used to create new arenas and tournaments, among other things. Observers believe that the undervalued Russian market may bring investors billions of dollars in the future.
Russian eSports could be on its way to global success with the announcement that Russian oligarch Alisher Usmanov (#71 on Forbes' global billionaire list with a fortune of $14.4 billion), a co-owner of the Facebook social network and the Alibaba online store, will invest $100 million in Russia's main eSports club, Virtus.pro.
The world of eSports, in which participants take part in organized multiplayer video game competitions, has become a fast-growing industry over the last few years, with more and more official competitions springing up, allowing many players and teams to turn fully professional.
"The funds will be used primarily for projects with potentially high investment returns," Virtus.pro's marketing director Alexei Nazarov told RBTH, explaining that the investments are planned for a period from one to two years.
"It is the organization of new tournaments at the federal level, the development of media resources, the creation of a new information portal about eSports, the development of sports arenas," said Nazarov.
"With this investment, Virtus.pro becomes the world leader, as no other eSports organizations have such capital," said the Cyber.sports.ru project's producer Yaroslav Komkov, commenting on the deal. He noted that Virtus.pro is one of Russia's strongest eSports clubs.
How virtual games became a business
ESports is a relatively new phenomenon. Although the first competition – a StarCraft strategy tournament – took place in the late 1990s, these tournaments have started to draw massive audiences only in recent years. Most frequently, they are organized by computer game developers.
"ESports, popular among young people, are increasingly becoming part of the show, so we see it as a source of content that can be sold," said Alexei Nazarov. "The standard media monetization model works here – broadcasting, advertising, sponsors."
The sponsors of the tournaments are, as a rule, technology companies (manufacturers of gadgets, computers, keyboards, etc.), electronics manufacturers, and telecommunications companies. Sometimes, financial support is provided by conventional sports organizations. In Turkey, for example, the Besiktas sports club bought a key Turkish eSports team, becoming its main sponsor.
It is unknown how much is made on eSports in Russia. No one has yet attempted to calculate the revenues of tour organizers or media companies involved in broadcasting eSports events, said Nazarov
But in Yaroslav Komkov's opinion, there is no doubt that the eSports market is hugely undervalued. According to him, the future belongs to the organizations that can provide players with salary, promotion, support in the media and social networks.
"Usmanov is aiming for the future by buying an audience that is yet to be formed," he said. According to Nazarov, the eSports market in Russia will grow by 30-40 percent per year in the long term.
How strong is Russia in eSports?
According to Komkov, Russian eSports athletes have always been among the leaders in eSports: "They have won championships in Warcraft, CS 1.6 and many other disciplines, and are generally considered to be very talented in the world," he said.
Nowhere else in the world except South Korea is eSports is officially recognized as a sport. In Russia, there was an attempt to legitimize it in 2001 – it received an official status, but it was removed from the All-Russian Register of Sports in 2006 due to the inconsistency of its criteria. To get into the registry, the sport should be developed in more than half of the regions.
According to Komkov, Moscow and Kiev are the main eSports centers in Russia and the CIS. This is where two biggest gaming clubs are based – Russia's Virtus.pro and Ukraine's NAVI.
Meanwhile, another major Russian businessman – Usmanov's longtime partner Yury Milner – is also interested in the eSports market. In August 2015, he invested $26 million in Super Evil Megacorp – the company that developed the online strategy game Vainglory and created a venue of the same name for competitions of players from around the world.
All rights reserved by Rossiyskaya Gazeta.