St Petersburg to be on the 'Silk Road'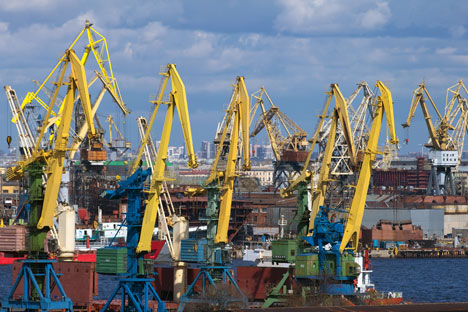 Saint Petersburg to Become the Part of Silk Road Project
Lori / Legion-Media
Saint Petersburg appears set to become part of the much discussed Silk Road Economic Belt. The city is keen to become a junction point of the Silk Road Economic Belt, according to city government representatives.
The concept of the Silk Road Economic Belt proposed by Chinese President Xi Jinping envisions one branch of the new trade artery leading from China through Central Asia to Russia, and on to Europe via the Baltic Sea. From this point of view, St. Petersburg is the most promising and vital point along this route, representatives of the city government noted.
Foundations for successful implementation of this project is ensured, first of all, by the favourable geographic location of the city, well-developed infrastructure, and the opportunities offered by this region for localization of foreign manufacturing plants.
Benefits for investors
Income Tax – 13.5%
Property tax – 0% for first 5 years
Establishing connections
Chinese companies are now the most active investors in the St. Petersburg market. They have realized the major investment projects involved in construction of the Baltic Pearl Multifunctional Complex, and are starting the construction of the Druzhba (Friendship) Exhibition Centre. Investments in each of these projects total around 34 billion rubles ($506.8 million). Chinese investors are also interested in participating in other important projects, like the construction of light rail streetcar lines, the creation of a special economic zone at Pulkovo Airport and the construction of a recreational theme park, among others.
City hall representatives of Russia's "northern capital," explained that the St. Petersburg railway junction is the main sorting centre, through which foreign freight traffic travels on its way to Finland, the Baltic States and the ports of the Baltic Sea. Several dozen ports operate in the city, which belong to the Big Port of St. Petersburg Company. Today, this company handles containers, cars, machinery, metal pipes, extra-heavy and oversized goods, wood, coal, grain, and other major cargo.
According to the St. Petersburg Administration, prospects for the "Silk Road" are also being created by the Bronk Transshipment Complex, now under construction. This complex will be the deepest port in the Baltic Region, and allow servicing of ocean-going vessels. There is also a project in the works on which the plan is to create a special economic zone, along the lines of the Bronk Port. Investors will get significant concessions on customs duties and taxes here.
Opportunities for Growth
Several clusters are currently being developed in the city; automotive, electronic, shipbuilding, pharmaceutical and medical industries, as well as an IT and engineering cluster. These clusters bring together leading manufacturing companies from each sector, producing products for domestic and export markets.
St. Petersburg has over 730 large and medium-sized enterprises involved in manufacturing, some of which are leading Russian companies in their sector.
Benefits for projects designated as being of "strategic" importance
Reduced rents – 1.5% of the cadastral value of the land parcel
Purchase price of land – 0.25% of the cadastral value
Establishing connections
A special St. Petersburg Centre for Import Substitution and Localization has been set up to stimulate development and expansion of enterprises, where business leaders can get guidance on financing, leasing, certification, insurance, and logistics of import-substituting products. The city also opened a front office "single window" for investors in August 2015, through which entrepreneurs can get necessary permits and consultancy for investments and projects.
St. Petersburg is also actively pursuing a policy of import substitution, and expanding the localization of foreign manufacturing enterprises in Russia. In July 2015, Russian pharmaceutical company Polysan and the Bayer group signed an agreement by which three Bayer drugs will be manufactured at a local pharma plant.
St. Petersburg traded with 189 countries between January and September 2015. Its top three traditional trading partners are China, Germany, and the Netherlands.
St. Petersburg is known as a major international business center.
Every year, St. Petersburg hosts the International Economic Forum – the largest economic event in the country.
In addition, in 2015, St. Petersburg was named "The Leading European Destination" and received a prize from the World Travel Awards.
In 2016, St. Petersburg is preparing to host matches of the Ice Hockey World Championship, and in 2018 – the FIFA World Cup.
All rights reserved by Rossiyskaya Gazeta.