Deputy Culture Minister: Tourism is way to promote Russia's cultural values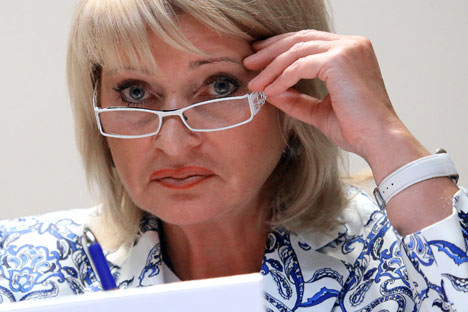 Alla Manilova.
Anton Novoderzhkin / TASS
Lately the Russian government has been actively attracting private investment in tourist projects. At the International Tourist Forum in St. Petersburg RBTH spoke with Deputy Culture Minister Alla Manilova about why culture is the principal force behind promoting tourism in Russia and which fields in tourism may be of interest to foreign investors.
RBTH: This year the Tourist Forum in Russia is taking place contemporaneously with the Cultural Forum. Can it be concluded that tourism in Russia is part of the overall cultural process?
Alla Manilova: It is logical that the tourist forum is being held simultaneously with the cultural forum since cultural resources are the main instrument for promoting tourism in Russia, just like in many other European countries, such as France or Italy. Cultural resources are the main factor that transforms a country into a powerful tourist destination, while tourism is the best instrument inside and outside of Russia to promote our cultural values.
It is not by chance that in Russia a regional culture minister is often also the tourism minister. This synergy is an initiative by the regional authorities. People from abroad come to Russia for concrete events but also because they want to see the country. Before, we used to hold thematic forums related to a certain cultural-educational agenda. Now we have departed from the thematic format and decided to dedicate the entire forum to the various activities in tourism. We have invited large delegations from all the Russian regions.
RBTH: How active is the government in attracting private investment in the tourist sector?
A.M.: It is important for us that private investors collaborate with us in the tourist industry. We're building this foundation from scratch, life requires it, since it is impossible to finance the development of tourism in a country only with the state budget.
The number of requests for financing tourist sites greatly exceeds the state's possibilities. Investments in the tourist sector are always long-term and it should be the government's initiative to create tourist infrastructure where it doesn't exist, that is, beyond the world-renowned centers of Russia.
Tourism must become one of the main engines of the economy. In many countries this business brings a fundamental quantity of resources to the state budget, and Russia should go in this direction. In particular, we intend to provide benefits in the allotment of land for the construction of tourist infrastructure.
RBTH: Are there examples of successful cooperation between the government and private business on this issue?
A.M.: Yes, Russia's largest ferry company let us use one of their premises for a tourist representation office in Helsinki. We plan to open an office in Paris and Milan according to the same scheme.
In terms of foreign investment, recently Emirates airlines made us an interesting proposal. This company is suffering from the fall in tourist flows from Russia, so they have decided to more actively promote flights to destinations where there are no direct flights from Russia, such as Brazil. The company assumed all the costs and expenses for organizing information tours for Brazilian tour operators and journalists in Russia. It has offered the same services for Russian journalists in Brazil.
We need to remember that Russia is part of the BRICS association [Brazil, Russia, India, China, South Africa – RBTH], with which economic ties are constantly strengthening. ASEAN [Association of Southeast Asian Nations – RBTH] countries can be added to this list. According to 2015 half-year results, the growth of tourist flows from these countries to Russia was between 40 and 200 percent. In this case the interests of the Russian government and those of private companies converge completely.
RBTH: Do foreign companies participate in the construction of tourist infrastructure in Russia?
A.M.: For this first of all foreign companies need fiscal incentives. For example, the law on the creation of territories of advanced development in the Far East helps attract foreign investment for tourist infrastructure and the Russian regions actively sign such contracts with Chinese investors. From Europe we are waiting for investments, most likely for the creation of skiing infrastructure, including that in the North Caucasus.
All rights reserved by Rossiyskaya Gazeta.