Which companies are leaving Russia?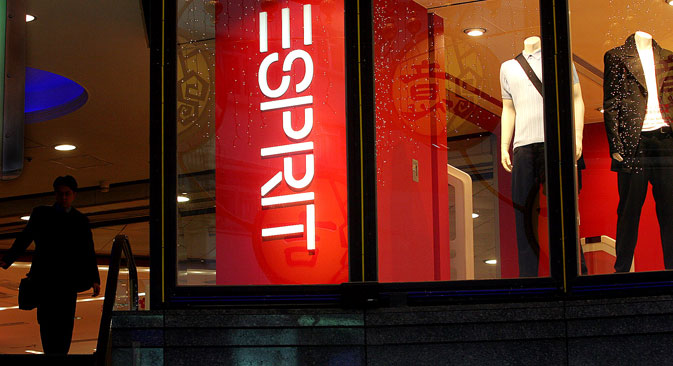 American Esprit closed its stores in Russia.
AP
About 60 well-known brands and companies left Russia over the past two years and several dozen major firms are considering abandoning this market. Retail enterprises are leaving at a rate of 1.5 times higher than was seen during the 2008 crisis. In parting, the companies usually say something about "business restructuring," but the true reasons are the empty wallets of consumers and a lack of confidence, which may be only temporary.
In late 2015, the British consulting firm Global Counsel released a report stating that many international companies would leave Russia in 2016.
The conclusion was based on an analysis of the financial statements of 46 companies represented in Russia, including BP, Royal Dutch Shell, Deutsche Bank, Siemens and Lafarge. According to Global Counsel, most of these firms would cease operations in Russia.
The analysts note that this forecast mostly refers to companies from the finance and energy sectors, but does not apply, for example, to the pharmaceutical industry.
The first signs in these risk areas – energy and finance – were already seen in 2015. There were rumors that Raiffeisenbank would become the first foreign commercial organization to leave the market. It turned out, however, that it only decided to stop issuing car loans and exit Russia's Far East region. But then the first Western oil company left.
After selling its stake in the Polar Lights project, the U.S. company ConocoPhillips left Russia in December 2015 after 25 years in the country. Conoco – before its merger with Phillips – bought half of a small oil company in the Nenets Autonomous Area as early as 1992.
Then the company acquired some shares in Lukoil, which it got rid of back in 2011. Thus, being one of the first companies to come to Russia, ConocoPhillips also became one of the first international energy giants to leave it.
Unaffordable clothes
The giant firms have a safety net and do not have to make hasty steps, but smaller companies must act more quickly. The most noticeable outflow is in the retail sector, particularly in the mid-price segment.
In the first half of 2015 statistics registered a decline of 7.9 percent for retail turnover, a record for the period after 1991. Real incomes fell by 10 percent in the summer and according to Magazin Magazinov, a retail property consulting company, 991 retail outlets opened over the past year in Russia while 1,024 closed their doors. By comparison, 1,234 outlets opened in 2014 while only 314 closed.
Gone are many well-known clothing brands. According to the Fashion Consulting Group, the Russian clothing and footwear market decreased by eight percent to 2.2 trillion rubles (about $28 billion) in 2014, while in 2015 it fell a further 20 percent.
At the same time, as is often the case in a crisis, the storm has barely affected the luxury segment of the market. It has experienced some stagnation, showing neither growth nor contraction. Yet some brands are even increasing their presence. Hermes has doubled the area of its boutique in the GUM department store, Michael Kors has opened the world's first boutique for men, while Dolce & Gabbana has launched a huge new store on Tretyakovsky proezd, widely considered Moscow's fanciest shopping street.
Low-end market expands
There is growth on the low end of the market as well. This is clearly seen in the fast food market: KFC, Burger King and McDonald's led in the number of newly-opened outlets in 2015.
According to Magazin Magazinov, 80 percent of newly-opened outlets in the past year accounted for mass-market brands, while 90 percent of closed shops belonged to middle-price brands. Growth in the mass-market segment is due to more shoppers that previously dined in better restaurants and dressed in more expensive clothes. The reduction and even erosion of the middle segment was the main trend of the previous year and stratification is likely to continue in 2016.
The middle segment has been hit the hardest and most clothing retail brands that have left Russia come from this part of the market. Sales have fallen in this segment by 35-45 percent.
Moneks Trading, which developed the American Eagle brand in Russia, closed all three stores of this brand in Moscow last year, considering it unprofitable to develop this brand further. Britain's River Island brand left even earlier: the Maratex Fashion Retail Company, which developed this brand as a franchise, was unable to make a profit with this project.
For the same reason, Maratex has curtailed sales of the American Esprit and Italian OVS brands in Russia. Because of franchise debt, Britain's New Look brand, which had a retail presence in Russia beginning in 2009, closed its stores in this country.
First published in Russian in Kommersant.
All rights reserved by Rossiyskaya Gazeta.