New EU taxes restrict access to market for Russian steel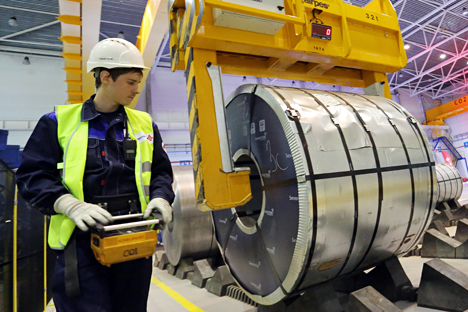 A worker at the Severstal-SSC-Vsevolozhsk plant.
Peter Kovalev/TASS
The EU is to impose a prohibitive duty of 26% on supplies of Russian metal.
The European Commission plans to introduce anti-dumping duties on cold-rolled flat products from Russia and China by setting them up to 26 percent and 16 percent, respectively, reported Reuters on Jan. 28, citing sources familiar with the plans.
Sources from Russia's two largest steel companies told the RBK business daily that duties of such size were prohibitive.
Duties will be backdated (http://www.reuters.com/article/steel-eu-china-russia-idUSL8N15C266) and affect supplies from Russia and China from mid-December, 2015.
Officially, the introduction of the new regime will be announced on Feb. 14, with the final decision to be published on the European Commission website on Aug. 12, if an anti-dumping investigation currently underway confirms the facts of underpricing.
Anti-dumping duties will affect primarily two Russian companies – the Novolipetsk Metallurgical Combine (NLMK) and Severstal.
"No one will work at these prices," said Oleg Petropavlovsky from the BCS Financial Group. "Given the falling demand for steel products on the domestic market, it won't be easy to find new buyers for the released amount of steel. It's likely that companies will cut production."
In May 2015 the European Commission launched an investigation in regard to imported cold-rolled steel following a complaint by Eurofer, the European steel producers association. The association accused Chinese and Russian metal producers of artificially lowing prices for cold-rolled products used in the production of cars and home appliances.
Earlier, on Jan. 22, Turkey introduced punitive duties on Russian hot-rolled flat products. The volume of duties differs for Russian companies: 13.7 percent for Magnitogorsk Metallurgical Combine, 12.4 percent for Severstal, and 9.4 percent for NLMK.
First published in Russian at RBC daily website.
All rights reserved by Rossiyskaya Gazeta.