Sukhoi Superjet to fly with Air France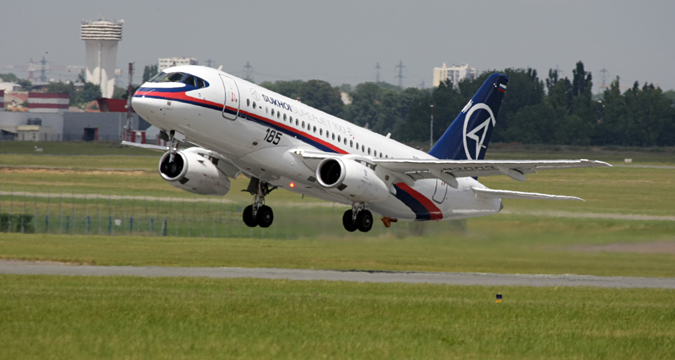 Sukhoi Superjet 100 aircraft on a demonstration flight at the Paris Air Show 2009 in Le Bourget, France.
Marina Lystseva/TASS
France's national carrier Air France has plans to lease the Russian Sukhoi Superjet-100 from Irish airline Cityjet, and may begin to operate flights using the aircraft later this year.
Air France may begin to fly the Russian Sukhoi Superjet-100 (SSJ-100) aircraft as early as this year. The company, France's largest air carrier, plans to lease several aircraft from the Irish airline CityJet, which expects a supply of SSJ-100 aircraft in May, said a source close to the ongoing negotiations.
"CityJet is in negotiations with Air France on a wet lease of aircraft [supply of aircraft with crew and maintenance]," the source told Gazeta.ru, but did not specify the number of aircraft that Air France may lease.
"Once CityJet receives the first SSJ-100 planes, they will be wet leased to Air France, and the French airline will use them for their tasks," said the source.
"This is a good opportunity for the aircraft. Later, when the SSJ-100 is certified for flight operations at London City Airport, CityJet will begin flying to London City, too."
Late last year, Sukhoi Civil Aircraft Company (SCAC) and CityJet signed an agreement that provides for the delivery of 15 SSJ-100 aircraft, with an option for another 10 aircraft.
Nazario Cauceglia, CEO of Superjet International (a joint venture between Sukhoi and the Italian company Alenia-Finmeccanica), said at the Bahrain International Airshow that a "hard" contract to supply 15 SSJ-100 aircraft to the Irish airline is to be signed in February 2016.
Earlier, SCAC reported that SSJ-100 aircraft would receive the necessary certification to fly to London City Airport by the end of 2016. This is due to the fact that the length of the airport's only runway is just 1,508 meters (1,650 yards). But, according to the specifications, the required runway length for Superjet is between 1,731 and 2,052 meters.
CityJet's chairman Pat Byrne said in December 2015 that, after ordering SSJ-100 aircraft, CityJet began to receive requests from major airlines to sign wet lease agreements for regional air transportation. According to him, it was approached by two airlines.
Gazeta.ru failed to get immediate comment from Air France and CityJet. SCAC declined to comment.
According to SCAC, 64 SSJ-100 aircraft are in operation today. The aircraft's largest operators are Aeroflot (26 planes), Mexican airline Interjet (19) and Gazpromavia (10). In 2016, SCAC plans to produce 20 and supply 31 SSJ-100 aircraft.
First published in Russian in Gazeta.ru
All rights reserved by Rossiyskaya Gazeta.