Rosneft to invest $500 million in Venezuela's oil industry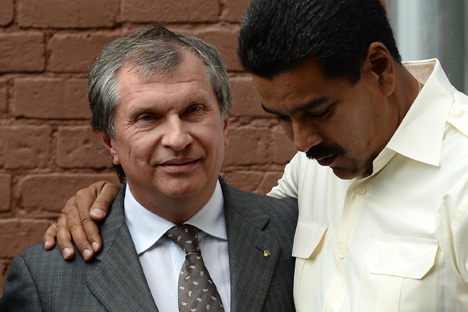 Rosneft CEO Igor Sechin and Venezuelan President Nicolas Maduro.
RIA Novosti
Russian oil giant Rosneft has signed a deal with Venezuela's PDVSA on further investment in the Orinoco oil belt project, which Caracas is actively seeking to develop.
Russia's major oil company Rosneft has signed an agreement with Venezuela's PDVSA for an additional investment of $500 million in the development of the Orinoco oil belt project, according to VTV.
"In accordance with the law on the nationalization of the oil industry the oil companies in Venezuela will receive $500 million [invested by Rosneft – RBTH]. Due to the global crisis and the economic war, we have to make investments in the future," said Venezuelan President Nicolas Maduro.
Earlier Maduro said that the fall in world oil prices has been a heavy blow to the country's economy. According to him, over the past six years, foreign exchange earnings from oil sales have decreased by 4,200 percent in Venezuela.
A full version of the article is available in Russian.
All rights reserved by Rossiyskaya Gazeta.