Nicolas Chavrot: "Russia was the great unknown at the time..."
Courtesy of Nicolas Chavrot
For as long as Nicolas Chavrot could remember, Russia had been nothing but a vast country in the middle of a world map hanging in his parents' home – the proverbial riddle, wrapped in a mystery.
"I would look at the map and each time I would ask myself how this country managed to keep a piece of the pie this big," Chavrot told RBTH.
The search for answers led the young economics student to Russia making a three-month trip to Moscow in 1995. He was 23, still hadn't graduated from university and didn't know what he would do there.
"Russia was the great unknown at the time," he recalls. "No one really understood what was going on in the country or even what it was like."
Chavrot had time to kill in the Russian capital, "without knowing much of anything, having any money or even speaking Russian." But he saw an opportunity. A French friend with whom he shared an apartment in central Moscow earned his living selling wallpaper. So he decided to try his hand selling paint.
First steps made, first million earned
"Back then, a lot of European companies were trying to do something in Russia, they wanted to sell their products here, but they had no idea how exactly they could do it," Chavrot says.
So he decided to become a merchant intermediary.
"In 1995, almost all Russian businessmen had no more than five years of experience, so they had no prejudices or preconceptions regarding me," he recalls. "It was simple really, all I had to do was work. There was this 'anything goes' approach."
Resourcefulness was Chavrot's main weapon. He went back to France and approached a dozen companies before finding a small firm interested in selling their paint in Russia. They trusted him: after all, he told them he spoke Russian fluently and knew the market inside out. But in reality the only advantage the budding entrepreneur had was a reference book that doubled as the bible of Russian commerce. In this book you could find all potential buyers in one place.
Chavrot hit the pavement and knocked on doors and quickly the French paint he sold started generating significant revenue. He was not even 25 years old.
Crises as stepping stones
But in 1998 the ruble plummeted.
"Everything just stopped," Chavrot recalls. "The imports ceased completely and clients could not pay back their debts."
Still, abandoning everything was out of the question. He let his sense of opportunity guide him. As the Russian economy was weakened, he decided to seek out products that could be exported from the country.
"The economic department of the French Embassy addressed only the requests of French companies interested in Russia. They did not have a service dealing with Russian exports to France," the entrepreneur says.
Chavrot asked the embassy to transfer any faxes sent by Russian companies to him. The possibilities for export were limitless: streetlights, fireworks, practically anything. But in the end, it was diamond powder – used by industry for polishing and cutting glass and stone – that caught his eye.
Conquering the Russian market
In 2000 he joined forces with a Russian partner to launch Ascott. His goal was to control at least 10 percent of the Russian consumer glue market. By 2005, his company already controlled 25 percent, while today, Ascott boasts a 55 percent market share. The company currently has 250 employees, 3,000 clients and generates a billion rubles in revenue (about 12.5 million euro).
"During every crisis, we increased our market share," Chavrot says. "Indeed, while most foreign companies are leaving the country, we still stay in Russia."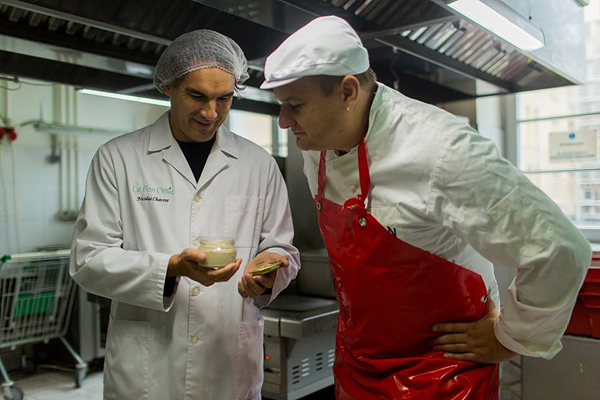 Source: Courtesy of Nicolas Chavrot
The recent plunge of the ruble has represented another opportunity for his company.
"Our products have become more and more competitive for exports and we hope to replace China on the European market," he says.
Ascott is not Chavrot's only venture. He also has interests in Le Bon Goût, a brand of additive-free sausages and cooked meats that is very popular among young Russian mothers and PS-Box, a gift box company that attained a 90 percent market share after acquiring the online gift stores Smile Smile and Evo Impressions. This market sector is very profitable according to Chavrot.
"The products are 100 percent in rubles and Russians do not scrimp on gifts, so the demand is high," the businessman says.
But has he managed to pierce through the riddle of his parents' map after living in Russia for 20 years?
"I think the Russians are strong because they have principles and they refuse to compromise on them," he says. "They are willing to fight to preserve these principles. Their secret is their steadfastness."
All rights reserved by Rossiyskaya Gazeta.