A boy in a pilot's cockpit at KidZania Moscow, a theme park where children can work in adult jobs, at Moscow's Aviapark shopping mall.
Vyacheslav Prokofyev / TASS
Would you like to fly a real plane? It is doubtful that anyone would let you these days without a license. But there's a place where children can get a taste of what it is like to pilot a Tu-154, the plane that flew Russian cosmonauts to the Baikonur Cosmodrome.
A Tu-154 stands at the entrance of KidZania Park, which opened on January 28, 2016 not far from central Moscow in Khodynka Field. An aviation academy is now operating from inside the plane where children can try their hand piloting a flight simulator or being a flight attendant.
Despite the fact that this is the 21st park of this brand in the world, the Moscow KidZania has several unique features that distinguish it from the rest.
The first KidZania opened in Mexico in 1999 and obtained world fame as an "adult life trainer" for children. Children find themselves in a life-like miniature city where theyare given a bankcard, medical insurance, a job and a salary.They are paid in the local kidzo currency, which they can use to purchase services in famous brand establishments.
First of all, this large-scale enterprise – whose total investment amounted to almost $25 million – opened in the middle of a severe economic crisis when even well established companies are seeing losses or are even going bankrupt.
Innova, the majority shareholder in Moscow's KidZania, hopes to attract one million visitors a year and believes that the business will start becoming profitable in 5-7 years. There is evidence that Innova has calculated correctly: although ticket pricesare rather high at 2,000 rubles($28), people have been waiting in enormous lines to get in.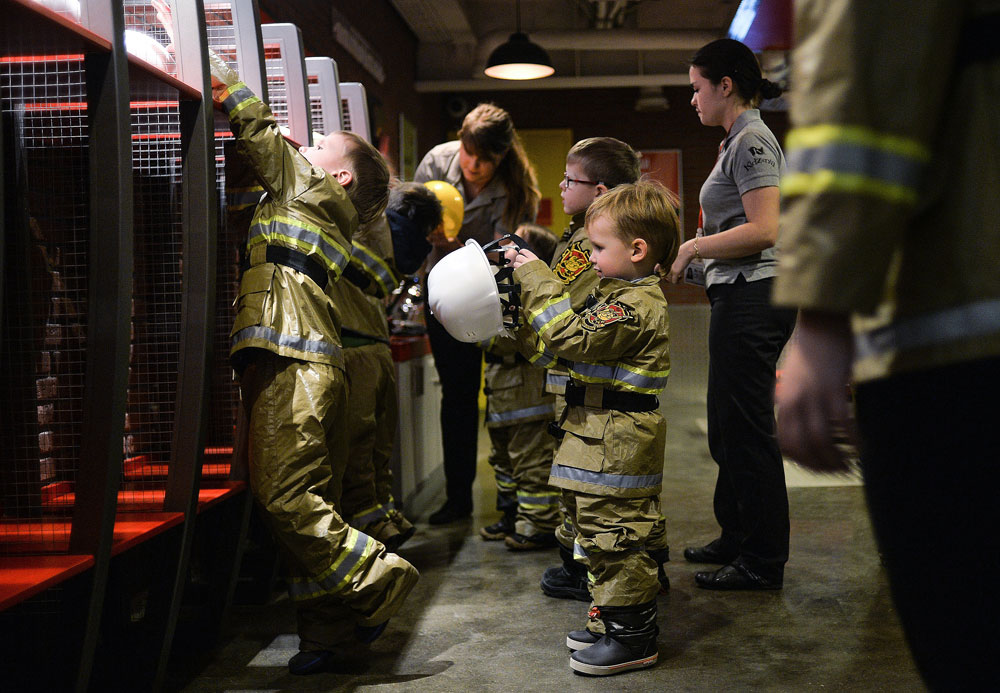 Children learning fire-extinguishing skills at the fireman area of the Kidzania game training park in Moscow. Source: Vladimir Astapkovich / RIA Novosti
Contrary to global practices – the park in London, for example, is owned by the Cadbury family – KidZania's Russian franchise was bought by a small and young company called Innova. Previously, Innova had worked solely in the adaptation of online games. Its share of the investment in this"edutainment" brand is 80 percent. Moreover, the Moscow KidZania was the first park to create procedures for working with children with physical and mental disabilities.
Emotional marketing
At its essence, the Moscow KidZania is similar to its predecessors.
Its business model is built on actively involving majorglobal and local brands. A dozen international giants including Danone, LG, Samsung, PepsiCo and Colgate-Palmolive have opened "workshops" in the Moscow park. Moreover, soon Roscosmos, the Russian Space Agency, will open a cosmonaut school, while the ALROSA diamond mining company will construct an imitation diamond mine.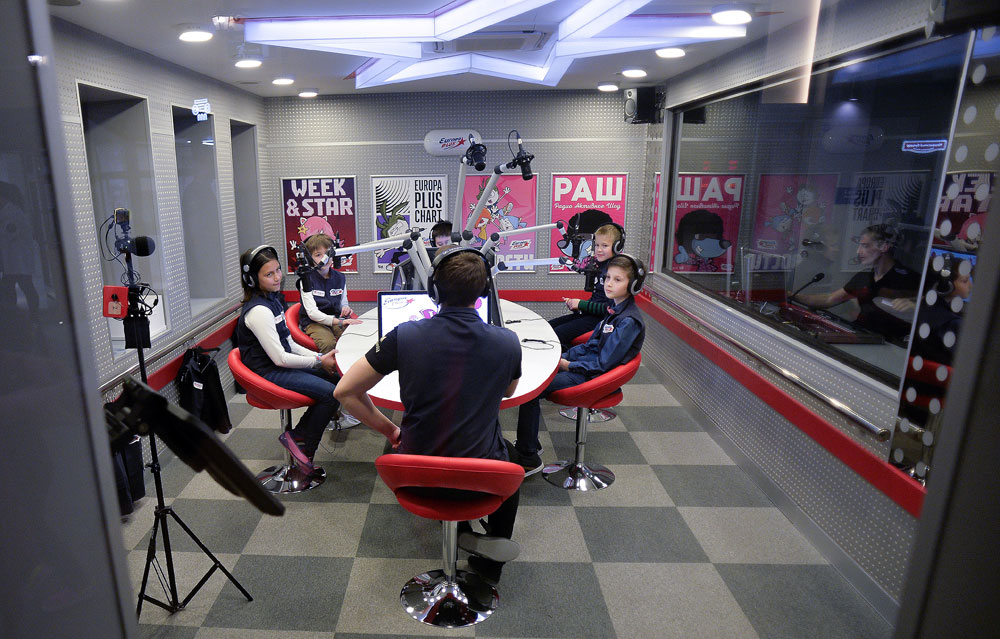 Children and radio station associate at the broadcasting room in the Kidzania game training park in Moscow. Source: Vladimir Astapkovich / RIA Novosti
KidZania has branded almost everything: a chocolate factory operates under the name Kinder, a TV station broadcasts with the logo of famous Russian entertainment channel STS and an excursion bus drives around with the Gett banner on display. The project's founders say they hope to submerge children into an authentic version of reality, even though it is clear that the presence of these real brands in an invented world is an attempt to turn the child into their potential customer.
"Sure," says Ksenia Korneyeva, the Director of Public Relations at KidZania in Moscow, "everything could have been done with invented brands, but it would have been a completely different concept. When the child walks down the streets of KidZania, they see the same signs and names that surround them every day in Moscow and this increases the effect of being in the reality of an adult world."
LG forever
KidZania is famous around the world for being a vivid example of how to use Marketing 3.0, which tries to attract the customer through the creation of emotions and not slogans.
Children are at the age when they can establish the firmest habits and attachmentsin their consciousness, something that psychologists call imprints. It is practically impossible to free oneself from these imprints in adulthood.
Kids, would-be dentists, at KidZania Moscow. Source: Vyacheslav Prokofyev / TASS
This suggests that companies that invest in the creation of such attachments in children are recruiting extremely loyal clients for the future.
The Moscow KidZania has the LG secret agent academy. Achild enters a home appliance store, opens a refrigerator door and finds themselvesin a world of adventure wheretheymust pass through lasers, a spinning tube and take theirown fingerprints,all while being surrounded by intelligent South Korean technology.
"The child understands that thanks to LG technology they have actually become a secret agent, which is a big event for them. That is how emotional marketing works," comments an LG Russia representative.
Absolutely for everyone
Thanks to Natalia Vodianova's Naked Heart Charity Foundation, KidZania Moscow has become the first completely inclusive project in the brand's history.
This means that children with autism and other mental and physical disabilitiescan tour the park along with everyone else and not as part of a separate group.
"The KidZanias in other countries have experience in adapting the space for visually and hearing-impaired children, but they lack experience in working with children with mental and behavioral disabilities," explains Anastasia Zalogina, the president of Naked Heart.
The foundation prepared and conducted training sessions for the park's personnel to prepare them for working with children with special needs. Furthermore, the foundation has its own workshop in KidZania where children can learn what charity is.
All rights reserved by Rossiyskaya Gazeta.