Oil prices remain stable despite lack of progress in Doha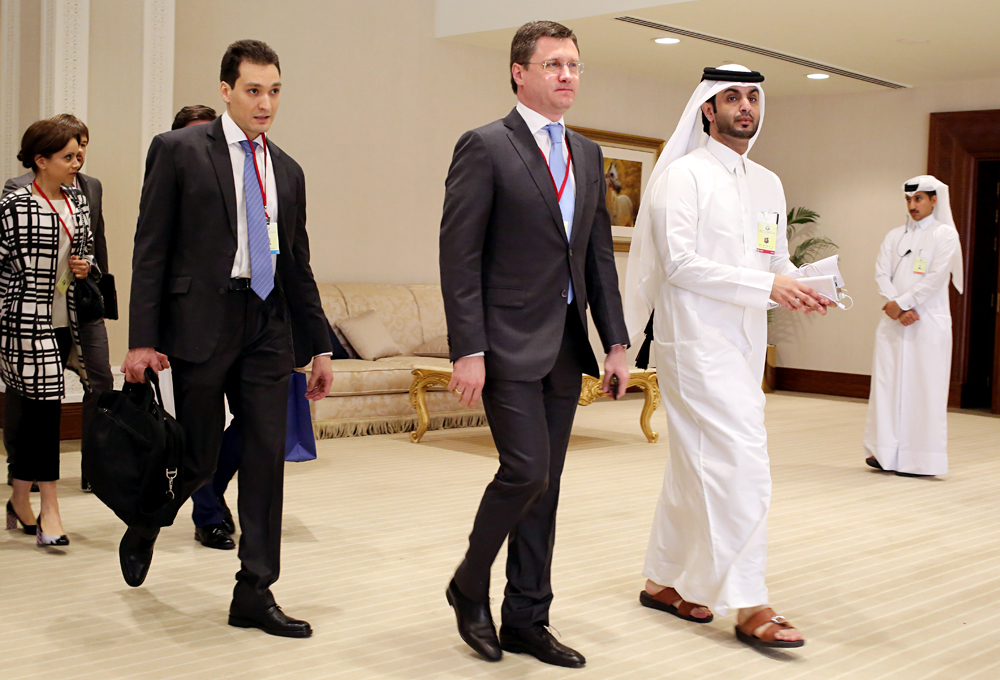 Russian Energy Minister Alexander Novak, center, arrives at an oil-producers' meeting in Doha, Qatar, on April 17, 2016.
AP
While the recent talks between the world's oil exporters of crude were inconclusive, the preceding two months have seen verbal interventions send oil prices up, while fundamental factors have revived demand for crude.
Despite the world's leading oil producers' inability to reach an agreement on the freezing of crude output at talks in Doha on April 17, Russian observers insist that the meeting cannot be considered a failure – the results were predictable.
Commodity exchanges barely reacted to the meeting in the Qatari capital – oil prices fluctuated within the daily margin of error and averaged $41 per barrel.
"This means that the results of the negotiations did not give clear guidelines to the market, [therefore,] speculators will no longer react strongly to such meetings in the future," said Alexander Pasechnik, head of research at the National Energy Security Fund.
According to him, oil prices will fluctuate at around $40-45 per barrel in the near future, and this price range is quite tolerable for the Russian budget.
Why has oil risen from the bottom?
Oil prices have only been able to reach a tolerable level for the Russian budget in the last two months – as the Qatar meeting was being prepared. Discussions on the possibility of freezing production levels for key exporting countries began in mid-February. Since then, prices have begun to steadily increase from $32 per barrel on Feb. 16 to $44 on April 12.
However, fundamental factors have had their effect as well, said Pasechnik, pointing out that investment in complex projects (shale oil and shelf development) have been postponed, which already sets a limit on oil supply.
In addition, the period of low oil prices has sparked demand. China, for example, raised the bar on oil imports in the first quarter of this year, which also stimulates global demand.
"Taken together, these factors have reduced the effect of overstocking, which was experienced by the market in early January (2 million barrels daily were surpluses). These surpluses have decreased by now," said Pasechnik.
What factors will affect oil in the future?
"The oil market may be in turmoil, since there are three other unpredictable factors, which affect the price," said Sergei Pravosudov, director of the Russian National Energy Institute.
"Prices will depend on how much oil output falls in the U.S., how Iran and Iraq increase it at the same time and at what rate global demand for oil grows," he said.
"In fact, negotiators in Doha spoke about nothing," added Pravosudov: Key oil powers, except for Iraq and Iran, are not going to increase production in any case.
"Russia cannot physically increase production because it has been at a maximum for many years," he said. "Saudi Arabia also has been producing at maximum output, although the Saudis claim that they have additional possibilities – but no one can confirm or deny it."
On April 17, 17 oil-producing countries, including Russia and Saudi Arabia, held talks in Doha in an attempt to agree on freezing raw output. However, the signing of the declaration failed due to the position of the Saudis, who demanded that the document be signed by all OPEC countries, including Iran and Libya.This is impossible: Ahead of the talks, Iran once again confirmed that it intends to raise production to the pre-sanction level of 4 million barrels per day, while Libya has no control over its oil production.
Subscribe to get the hand picked best stories every week
All rights reserved by Rossiyskaya Gazeta.