Russian banks ready to pack their bags and leave Ukraine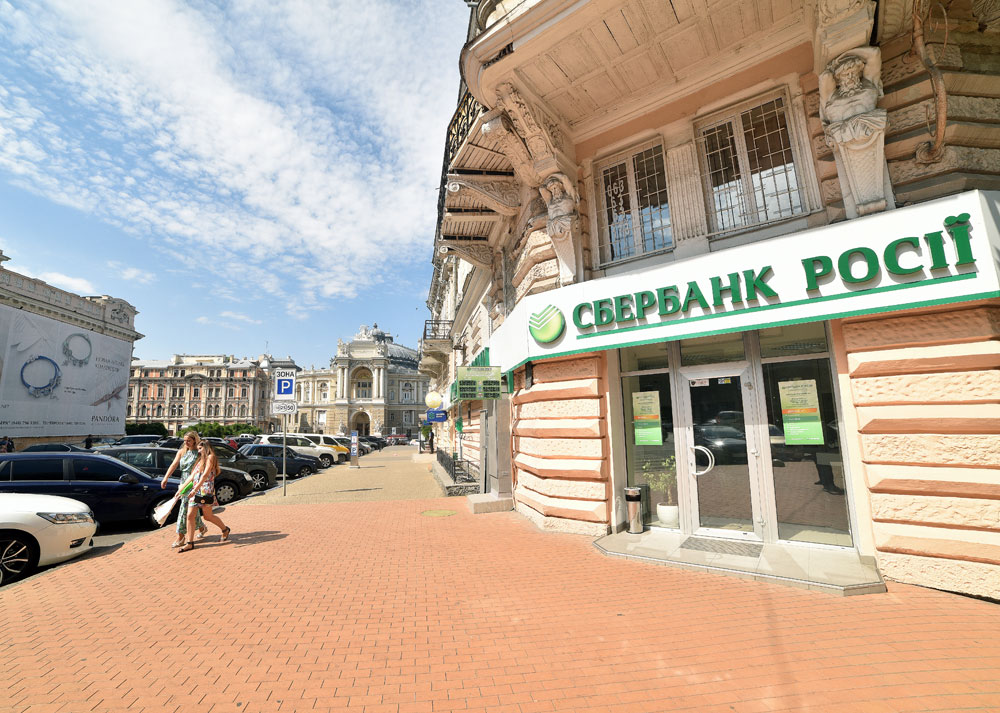 A branch of Russia's Sberbank in Odessa, Ukraine.
Denis Petrov / RIA Novosti
Russian state-controlled banks Sberbank, VTB and Vnesheconombank are seriously searching for a way out of the Ukrainian market by trying to sell their subsidiary banks in the country.
With relations between Russia and Ukraine stuck in the deep-freeze, Russian lenders are now looking for ways to exit the Ukrainian market by selling off their subsidiaries in the country.
On May 17 the Ukrainian edition of Forbes wrote about the negotiations on the sale of Russian state-owned bank Sberbank's Ukrainian subsidiary bank to local businessman Alexander Yaroslavsky. Kommersant sources say that Sberbank indeed held the talks, which were not crowned with success. But that has not changed the bank's intention to leave the Ukrainian market and it is continuing to look for a buyer.
Russian lender VTB, of which a majority is owned by the Russia government, is also ready to separate from its Ukrainian bank. During VTB Group's Investor Day event in London on May 17, VTB president Andrei Kostin said: "Concerning Ukraine, there we had major losses. We don't see many opportunities there, either economic or political. If there is a chance, we would rather sell the business."
VTB's press office told Kommersant that the group has experienced serious losses in Ukraine since large sums of credit have not been returned.
"The subject of Russian banks on Ukrainian territory is extremely politicized," added the press office. "VTB's branches in Ukraine were often vandalized. All this creates a highly uncomfortable atmosphere for continuing the group's affairs in Ukraine."
The state-owned Vnesheconombank also has a large subsidiary in Ukraine. According to Kommersant, it is also searching for an opportunity to sell its Ukrainian business, Prominvestbank.
A good time to sell assets
The exodus of Russian banks from Ukraine is taking place within the context of the restoration of their own business and of the Ukrainian banking sector in general, and Russian experts believe that state banks are conditioned not so much by the economic situation as by the political climate, and are thus using the window that has opened to sell their subsidiaries.
Observers do not see any concrete contradiction between the improvement of the situation and the banks' desire to sell their assets, saying that now there is a real chance to do so.
"Now, against the backdrop of stabilization and the improvement of indicators, state banks have a chance to find buyers for their assets," explained Yevgeny Nadorshin, chief economist at PF Capital, Moscow.
"It is not surprising that with the continuing political tensions the state banks are rushing to get rid of their businesses in Ukraine," he said.
"For now this primarily concerns banks with Russian state capital. Since spring 2014 Ukraine's parliament, the Verkhovna Rada, has tried to block the operations of these credit institutions on several occasions. Moreover, a part of Ukraine's population is extremely against Russian banks," said Zelimkhan Munayev, general director at QB Finance in Moscow.
At the same time, experts remark that the state banks that intend to leave Ukraine are not basing their decision on the economic situation.
"The dynamics of developments in Ukraine are very intense. Banks think at least in terms of quarters, but in reality in terms of annual reports," said Sergei Budkin, executive partner at FinPoint Investment Advisors.
"Reports about the Russian banks possibly leaving the Ukrainian market are dictated primarily by the inertia in making decisions and only secondarily by real necessity."
The necessity, if it exists, in Budkin's view, is most likely political. Being a business with Russian capital and more so a Russian bank in Ukraine is extremely uncomfortable at the moment.
First published in Russian in Kommersant.
Subscribe to get the hand picked best stories every week
All rights reserved by Rossiyskaya Gazeta.