National cryptocurrency may be introduced in Russia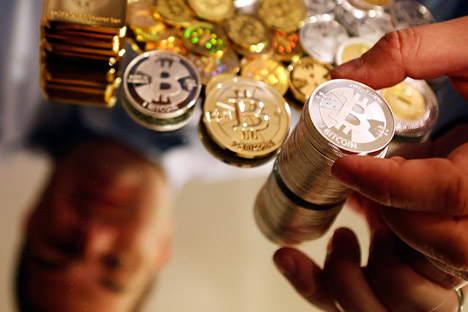 Bitcoin enthusiast Mike Caldwell poses in his office in Sandy, Utah, September 17, 2013. Caldwell produces physical coins Bitcoins, which have been around since 2008, and have become a form of electronic money that can be exchanged without using traditional banking or money transfer systems. Bitcoins, touted by some experts as the future of money, gained in prominence during Europe's financial crisis as more people questioned the safety of holding their cash in the bank.
Reuters
Russian regulated cryptocurrency should not be a non-emission currency
Russia is considering the possibility of introducing a national regulated cryptocurrency, the Kommersant newspaper said, citing the Russian Federal Financial Monitoring Service (Rosfinmonitoring).
There is no such bill so far, and the idea of introducing a cryptocurrency is being discussed with representatives of banks and at meetings in the Finance Ministry and the Central Bank, Rosfinmonitoring deputy director Pavel Ladny told the newspaper. Its main principles are being discussed at this point.
A Russian regulated cryptocurrency should not be a non-emission currency (in other words, it should not be simply generated by computer based on a certain algorithm, like Bitcoin - without anyone's legal responsibility for this process), but it will have its issuer with rights and responsibilities. This issuer can be "financial organizations that will be entrusted with the emission of cryptocurrencies." This activity is most likely to be subject to licensing, Rosfinmonitoring said.
Companies and citizens will be able to exchange rubles and other currencies for a cryptocurrency at so-called exchange points - on specialized electronic platforms - in compliance with the set rules. Those buying the cryptocurrency will undergo identification "in order to minimize anonymous transfers."
Plans existing at this stage suggest that the circulation of other cryptocurrencies on Russian territory will be banned simultaneously with the introduction of a national regulated cryptocurrency.
All rights reserved by Rossiyskaya Gazeta.