Minister urges Russia, Japan to develop ties despite global complexities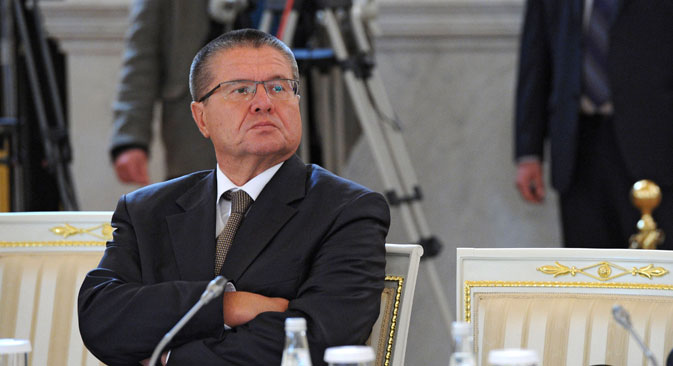 Economic Development Minister Alexei Ulyukayev.
Michail Klimentyev / RIA Novosti
Alexei Ulyukayev proposes the use of national currencies in bilateral trade.
Russia and Japan should seek ways for developing bilateral relations in spite of global complexities, Economic Development Minister Alexei Ulyukayev said on July 19 at a business breakfast with Japanese business executives.
"I recall our previous meeting in Moscow on June 9 when you, Mr. Asada (Teruo Asada, the chairman of the Russian-Japanese Committee for Economic Cooperation) and some other Japanese counterparts visited our ministry, and I consider the current meeting as continuation of the historic dialogue, which Prime Minister Shinzo Abe and President Vladimir Putin began in Sochi," Ulyukayev said.
"Given the knotty global situation taking shape now, we seek ways for developing our historical relations and we must find them," he said.
He thanked his Japanese counterparts for continued dialogue and for business contacts with Russian companies and said the Russian side treasured relations with Japan and concentrated on supporting the Japanese businesses' collaboration with Russian businesses.
Ulyukayev said the Russian-Japanese intergovernmental commission would hold a session in Moscow at the end of the year, while its sub-commission for trade and investment would meet in Tokyo on July 20.
"We hope this will help flesh out the plan of several items that Prime Minister Abe and President Putin discussed at their meeting," he said.
Asada said in a speech on his part he expected a fruitful dialogue at the meeting.
"On the part of Keidanren (the federation of Japan's economic organizations) I welcome you and members of your delegation," he said. "During out meeting in Moscow last month you spoke highly of the plan of eight areas of cooperation that Prime Minister Abe offered to President Putin and said you hoped these projects would become the pillars for investment.'"
Trade settlements in national currencies
Ulyukayev suggested that Russia and Japan use settlements in national currencies in trade and investment.
"You know, at one time in the 1990s, we had a joint economic working group. I was a member of that group; we met regularly and discussed economic problems," he told Japanese TV channel NHK. "I think it would be right to restore this approach. The interdependence is very high, and there is something to think about, something to discuss - for example, the use of national currencies in the commodity exchange, in investment."
WADA report show of mistrust towards Russia
The World Anti-Doping Agency's report on the use of doping by Russian athletes is a manifestation of mistrust towards Russia, the Ulyukayev said.
"That's one of the forms of mistrust," he said. "That's a totally incorrect form in their activity because it signals a departure from the fundamental position of law, which is personal responsibility."
"If someone is guilty, then it's he or she who is brought to account," Ulyukayev said. "Any kind of collective responsibility is totally inadmissible here. One can't be held responsible for what he or she didn't do."
"That's why this is really an incongruent approach -- and moreover the one reflecting a definite political line," he said when the channel asked him if the WADA report was a signal of mistrust.
"We stand for resolving all the emerging problems in a calm atmosphere," Ulyukayev added.
All rights reserved by Rossiyskaya Gazeta.