New ranking reveals Russia's top e-commerce sites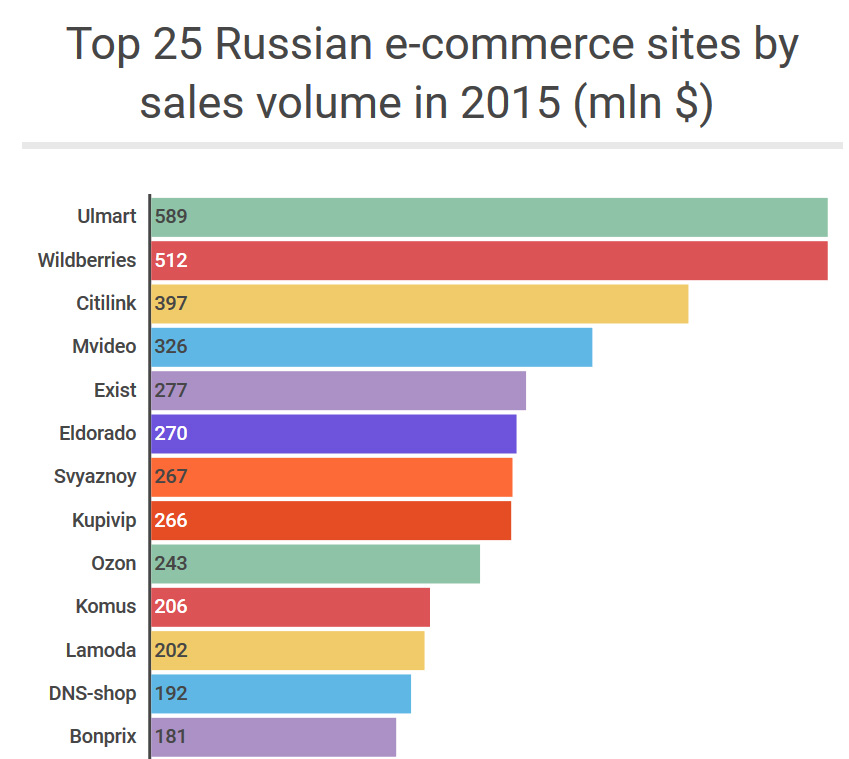 Data Insight, a reputable Moscow-based research agency, and Ruward, a publisher of industry rankings, have released the 2016 "E-Commerce Index TOP-100" This index ranks Russian e-commerce sites by sales volumes, number of orders, average order value and other criteria, over the course of 2015.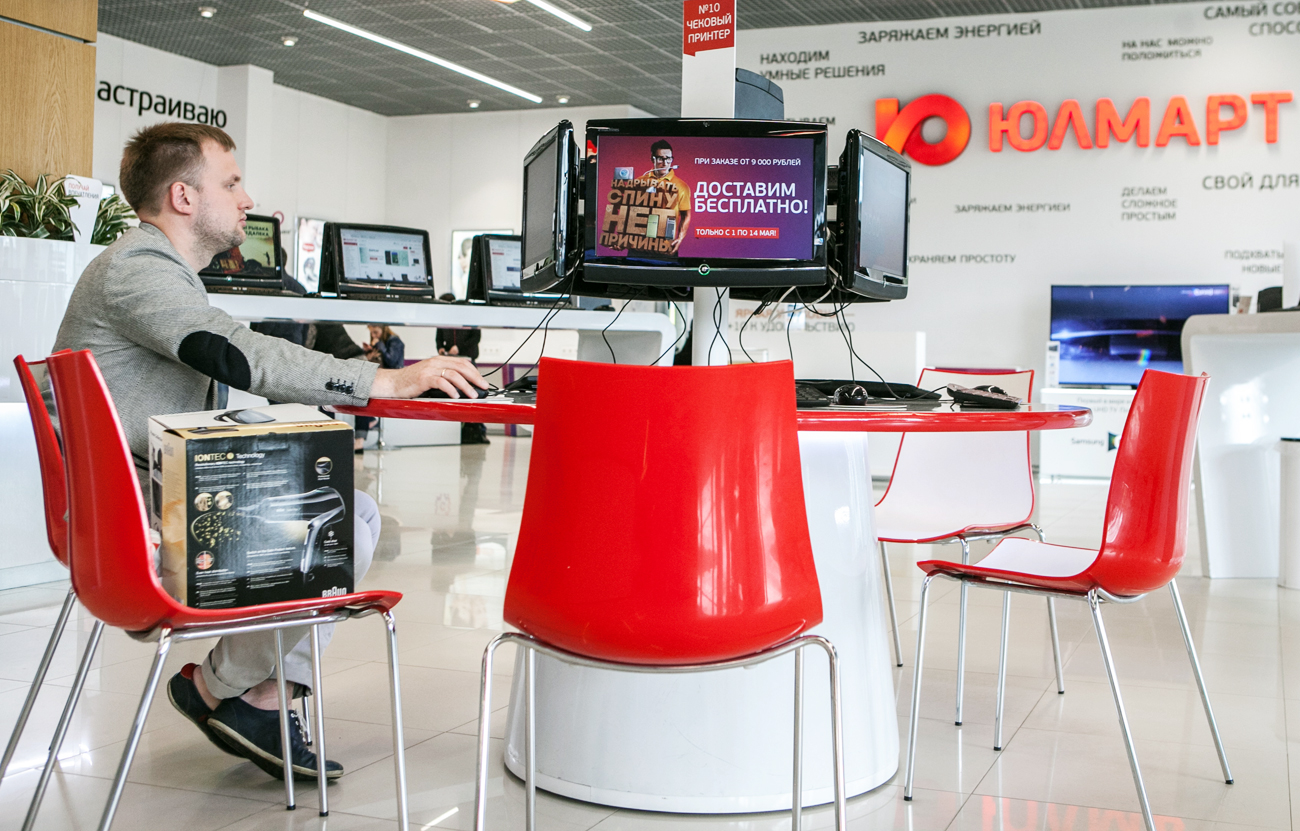 A customer in a showroom of the Russian web retailer Ulmart. The company sells computer hardware, digital, consumer electronics and other goods. Source: Sergei Konkov / TASS
Leading the ranking is Ulmart, a St. Petersburg based online retailer which developed an original online-offline model, and which plans to go public this or next year. (The sales volume estimate does not take into account Ulmart's 'Cybermarkets.')
KupiVip.ru, a leading flash sales platform backed by western investors, jumped to 8th place, which is up from 31st in 2014. This follows a strong year that saw group sales increase by 50 percent.
Lamoda.ru, a footwear site launched by Rocket Internet in 2011, didn't do so well. The company's $202 million sales in 2015 was not sufficient to secure a spot in the Top 10, believe Data Insight analysts.
Leaders by number of orders in 2015 are the following: clothing and footwear site, Wildberries.ru (17 million); non-specialized site, Ulmart.ru (7.36 million); car parts shop, Exist.ru (6.65 million); non-specialized site, Ozon.ru (5.18 million); and clothing and footwear site, Lamoda.ru (4.35 million).The highest average order value was registered by Holodilnik.ru ($485); Petrovich.ru ($235); Mvideo.ru ($208); Mediamarkt.ru ($192); DNS-shop.ru ($181). Petrovich.ru sells items for the home and DIY, while the rest specialize in electronic appliances. 
Methodology
Data Insight said it used advanced monitoring and measurement methods to conduct the research, and the companies studied were invited to check and comment on the numbers.
The ranking only includes companies whose e-commerce activities in Russia are run by a locally-registered legal entity. Marketplaces, which researchers define as sites where sales are made by third parties, were excluded.
This is why key players such as eBay, Yandex.Market and Wikimart, as well as China's AliExpress and JD.COM, are not included in the ranking.
Data Insight counted only online sales, and thus, sales generated by Ulmart's 'Cybermarkets' were not included because these involve a significant offline dimension. As a result, the company is listed with a 36.8 billion ruble sales volume, even though its 2015 sales, including 'Cybermarkets,' amounted to 62.7 billion.
Most importantly, the ranking focuses on e-commerce sites, not companies. Thus, for example, the online sales activities of Otto Group are not ranked, but are classified via the group's distinct brand sites BonPrix.ru, Otto.ru and Quelle.ru.
Market trends
In 2015, Russia's domestic online retail market still grew in real terms despite the economic crisis (see EWDN's e-commerce report).
Russian e-commerce grew in rubles, reaching some 650 billion (+16%) as far as physical goods were concerned, according to Data Insight. Meanwhile, the inflation rate did not exceed 13 percent.
Given the ruble's sharp depreciation the picture looks darker in dollars -- market size fell to $10.5 billion for physical goods, down 28 percent from 2014. (These numbers do not include cross-border orders, deliveries of ready meals as well as corporate, C2C, MLM and group purchases.)
Considerable growth potential is still ahead, however, since online retail accounts for just 2 percent of Russia's total retail market.
Meanwhile, cross-border purchases grew rapidly in 2015, totaling $3.4 billion, up from $2.2 billion in 2014. Only Chinese companies, which saw their share of cross-border flows jump to 80 percent, benefited from this growth. The activity of western merchants was severely hit by the ruble's depreciation.
First published in East-West Digital News
Subscribe to get the hand picked best stories every week
All rights reserved by Rossiyskaya Gazeta.