Gazprom to build Nord Stream 2 on its own after partners pull out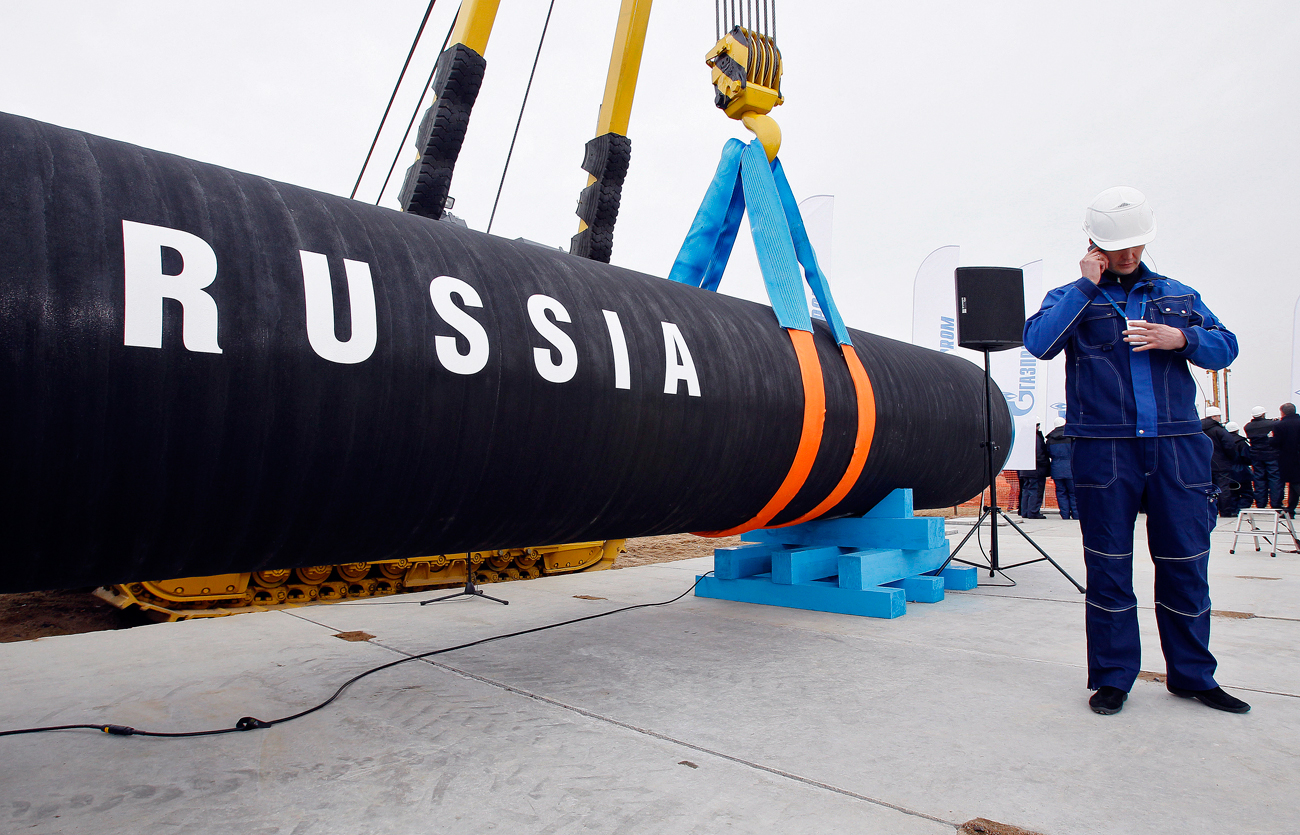 A construction worker speaks on a mobile phone in Portovaya Bay some 170 kms (106 miles) north-west from St. Petersburg, Russia, during a ceremony marking the start of Nord Stream pipeline construction.
AP
Poland's antimonopoly watchdog has blocked a joint venture between Gazprom and its European partners to build a gas pipeline from Russia to Germany. However, as long as Germany has a positive attitude toward the project, it can still be implemented, say Russian observers.
Russian gas giant Gazprom's European partners in the Nord Stream 2 project to construct a gas pipeline in the Baltic Sea have pulled out of plans for a merger after Poland's anti-monopoly agency UOKiK blocked the joint venture.
France's ENGIE, Switzerland's OMV, Anglo-Dutch oil giant Shell and Germany's Uniper and Wintershall decided to withdraw their application for a joint venture, according to a statement released by Gazprom and the participating companies.
UOKiK objected to the project in late July, claiming that it could lead to restriction of competition and further strengthen Gazprom's dominant position in the local natural gas market. Since all Nord Stream 2 partners have assets in Poland, the local regulator's ruling forced them to stand down and withdraw their merging plans.
"Withdrawal of the application will stop the deal," noted UOKiK president Marek Niechcial in the agency's official statement.
As reported in the joint press release, the Nord Stream 2 partners believe that the project is crucial for the European energy system and each of them will therefore individually contemplate alternative ways to contribute to it. The statement does not go into further detail.
Gazprom's European partners were expected earlier to acquire 10 percent of Nord Stream 2 AGshares each and to resolve regulatory issues. Gazprom thereby remains a 100-percent sole Nord Stream 2 AG shareholder, which may make it more vulnerable, experts say.
"Projects of this scale carry significant political risks. The potential involvement of international partners could have decreased them," explained a spokesperson for the VTB Capital investment company
The Nord Stream 2 preliminary budget totals €8 billion. According to industry experts, even if Gazprom has to search for investments on its own, this won't affect the project.
"There's no doubt that Gazprom will find funding. However, there comes a political issue," said Andrei Polishchuk, an oil and gas analyst at Raiffeisen Bank. According to him, much depends on whether Germany, which supports the project, is able to put pressure on the other European partners.
"As long as Germany shows a positive attitude towards the project, it can still be implemented," said Sergei Khestanov, an associate professor at the Russian Presidential Academy of National Economy and Public Administration.
The involvement of European partners is crucial not only in terms of investments but in terms of their ability to promote the project in their countries, explained Alexei Kalachev, an expert analyst at Moscow investment company Finam Management. One way or another, they are most likely to find a way to contribute to the project, he added.
Subscribe to get the hand picked best stories every week
All rights reserved by Rossiyskaya Gazeta.