The recently confirmed death of Uzbek President Islam Karimov, the man who had ruled Central Asia's most populous nation for over 26 years, has left more questions than it has answers – about whether the repressive system of government built under Karimov will last, about whether the elites will manage to organize a smooth transition of power, and about the country's economic future under a new leader.
While the Hong Kong Trade Development Council refers to Uzbekistan as the largest undeveloped market in Central Asia (its population is close to 32 million people), the country still has a long way to go to actually become an attractive consumer market.
Uzbekistan is one of the poorest ex-Soviet states: The World Bank ranks it 125th by GDP per capita (at purchasing power parity). Nonetheless, it is also Russia's fourth largest trading partner among the members of the CIS (Commonwealth of Independent States).
Trade turnover between the countries amounted to $1.27 billion in the first half of 2016 (representing a 29 percent decrease compared to the first half of 2015). According to Russia's Federal Customs Service, goods and services exports from Russia to Uzbekistan are estimated at $991.1 million in the first half of 2016, with fuel, petroleum products, ferrous metals, and lumber accounting for most of the volume.
Living in China's shadow
In recent years, Russian exports to Uzbekistan have been falling, according to the head of International Commerce Department of the Russian Presidential Academy of National Economy and Public Administration, Vladimir Salamatov.
As recently as 2014, Russia was still the largest exporter to Uzbekistan, accounting for 23 percent of the country's imports, but the following year it became the second largest (22 percent), falling behind China.
That the Chinese are pushing the Russians out of the Central Asia is a general trend, and Uzbekistan is no exception. In 2015, trade turnover between China and Uzbekistan reached $3.5 billion ($2.84 billion for Russia), and China has since become the largest source of direct investment in Uzbekistan. In June 2016, the two countries upgraded the status of their bilateral relations to a "comprehensive strategic partnership."
Uzbek exports to Russia have also been decreasing lately; however, in the first half of 2016, they grew by 18 percent to reach $340.1 million. Cotton and clothing represent the bulk of the Uzbek goods Russia imports.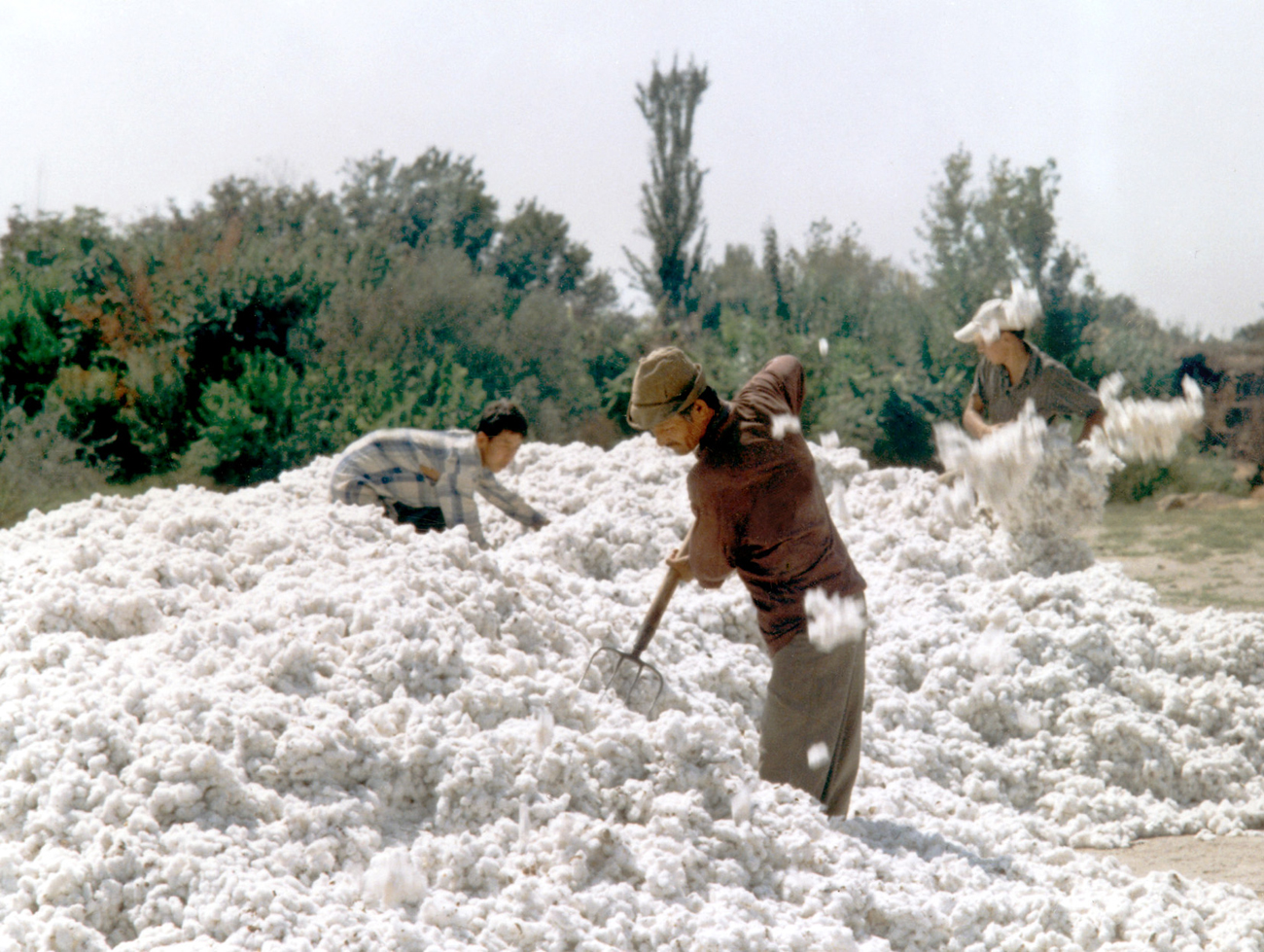 The first million of tons of raw cotton was picked up by Uzbek cotton-growers. The abundant crop of cotton (over 3.5 million tons ) is expected this year in this Central Asian Republic, 2003 / Valery Kharitonov / TASS
While heads of states do "play a fairly significant part" in maintaining economic ties, Russia and Uzbekistan have already established "a framework for growth and stable relations," so expanding cooperation will be beneficial for both countries, said Vladimir Salamatov.
Although back in 2008, Uzbekistan suspended its membership in the Eurasian Economic Community, Russia's former regional organization, it has continued to cooperate with Russia, including as a fellow member of the Shanghai Cooperation Organization, so there is a potential for the growth of mutual trade, argues Salamatov.
An army of migrants
Uzbekistan is Russia's largest supplier of labor — most migrants in Russia are from the Central Asian country — as well as the top recipient of remittances coming from Russia, according to Russia's Central Bank. However, as the Russian economy is facing numerous problems, the country is becoming less attractive for the Uzbeks.
In 2013, Uzbek migrants sent an amount as high as 12 percent of Uzbekistan's GDP back home. Yet in 2015 the remittances decreased sharply, falling to around 5 percent of the county's GDP.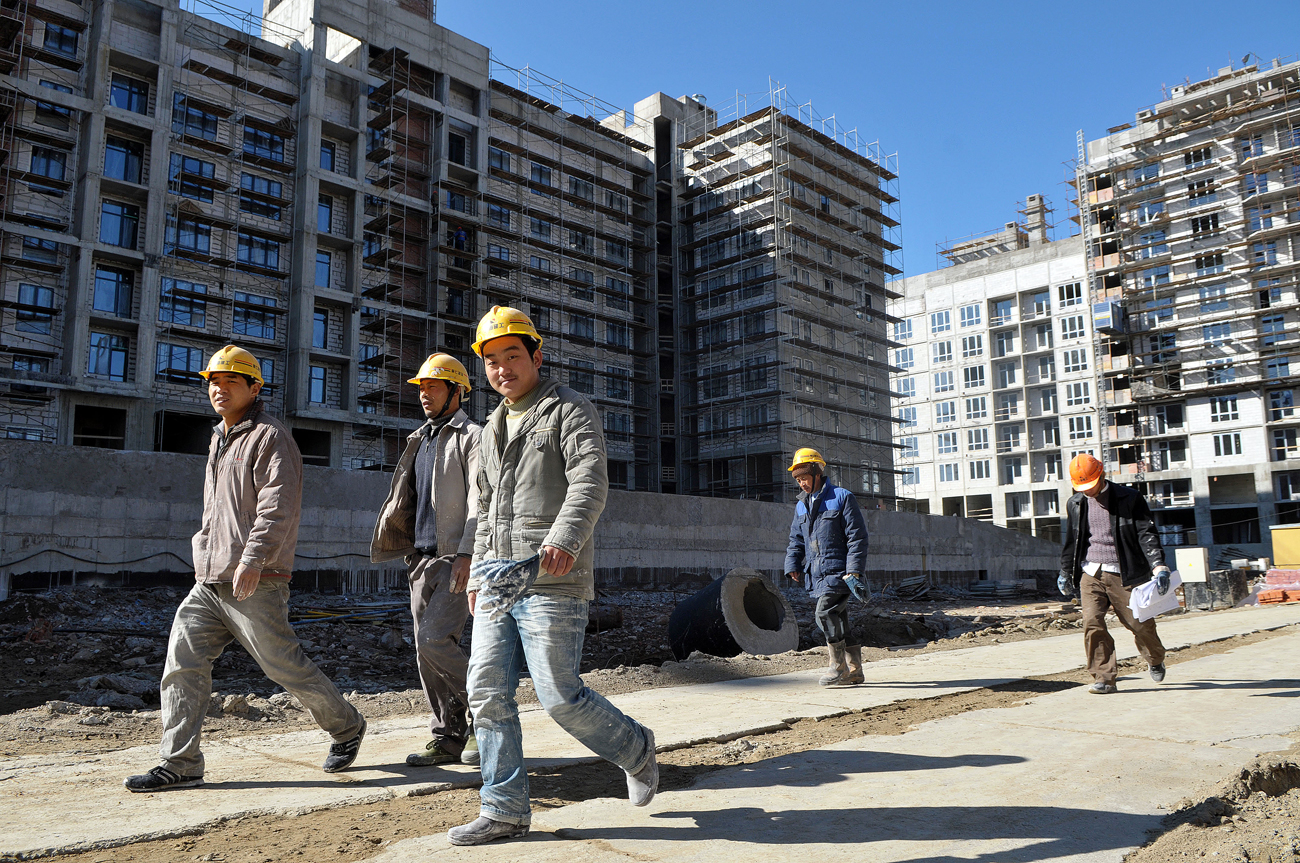 Foreign workers seen at a construction site of multi-functional residential complex Baltiyskaya Zhemchuzhina, St. Petersburg / Ruslan Shamukov / TASS
According to estimates by the Central Bank of Russia, remittances from Russia to Uzbekistan totaled $3.06 billion in 2015, which represents a decrease of 46 and 54 percent compared to 2014 and 2013 respectively. In 2016, the remittances directed to Uzbekistan continued to fall: In the first quarter, they were estimated at $378 million, decreasing by 20 percent compared to the first quarter of 2015.
The European Bank for Reconstruction and Development predicts Uzbekistan's growth will slow down to 6.5 percent in 2016 (down from 8 percent in 2015), with the main reason behind this being the decrease in remittances coming from Russia.
Since early 2015, Russia requires labor migrants coming from CIS countries to obtain "work patents" – special permits – to work legally. In the first half of 2016, Russia made about 21 billion rubles ($322 milllion) by selling such patents, said the head of the Migration Directorate of the Russian Interior Ministry Olga Kirillova on Aug. 17.
In 2015, the amount earned was 33.3 billion rubles ($511 million), with a total of 1.723 million patents issued. Each migrant receiving a patent pays a fixed monthly fee which is set by municipal authorities; in Moscow, the fee is currently 4,200 rubles ($64.5) per month.
During the first half of 2016, Moscow's migration center issued 195,000 patents, with 43 percent of them received by citizens of Uzbekistan, another 30 percent by Tajiks, and 16 percent by Ukrainians, said a spokesman for the Department of Economic Policy and Development in Moscow's city administration.
According to Russia's Federal Migration Service, there were 1.88 million Uzbek labor migrants in the country at the beginning of 2016, but the latest data shows that this number had fallen to 1.75 million by April.
Migrants from Uzbekistan represent a crucial aspect of Russia-Uzbekistan relations, accordings to Marcel Salikhov, a research fellow at the Moscow-based Center for Comprehensive European and International Studies. He believes the number of migrants traveling from Russian to Uzbekistan could soar if Karimov's death creates political and economic instability in the country.
"If the transition of power turns out to be violent, there will be more people there who will decide that there is nothing to be gained by staying and that they need to go to Russia," he said.
A difficult business climate
As President Vladimir Putin revealed in April, Russia has invested over $6 billion in Uzbekistan in total. Russian gas giant Gazprom and its oil company Lukoil operate in the country.
Gazprom imports natural gas from Uzbekistan: In December 2015, the corporation made a deal with Uzbekistan's state-owned Uzbekneftegaz to buy 4 billion cubic meters of gas in 2016. Since 2006, Gazprom has also been developing new fields on the Ustyurt Plateau. The total amount the company invested in exploration from 2006 through 2013 is estimated at $383 million.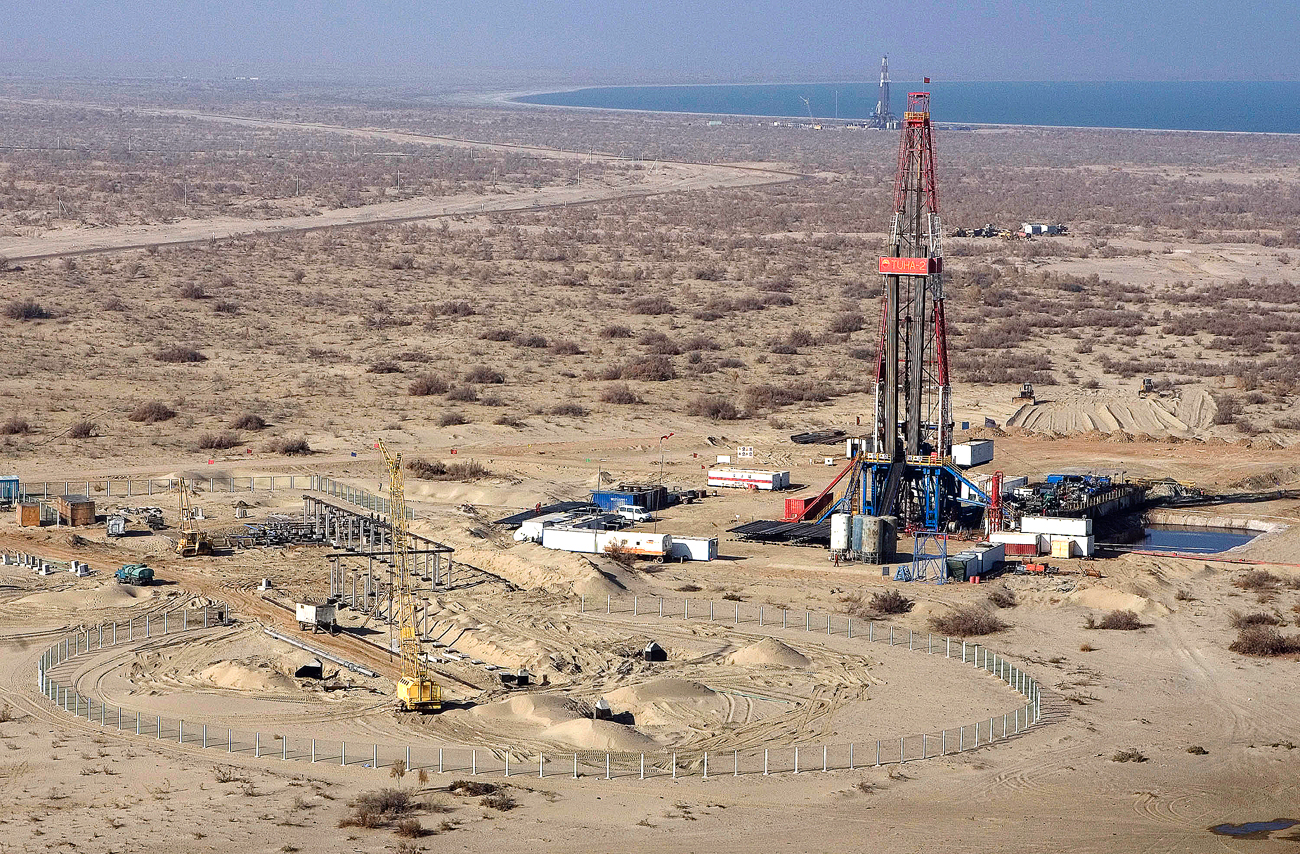 The Khauzak gas field in Uzbekistan is part of the gas mega project Kandym-Khauzak-Shady-Kungrad. The Russian LUKoil mammoth holds 90% of its stock, and the Uzbekneftegaz national holding company 10% / Aleksey Nikolskyi / RIA Novosti
Lukoil is involved in three projects in Uzbekistan: the Kandym-Khauzak-Shady-Kungrad gas field project, a field development in the Southwest Gissar region, and a joint Russian-Uzbek-Chinese exploration endeavor in the Uzbek part of the Aral Sea. The company estimates the first two projects will allow it to extract up to 18 billion cubic meters of gas yearly by 2020.
Lukoil began the Kandym-Khauzak-Shady-Kungrad project in 2004 by signing a 35 year contract with Uzbekneftegaz. In 2016, the company launched the construction of the Kandym gas processing complex in the southwest of Uzbekistan. The complex will include a gas treatment plant, 230 miles (370 kilometers) of pipeline, 100 miles of motorway, and a natural gas collecting system. The total amount of Lukoil's investment in the project is expected to be over $4.5 billion.
Russian companies generally refrain from doing business in Uzbekistan, since the country's economy is "very peculiar" and represents a closed system, said Marcel Salikhov. According to the expert, the country's official currency exchange rate is different from the market rate; moreover, there is a difference in value between cash and non-cash funds.
There is no significant investment coming from Russia apart from Lukoil's money, but, as the company's interests do not depend on the "Karimov factor," its commitment will not be affected in any case. In general, though, Uzbekistan's economy is attractive enough for Russian businesses to start investing – if the authorities change their economic policy, for instance by liberalizing the exchange rate.
"There is just one simple reason why Russian investors stay away from Uzbekistan: You can get into the country, and you can invest in it, but you won't be able to get your money back," said Salikhov.
But the imminent power shift in Uzbekistan is unlikely to have a positive impact on Russian business in the country.
"On the contrary, a change of government will only exacerbate the risks for the investors," said Andrei Kazantsev, chief researcher at Moscow's State Institute of International Relations. "For one, any power struggle will increase the threat of terrorism. The main task now is not achieving economic prosperity, but rather preserving the country."
According to Kazantsev, Uzbekistan has taken the path of internal industrialization, which is why the government tightly controls the economy.
"Foreign investors will not be at ease in Uzbekistan: The currency exchange rates are under the government's control, so cashing out is difficult," he said. "Besides, the level of corruption has been very high in the country: Any foreign investor would need patronage from president Islam Karimov and his family to start a business."
In 2013, experts at the International Institute for Political Expertise, a Moscow-based research NGO, identified success factors for doing business in Uzbekistan, ranking them by importance on a scale from 1 to 10.
According to the study, being personally acquainted with members of the country's government had a value of 9.5, while maintaining a high quality of goods and services offered scored only 5.5. Some of the study participants said projects worth as little as $5 million already required consent from some of the country's top officials.
Having joined neither the WTO nor the Eurasian Economic Union, Uzbekistan remains a country that is mostly off-limits to foreign investment, according to Yaroslav Lisovik, chief analyst at the Eurasian Development Bank and professor at the International Economy Department of the Russian Foreign Ministry Diplomatic Academy.
"The country's economy is focused on internal, rather than external, growth drivers," he said.
Anton Feinberg, Anna Deryabina, Ivan Tkachyov, Anna Mogilevskaya, Lyudmila Podobedova
First published in Russian by RBK Daily.
Subscribe to get the hand picked best stories every week
All rights reserved by Rossiyskaya Gazeta.