Multinationals find opportunities in undervalued Russian oil sector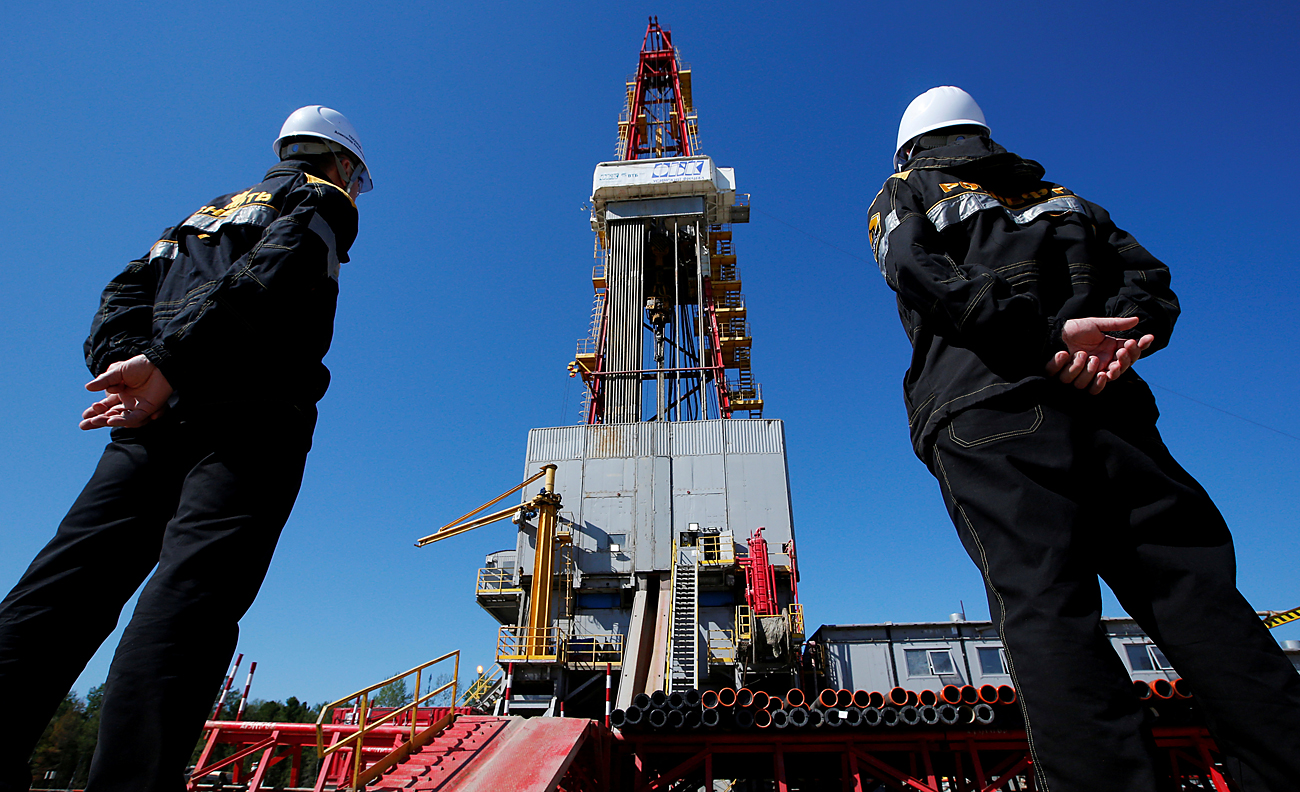 Workers look at a drilling rig at a well pad of the Rosneft-owned Prirazlomnoye oil field outside the West Siberian city of Nefteyugansk, Russia, on Aug.4, 2016.
Reuters
One of the biggest sellers of Russian crude oil says that the sector is dramatically undervalued, which opens up opportunities for foreign players.
The Russian oil sector is undervalued by $1 trillion, and the value of Russian oil companies dropped more significantly than that of their foreign competitors during the collapse of oil prices in 2013-2016 according to data from Dutch-Swiss multinational trading company Trafigura Eurasia, writes (in Russian) Russian business newspaper RBC-Daily.
Speaking at a conference on the global and local market for oil and oil products, Trafigura Eurasia president Jonathan Kollek attributed the sharp drop in the value of Russian companies to the sanctions imposed on the country after Crimea's accession to Russia in 2014. Nevertheless, Russia continued to increase oil production and in September 2016 it reached another record daily maximum – 11,086 million barrels.
Trafigura research also shows that the free cash flow of Russian oil companies in 2015 amounted to $65 billion — an average of $10 per barrel higher than that of their foreign competitors. Since the sanctions went into effect, Trafigura has become the largest seller of Russian oil to the West.
Making deals
In 2013, Trafigura entered into its first major deal on the Russian oil market —a $1.5 billion pre-export contract with Russia's largest oil company. Today it is the largest buyer of Russian oil after the Chinese, with a total volume of around 1 million tons per month, according to the data (in Russian) from Russian business newspaper Vedomosti.
Trafigura has also overtaken Glencore to become the world's second-largest independent oil trader after Vitol. In June 2016, the company sold more than 4 million barrels of crude oil and refined fuel per day, compared with 2.7 million barrels per day in the previous year – largely due to the cooperation with Rosneft.
The company eventually may overtake even China's CNPC to become the leading buyer of Russian oil. In June 2016, Trafigura won a tender from another Russian oil major, Surgutneftegaz, to ship 200,000 to 300,000 tons of oil per month.
Despite sanctions, foreign companies continue to work with Russian oil firms. "In Russia, Italian Eni, U.S. ExxonMobil and Norwegian Statoil work with Rosneft, while France's Total and China's CNPC work with the largest private producer of gas, Novatek," said Georgy Vashchenko, head of Russian stock market operations at investment company Freedom Finance.
"None of the partners left the alliances, the sanctions did not prescribe this to them." According to Vashchenko, Asian players are still yielding to Western companies on the Russian market.
The sanctions effect
The sanctions imposed on Russia by the EU and the U.S. leave plenty of room for global oil firms to work with their Russian counterparts.
According to Alexey Kalachev, an analyst at Moscow investment company Finam Management, the sanctions imposed on Russia relate to the oil and gas sector in two ways. First is the ban on providing debt financing for three energy companies — state-owned firms Rosneft, Transneft and Gazpromneft. U.S. and EU companies are prohibited from trading in bonds of these companies with a maturity of over 30 days as well as any involvement in arranging such securities.
Second, the sanctions ban the export of technology in three areas: deep-water drilling, exploration in the polar regions and production of oil from shale deposits. "The share of such projects in the industry is already low, and the share of involvement of Western companies is even less," Kalachev said.
According to Kalachev, when the price of hydrocarbons is low, companies reduce the costs of exploration and drilling in difficult conditions, even without sanctions.
Sergei Khestanov, macroeconomic advisor to the head of Otkrytie Brokerage agrees with Kalachev's assessment. "Most of the sanctions simply do not concern joint projects with major Western oil companies."
Subscribe to get the hand picked best stories every week
All rights reserved by Rossiyskaya Gazeta.