Russian businesses flock to Moscow's Thai festival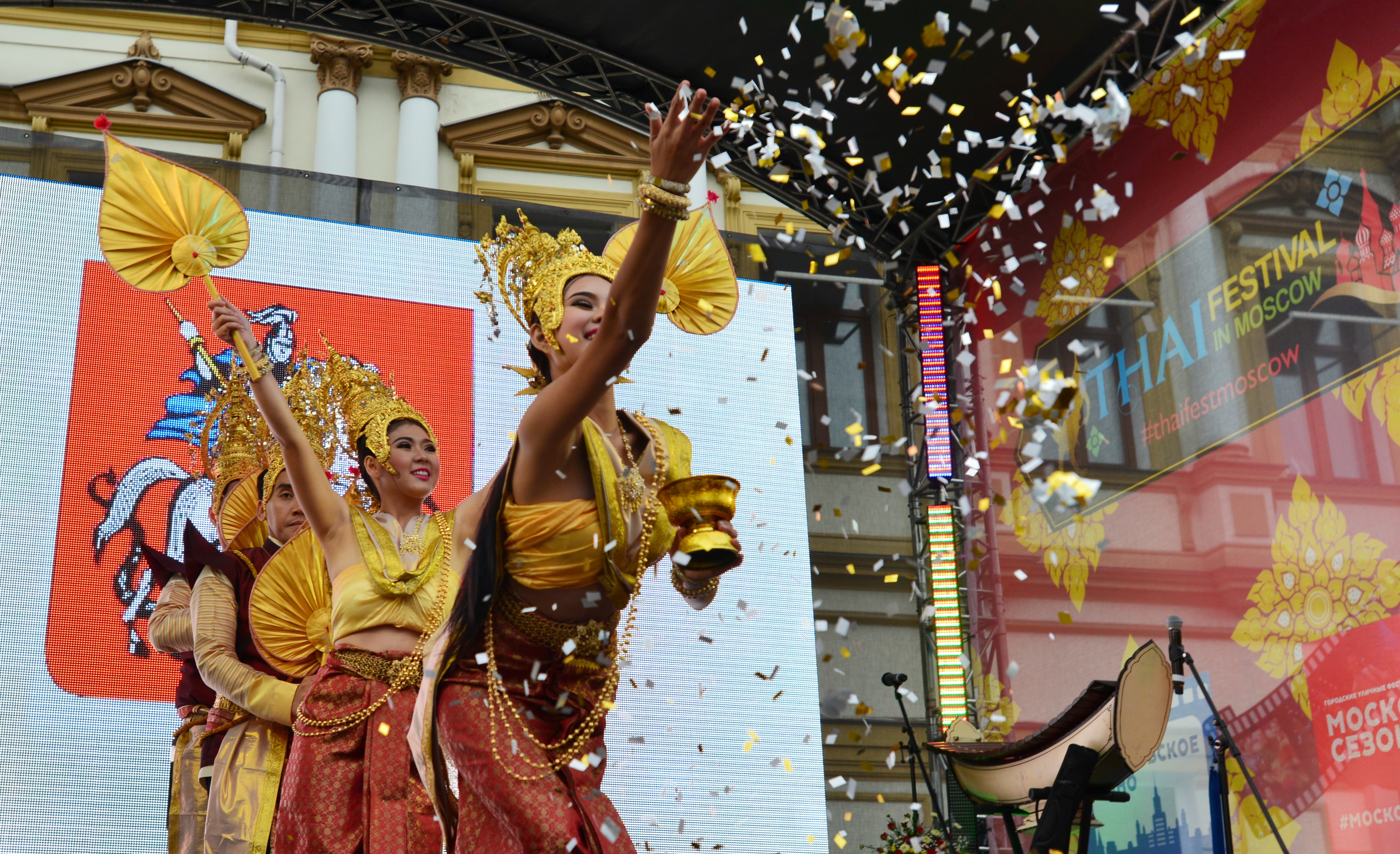 Russia welcome Thailand's initiative to hold annual cultural festivals in Moscow's city center.
Press Photo
Businesspeople in Russia welcome Thailand's initiative to hold annual cultural festivals in Moscow's city center. The festivals are seen as an opportunity to build brand awareness and network with people who have a Thai connection.
Viktor and Natalia, a couple from the city of Tambov (around 450 km southeast of Moscow) specially planned their business trip to the Russian capital around the 2-day Thai festival, held on Sept. 17-18.
They fell in love with Thai cuisine during their trips to Phuket and Pattaya and wanted to include Thai food in their daily diet, but found it hard and expensive to buy Thai products in their hometown. At the festival, the couple could buy Thai food products at a fraction of the price they'd pay in Tambov.
This annual festival was held at the Kuznetsky Most Street, behind the luxury TsUM store, which is short walk away from the Kremlin. Expecting a larger turnout than in previous years, the organizers spread out the exhibits and booths to ensure that there would not be overcrowding. There was a much larger presence of Russian companies in this year's edition.
Sergei Cheremin, head of the Department of Foreign Economic Relations of the Moscow city government, says the festival is a very good marketing tool for Thailand. "It gives Muscovites and tourists a chance to get a feel of Thai culture and cuisine and learn more about the country's traditions," he adds.
Shrinking market for cosmetics
Tatyana Zhukova, head of the Rusalochka group of companies, which operates a chain of beauty shops, happened to pass by the Kuznetsky Most Street last year, when the second Thai festival was going on. She liked what she saw and decided to take part in this year's edition.
She says the choice of the venue was ideal. "Within a few hours we got five totally new clients for our Thai massage programs," she says. "And they were a part of our target audience, which comprises of luxury consumers who visit nearby TsUM."
Thailand festival 2016. Source: Press photo.
Besides operating Thai massage parlors, Zhukova's company is an exclusive distributor of several brands of Thai cosmetics in Russia.
She says the market is sinking due to the ongoing economic crisis, and some retailers in Russian regions have stopped buying the products. "Just to give you an example, if last year a region was on average buying cosmetics worth 100,000 rubles a month, now it has come down to 30,000. Yakutsk stopped buying. Norilsk is on the verge. Sochi, Tula, Stavropol are keeping up."
Zhukova says there is growing interest in Thai cosmetics, but because a Russian customer is more familiar with European or American or even Japanese cosmetics, greater promotions are needed.
Unlike other producers, companies from Thailand sell their testers, instead of giving them away for free, which is a general practice in the West, she adds.
Rising demand for toothpaste
Another businessman who took part in the festival was Andrei Korobov, director of the Thai trading house. His company is an exclusive wholesale distributor of some oral cosmetics and food brands. He says their products are sold in a number of chains including Metro, 7 Continent, and Auchan.
Korobov adds that there is a 150 percent sales growth year on year, and he is now looking for new products to import. "Thailand has a broad range of products," he says.
He attributes this growth to the fact that Russian consumers are sick of established brands, wanting to try something new. He takes the example of the toothpaste market, which has been dominated by international brands like Colgate or Blend-a-Med.
The only factor that stops Korobov's company from expanding its range of products are logistics and tariff issues. "We deliver products both by sea and air cargo to Vladivostok and St. Petersburg, but we need to cut delivery time, improve logistics and lower import-export tariffs," Korobov says.
All rights reserved by Rossiyskaya Gazeta.