EAEU, Singapore launch feasibility study for free trade agreement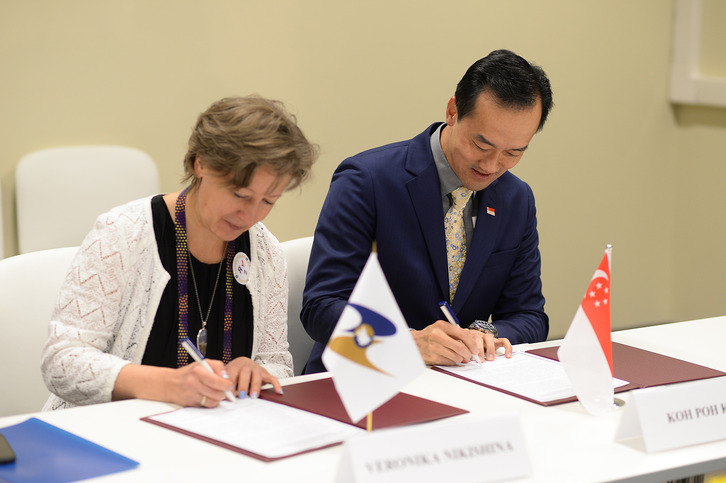 Singapore's Minister of State for Trade and Industry Koh Poh Koon and Eurasian Economic Commission's Trade Minister Veronica Nikishina.
Press Photo
Singapore and the Eurasian Economic Union (EAEU) have launched a joint feasibility study to explore a potential free trade agreement. The EAEU is also looking at closer economic engagement with South Korea.
Singapore and the Eurasian Economic Union (EAEU), which includes Russia, Belarus, Kazakhstan, Kyrgyzstan and Armenia, have moved one step closer to signing a free trade agreement (FTA), with the launch of a joint feasibility study.
Singapore's Minister of State for Trade and Industry Koh Poh Koon and Eurasian Economic Commission's Trade Minister Veronica Nikishina signed a joint statement on the launch of the study on Oct. 26 on the sidelines of the Eurasian Week Forum and Expo 2016 in Skolkovo, near Moscow.
At the forum Koh, Nikishina and South Korean Ambassador to Russia Park Ro-byug participated in a panel discussion titled 'EAEU as a Player on the High-Tech Market,' where they spoke about high-tech production and shared their experiences concerning the establishment of free trade agreements.
Benefits of a FTA
Singapore and South Korea are among the leading Pacific Rim countries when it comes to attracting trade partners. Singapore has signed free trade agreements with 21 countries, Koh said.
South Korea has agreements with 52 countries, which together make up 77 percent of global GDP, according to Park. The volume of trade between South Korea and the EAEU in 2014 touched $27.5 billion, which the ambassador described as an "impressive indicator."
At the Eastern Economic Forum in September 2016, South Korean President Park Geun-hye said that her country was open to signing a FTA with the EAEU. EAEU representatives at the forum said they would initially like to improve cooperation with the Pacific Rim countries and build economic engagement within the "Greater Eurasian" region. As of now, the EAEU only has a FTA with one country - Vietnam.
Competing in the global market
In the future, high technology will become the main component of global trade, the participants of the panel discussion in Skolkovo said. Park Ro-byug sees South Korea cooperating with the EAEU "in the creation of mutually beneficial projects" in this area.
According to Park, the protection of intellectual property is directly related to high-tech production. Currently, the EAEU is forming a regulatory base and in particular, is developing rules for using trademarks, copyrights and issuing patents that all member countries would share, said Grigory Ivleev, a panel participant and director of the Russian Federal Intellectual Property Service.
Koh said Singapore is investing mainly in high-tech companies that work with robotics, innovational production and the "industrial internet of things." In order to develop high technologies the country's domestic market must be opened to foreign competition, he said, adding that only strong foreign competition can stimulate the domestic producer to create a product that would really be in demand on the global market.
Innovational projects that will be in demand on the global market are already being developed within the EAEU, said Dmitry Pankin, Chairman of the Management Board of the Eurasian Development Bank, who also participated in the panel. He added that plants producing "smart home appliances" from Russia's Interstel would soon become functional in EAEU member countries. Pankin described the company as "Russia's Bosch."
Pankin added that another successful example is Monocrystal, one of the world's largest producers of synthetic sapphire that is needed to make smartphone screens and other high-tech gadgets. Today the company has sales offices in the U.S., China, Taiwan and South Korea. Its principal client is Apple, which uses the sapphires in built-in camera lenses, fingerprint readers and watch screens.
Currently, the EAEU is holding talks on the establishment of FTAs with Thailand, Egypt, Iran, India and Mongolia. Tunisia, Pakistan and Israel have also shown interest in increasing economic cooperation with the union.
All rights reserved by Rossiyskaya Gazeta.