Olivier Salad Index: Russians prepare to shell out for New Year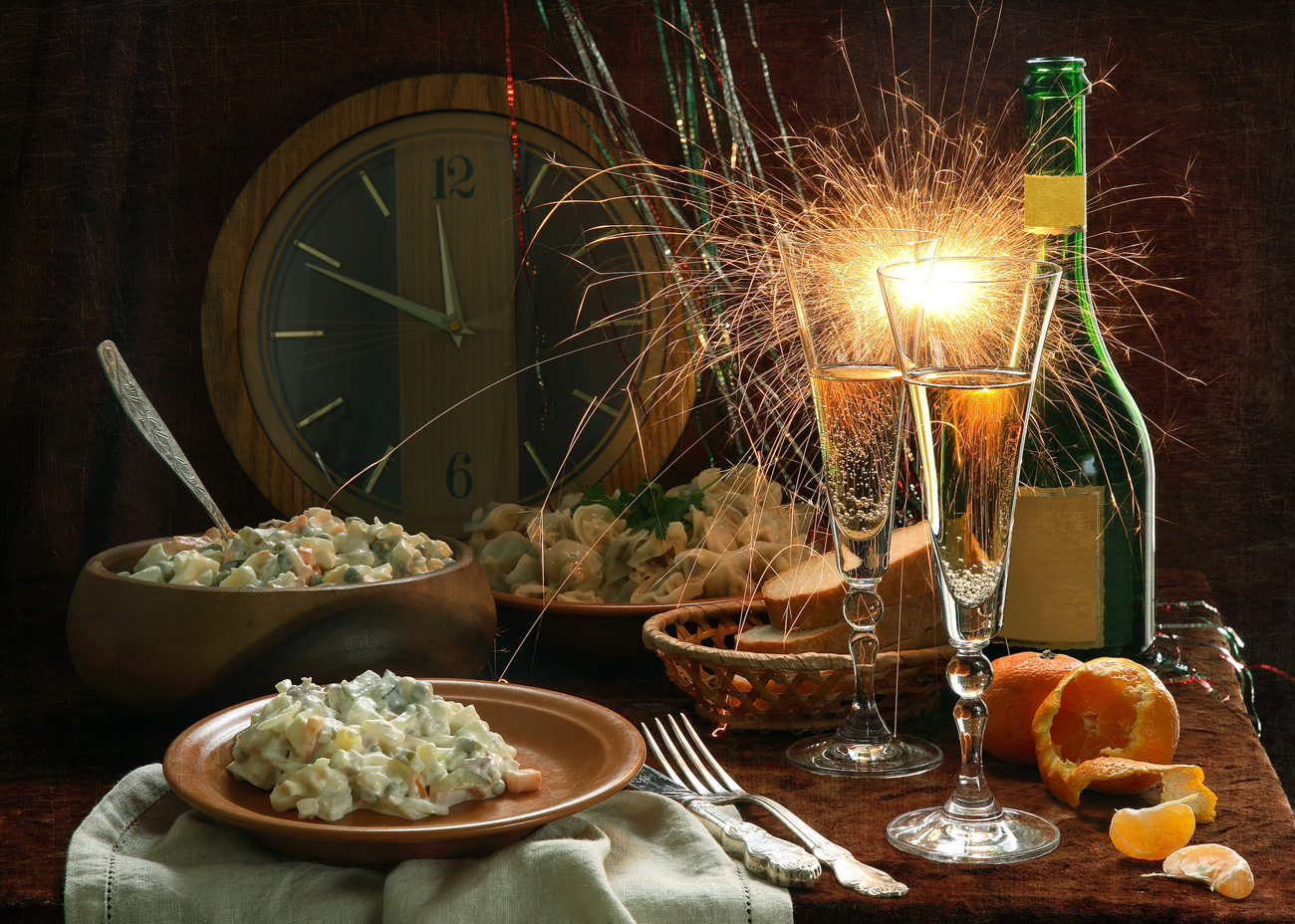 Olivier Salad is a must-have on the Russian New Year table.
Lori/Legion-Media
Even though prices for gifts and food go up towards the end of the year, most Russians are only starting to shop for the important New Year holiday. Economist say that the average New Year meal will cost 5,500 rubles ($90) per household this year, just under 4 percent higher than last December.
Olivier Salad is a must-have on the Russian New Year table, and so the cost of the ingredients required to prepare the dish have become the Russian equivalent of the "Big Mac" index, which measures the cost of food year-on-year. This year, an Olivier Salad to serve six will cost between 153 rubles ($2.50) and 255 rubles ($4.15) to prepare, according to research by Romir. The Federal State Statistics Service (Rosstat) puts the price of an Olivier salad at 310 rubles ($5).
The combined cost of the salad ingredients has gone up by just under 2 percent since December 2015, mainly because the price of mayonnaise increased by 8.6 percent year-on-year. Pickled cucumbers and canned peas are now 3.2 percent more expensive, while prepared sausage costs 1.3 percent more than last December. The other Olivier ingredients (potatoes, carrots, eggs and onions) have actually become less expensive, according to Rosstat. Source: Alena Repkina
The ingredients for herring under a fur coat, another popular Russian salad traditionally served at New Year celebrations, will cost a combined total of 155 rubles, or just 5 rubles more than last year. The increase is minimal despite the fact that the price of pickled herring, its main ingredient, was 6.2 percent higher in November than in December 2015.
A nation of procrastinators
An analysis of day-to-day spending by Russians indicates that few people in the country have started shopping for the New Year celebrations.
"Sales traditionally peak on the 30th and 31st of the month, at 60 percent more than the average daily figure for December," according to a statement by the press service of retail chain Dixi. The report added that that, so far, there has been no noticeable increase in sales of the ingredients for popular New Year dishes, champagne and candy. Caviar sales normally triple in December compared to the other months of the year, while sales of sparkling wines increase by 2.5 times. Chocolate sells 60 percent better in December than in other months, and on Dec. 31, sales of the candy triple compared with other days.
Kalmykia the least expensive region for celebrating New Year
To celebrate New Year on a budget, go to Kalmykia. Rosstat reports that nationwide, the average family of four will spend around 5,500 rubles ($90) on the New Year feast. An average Moscow household will spend about 6,800 rubles ($110) while in Kalmykia, celebrations can cost as little as 4,100 rubles ($67).
This year's holidays will be the most expensive for the residents of Chukotka, who will need to spend 8,400 rubles ($136) on average to bring in 2017.
Rosstat deputy head Sergey Yegorenko said on Dec.14 that the prices of New Year gifts are going up. "The prices of most of the commodities typically selected as festive gifts have grown much higher than the average figures. People will certainly have to spend more on presents."
The price for soft toys have gone up 6.5 percent year-on-year; books are now 4.8 percent more expensive; chocolate, 11.1 percent more expensive. The only exception are smartphones, whose prices actually dropped slightly, Yegorenko said.
First published in Russian by Gazeta.ru.
Subscribe to get the hand picked best stories every week
All rights reserved by Rossiyskaya Gazeta.