Since 2014, Mark Shmulevich, former Russian Deputy Minister of Communications and Mass Media has been in charge of strategic projects at Acronis, an international data protection company, based in Singapore.
In an interview with RBTH he shared his views on the best countries for business to consumer (B2C) services in 2017, demand for Russian products in Asia, and why Acronis is so far the only data protection company with an R&D center in the region.
Trends
In 2015-16 Russia began to generate more income from food exports than from the sales of arms and ammunition. Exports of IT services and software are also among the areas that Russia should focus on. Which market segments in Asia are the most promising for IT developers?
Russian software exports have been growing for a number of years, exceeding the overall growth of the global IT sector, which over the years has been in the range of 2-5 percent per year across the regions.
One of the trends that will affect the demand for software development services in Asia in the coming years is the growing use of public cloud. Another trend in the developed countries in Asia is the rise of the blockchain technology.
New segments like Fintech, which is currently gaining momentum, have emerged on top of traditionally popular segments in IT, such as e-commerce or mobile applications. It will become increasingly common In Asia in 2017. All of this presents opportunities for Russian companies.
Which are the most promising countries in Asia in 2017 and why?
First, the most promising countries in Asia are the ones that have a large proportion of young people, who are primary consumers of B2C services, and a growing "consumer class".
For example, there is Indonesia, a country where so many businesses from more developed Asian countries are keen to expand to. A recent poll conducted by the Singapore Business Federation showed that as many as 48 per cent of Singaporean companies plan to expand to Indonesia, while only 11-12 percent find South Korea, Taiwan or UAE attractive.
Today, however, it is important to focus on the different categories of cities rather than countries. In 2017 cities such as Manila, Jakarta or Kuala Lumpur will have the highest consumption levels of B2C services in Southeast Asia and will have the largest technology customer population, and therefore remain the focus of attention for foreign IT companies.
Having said that, customers in smaller cities that are often overlooked by foreign companies, can still present many opportunities and less competition. Second, in 2017 we'll see the development of public and private-public projects of "smart cities" in Asia.
The Smart Nation program in Singapore is one of such examples. Third, and again this involves the public sector, there will be a growing demand for production and services automation technology. This is driven by the desire of several countries in Asia to maintain productivity though the use of technology, meeting the challenges of an aging population. For example, this is what's happening in Japan.
Would you say that there is a trend for Russian IT companies not only to successfully break into the Asian markets, but also to settle there to be closer to these markets?
I would not describe it as a trend yet. We often hear about companies with Russian roots sprouting up in Asia, from SPBtv and BaseRide to Kasperky Lab. There will probably be more.
It can be said that companies that have access to Russian developers have an advantage: there is a shortage of engineering talent with deep IT competence in Asia that is needed to develop new IT products.
This shortage is especially severe in Southeast Asia. In this regard, consumers of IT products in Asia associate Russia with the Russian scientific school and engineering competence. I have been contacted by a number of organizations in Singapore asking for advise on how to find a Russian company or Russian programmers for IT development.
Are Asian players prepared to invest in international companies with Russian roots? Are there any examples of this? How would you describe a company, in which Asian investors would be prepared to invest?
Asian investors are quite traditional. Companies whose solutions improve company performance stand a good chance. Some sectors are especially in demand, such as logistics.
As for B2C services, investors, in particular, look for social interaction applications and lifestyle projects aimed at young people. Research-intensive start-ups can find it very difficult to find investors in Asia. I sit on the Supervisory Board of the Singapore-MIT Alliance for Research and Technology (SMART) Innovation Centre for IT, where grants for projects are awarded.
We see that even for the high quality research-intensive start-ups that have got grant support it is harder to attract investment from Asian funds compared to those in the United States. At the same time, the chances to attract investment in Asia for more "traditional" businesses are great: from private family funds in all countries to public management funds in China, there is a lot of money for investment and an unbiased, normal attitude towards Russian projects.
Space
Do you think there are any prospects for GLONASS in Southeast Asia and East Asia? Is GLONASS used there at the moment?
GLONASS has great potential in a professional environment: the potential for joint use with GPS, Galileo and the Chinese Beidou. Devices that use multiple positioning systems operate with greater accuracy, they are more stable, and have already become a de facto standard. In this regard GLONASS is already well known in Asia.
You used to work in the space sector. Quite a lot is known about Russia-China space cooperation, but there are hardly any reports about contacts or projects with the countries in Southeast Asia. A few years ago, Russia assisted with sending a Malaysian cosmonaut into space. What are the developments in this area?
As I am no longer associated with the space sector, I am not so well informed of the current developments. Some time ago groundwork for cooperating with India and Indonesia was laid.
The overarching objective for various countries consists in monitoring various space systems and associated disruption. As for applied projects, I shall give you another example from satellite navigation that I am well familiar with. For more than 5 years the Multi-GNSS Asia project has been actively developed (MGA).
Its aim is to create new applications where multiple navigation systems are used simultaneously and to test the use of such applications. Asia is the test-bed for this process. Over 50 participants are involved in MGA, including Russians, who are working on 25 joint projects in such areas as intelligent transport systems, prediction of natural disasters and accurate positioning. It's a truly multinational project that benefits both the industry and the society.
Acronis
What are the differences between the Hong Kong, Taiwan, Japan, Singapore, India and South Korea markets, where Acronis has opened offices?
For us Japan is the biggest market in Asia, followed by South Korea and Singapore. Each country has its own distinctive characteristics and we have good partners in all, although on high level we organize the work in these countries in a similar way.
How significant is localization for your business and how do you take them into account?
For some countries in Asia, we do not localize our products. For example, in Singapore and Hong Kong our products are sold almost in the same packaging as in the West. In other countries, such as Japan, South Korea, China, our products are deeply localized: this involves translations into local languages, adapting documents and setting up sales channels. It is important to find the right partners in each country.
In addition, a common distinctive feature of Asia is a longer sales cycle. Decisions are not taken quickly. They are not just based on the results of proof of concept (PoC) and testing, but involve having much more information from customers.
More time is invested in getting to know our partners and clients, and to give them time to get to know you.
At Acronis, among other things, you are responsible for cooperation with universities and research centers. Are there any centers and universities in Asia among your partners?
About half of the employees at Acronis are engineers, developers and researchers. Interacting with universities and R&D centers is a very important part of our work. In Moscow, we have the largest development center, with more than 400 engineers. In 2015, we established an R&D center in Singapore. It is already engaged in a few joint research projects with local research centers.
In particular, in 2016 a project with the Data Storage Institute (DSI) was completed; the Institute is part of the State Agency for Science, Technology and Research (A*STAR).
Last year, we started working together with Nanyang Technological University (NTU), and co-founded the Consortium for Cybersecurity under the auspices of the National University of Singapore (NUS). Both of these universities are of a very high standard. NUS is number one in Asia in the QS rankings.
NTU is one of the most recently established universities, founded in 1981, but it is already No 13 in the world in the QS rankings, and No 1 in the world among young universities. In 2017, we will hold meetings and likely to start cooperation with two more research institutions in Singapore.
What does this cooperation involve?
The main area of ​​cooperation is in joint research of data storage and protection technologies. In addition, we have an internship program for students from local universities and polytechnics. During the internship, students work on real projects that are important for the company.
Do you have any plans to launch such kind of cooperation in other Asian countries?
To make it work, a number of our engineers must be based somewhere near the institution with which we cooperate as people often have to work together. In Asia, we only have a development center in Singapore, so, it's our main focus. But consortia that include organizations from various countries are very possible.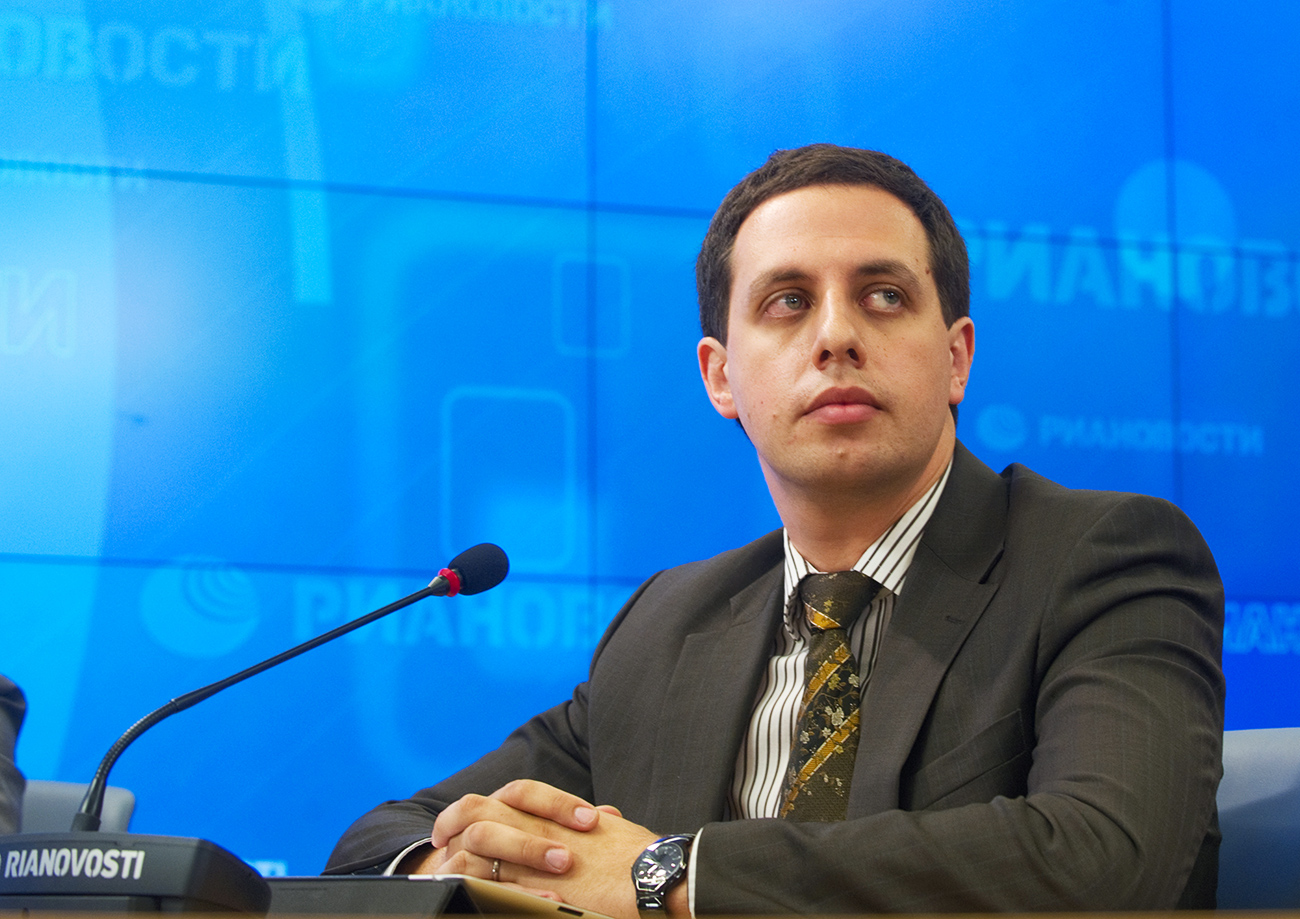 Between 2012 and 2014 Mark Shmulevich was Deputy Minister of Communications and Mass Media of Russia and was in charge of the development of IT industry. At the end of 2014 Mark joined Acronis, an international data protection company, as Chief Strategy and Operations Officer, based at the company's international headquarters in Singapore. He is in charge of the company's strategic projects across the world. Acronis is actively cooperating with the R&D centers and universities developing modern security and data storage technology.
If using any of Russia Beyond's content, partly or in full, always provide an active hyperlink to the original material.