3 bizarre schemes used by some rich Russians to launder money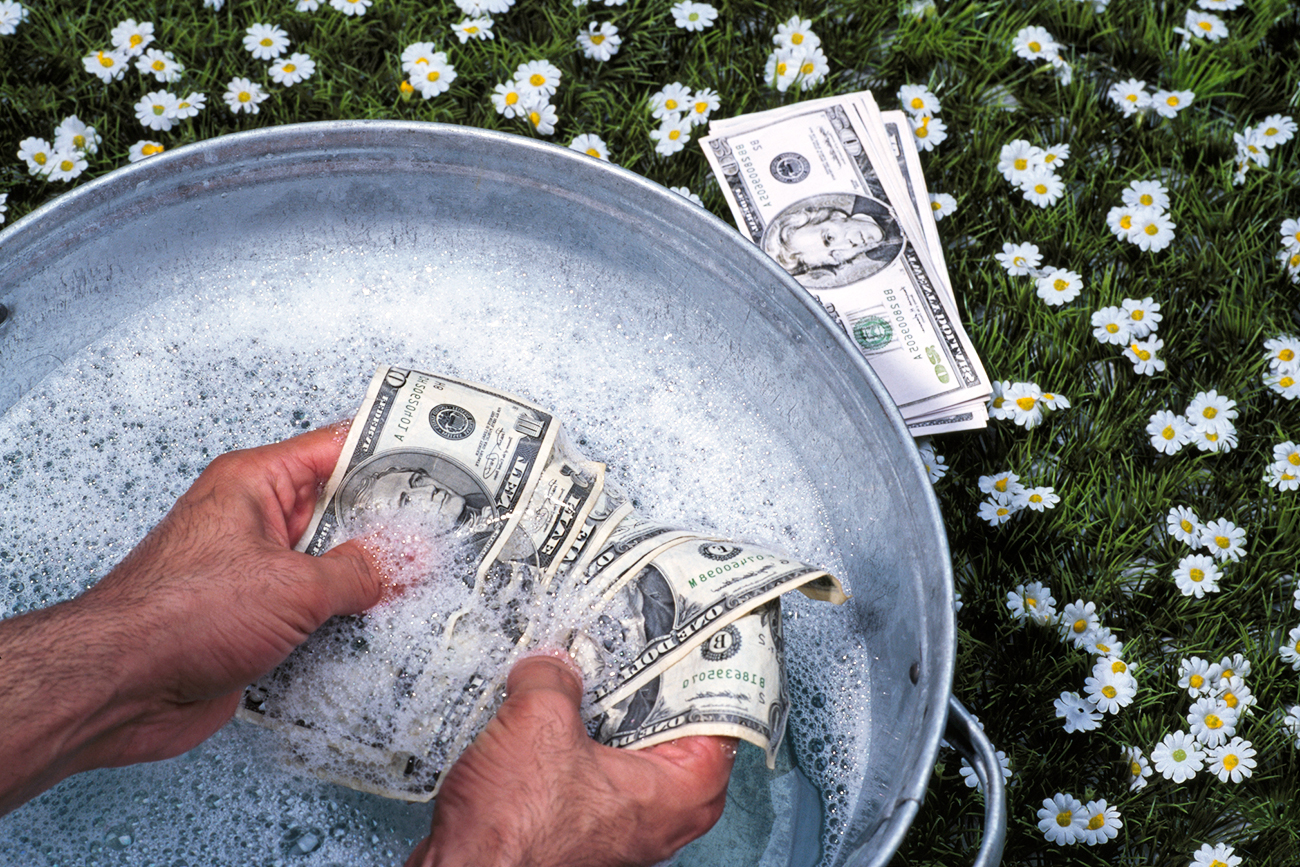 RBTH takes a look at other schemes that have been "effective" in recent Russian history.
Getty Images
Over the past few decades criminal groups have frequently come up with devious and illegal strategies to launder money both domestically and internationally.
Nearly $21 billion left Russia under dubious circumstances in 2011-2014, via Moldova and Latvia. This money laundering conduit was exposed in an investigation by the Organized Crime and Corruption Reporting Project (OCCRP) and newspaper Novaya Gazeta, published on March 20.
Foreign dummy companies signed fictitious loan agreements, and Russian and Moldovan companies acting as the guarantors were then "forced" to repay the fake loans following court bankruptcy proceedings. Thus, money left Russia in the form of "loan repayments."
With ever an eye to sending their money abroad, rich Russians constantly devise money laundering schemes to circumvent state regulations restricting the export of capital.
RBTH takes a look at other schemes that have been "effective" in recent Russian history. (Note: RBTH in no way endorses such criminal behavior and calls to respect all Russian laws).
1. Make a movie
In May 1988, the Soviet Union legalized cooperatives, which were the country's first private business associations. In December of that same year, the Council of Ministers banned cooperatives from engaging in film production, but cooperative filmmaking nevertheless became a serious source of money laundering.
These films had lousy plots and low production value, and were created by independent film studios that bypassed the state. For people in the film industry, movies made by cooperatives became a source of huge income during Perestroika and the early 1990s. For the emerging class of "New Russians," such films were a way to launder money because they had to do something with the considerable amounts of illegal money that already had been accumulated in the shadow economy. As a result, "dirty" money became an important source of financing for the Russian cinema.
"It was a good opportunity to launder one's money through cooperatives. The mechanism was simple: an oligarch or a bandit gave $1 million to make a movie. Once the money was cashed, the director returned $900-$950,000 to the sponsor and made a film with the remaining money," said (in Russian) director Andrei Smirnov, former head of the Union of Cinematographers, commenting in a documentary about that era in Russian cinema history.
With the start of privatization in 1992, there was no longer a need to launder money through films, and filmmaking cooperatives went into decline.
2. Clean offices and get a 5-million euro loan
In 2013, the Russian Central Bank stripped Master Bank of its license. This bank had been one of Russia's major banks for more than 20 years, but in reality it was no more than an oversized financial laundromat.
According to the Central Bank, Master Bank made about $3.5 billion worth of dubious transactions, using a scheme typical of small and medium-sized businesses. Top managers co-opted subordinates to withdraw funds. Cleaners and security guards were issued fictitious loans worth up to 5 million euros, and were promised that the debt would remain only on paper. Managers withdrew the money, but the debt remained on the bank's books and in the credit history of either the cleaner or guard.
3. Struggling families targeted
"Cashing out" is the conversion of non-cash funds into cash through various fictitious transactions, and some schemes have been quite sophisticated. In 2013, fraudsters were detained after making more than $180 million in the illegal "cashing" of state maternity capital.
Maternity capital is a form of state child support in Russia, paid to families which after Jan. 1, 2007 gave birth to, or adopted a second child, and any subsequent children. The family can spend the money on improving housing conditions, or education costs for one child.
The Interior Ministry reported that a criminal group used more than 400 companies to gather information about struggling families, and invited them to "cash out" maternity capital certificates.
The swindlers signed special-purpose loan agreements with mothers for the amount of maternity capital (about $6,500 at the time), allegedly for the purchase of housing. Then, on behalf of the mothers, the criminals purchased real estate that was several times cheaper than the declared value, and provided the relevant state agencies with documents confirming the purchase. On the basis of those documents, the maternity capital was paid out in cash. The swindlers returned part of the amount to the families in question, and took the rest (between 30 to 80 percent) for themselves.
If using any of Russia Beyond's content, partly or in full, always provide an active hyperlink to the original material.