'Most extravagant' Starbucks coffee sold in Russia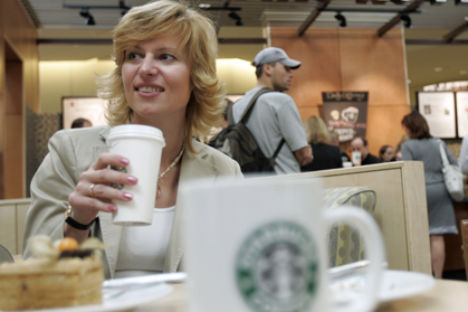 Russia tops the international 'latte index.'
Reuters
A coffee in Russia hits the wallet far harder than in the U.S.
Russia tops the international "latte index," according to research by the U.S. ValuePenguin company.
Researchers analysed recent market data (from Jan. 2016) on the cost of a small ("tall") hot latte at Starbucks in 44 countries around the world, as gathered by Euromonitor International, a leading global provider of market research. The goal was to find out how extravagant a purchase a Starbucks coffee was in different nations.
It was discovered that in Russia, buying a "tall" Starbucks latte is the equivalent of an American spending $12.32. In the U.S., a "tall" latte costs only $2,75. So it seems Russians are willing to bust the bank to get their caffeine fix.
"These seeming splurges underline how inexpensive many other goods and services are in those countries," writes ValuePenguin editor Paul Reynolds. "With bread, milk, or other staples less costly there than in the U.S., Starbucks seems like a big spend indeed. The figures may also explain why in many countries Starbucks is an exotic, status-laden chain--an embodiment, perhaps, of American affluence and indulgence".
As of March 2017, the price of "tall" latte in Russian Starbucks was 255 rubles ($4.4).
The "latte index" shows the purchasing power parity that determines what a country's exchange rate would need to be in order for a Starbucks tall latte to cost the same as it does in the U.S. Using this index, the purchasing power of each individual national currency can be reflected in the U.S.-dollar cost of a latte in that country.
If using any of Russia Beyond's content, partly or in full, always provide an active hyperlink to the original material.