Konstantin Brilevsky was studying architecture, when he decided to quit university. He apparently "did not want to do the job architects usually do." For several years he worked as a freelance graphic and web designer, landing on illustration projects in the end. To hone his creativity, Brilevsky launched a group on Russian social network site VK, where he posted his artwork based on a lazy sloth character and named him "Free from Cares."
When the audience started growing, they asked him to create stickers for Telegram, Brilevsky told RBTH. He did and suddenly "there was a huge reaction."
"I had about 16,000 followers on VK, when more than 200,000 people downloaded the sticker pack for Telegram. Because people use them for communication, they quickly go viral," he explains.
Katya Zubkova has been working on graphic design projects for almost 15 years and the work on her cat character started "way before Telegram or even iPhones," she told RBTH.
Although the popularity of her cat character came before Telegram stickers and she already had two exhibitions at St. Petersburg's Loft Project Floors Exhibition Hall, "stickers became a sort of advertising campaign for My Imaginary Cat project which only makes me happy," she says.
Her characters can be also found on post cards and magnets in book and souvenir shops in St. Petersburg. Telegram stickers "definitely influenced selling rates," Zubkova says.
Simple creation
Unlike other messaging apps with stickers such as LINE or Facebook-owned Whatsapp, Telegram has an open community of creators, which means that any user can create his own stickers.
It is relatively easy to create stickers in Telegram, because the app has a special bot that helps to add them to the database and simplify the process. This means that packs can be changed at any time given.
Using memes, books, movies and art for inspiration, in just one year Brilevsky became the author of several sticker packs for Telegram. The latest, Lazy Panda, covers the same "laziness" theme as "Free from Cares," but uses only English and has been downloaded by 1.5 million people, Brilevsky wrote on his page on VK.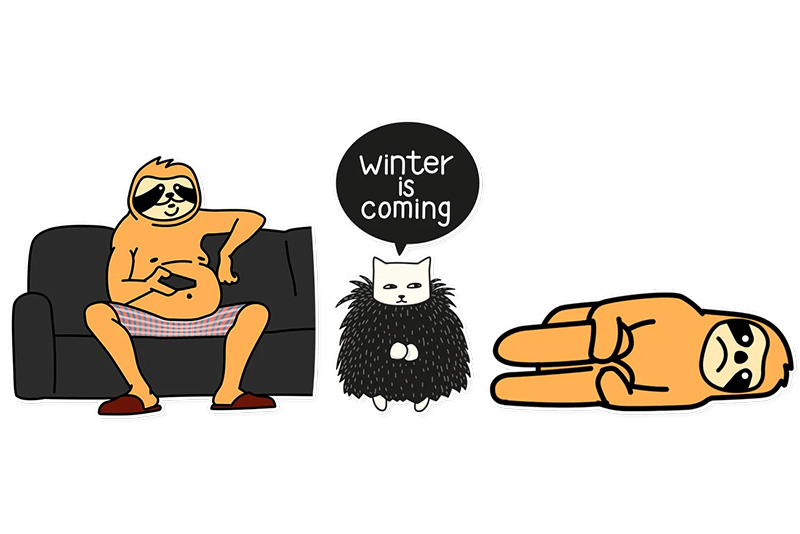 Buyers often look for the most creative stickers / Konstantin Brilevsky; Katya Zubkova"Sometimes I get an order on new sticker packs, then I introduce a new character which is usually connected with a specific theme," Brilevsky says. In the nearest future he plans to create a pack with a new character – a smart dolphin.
Zubkova uses a slightly different method. The main goal of her cat stickers is to "describe the mood, thoughts, ideas and atmosphere of St. Petersburg and its people."
"Although it's quite easy to draw [stickers], it can be hard to find the words that will not describe the city in stereotypes. I can think about stickers that represent St. Petersburg's atmosphere for weeks," she says.
She's currently working on a new sticker pack under a working name "The Art of Whine," Zubkova told RBTH. "It will be like 'The Art of Life,' but in St. Petersburg style," she adds.
Both Zubkova and Brilevsky believe that Telegram might be a good start for aspiring illustrators and designers. However, "there are a million stickers in Telegram," says Brilevsky, adding that only "the coolest [stickers] will be noticed." Zubkova says this is especially the case "if one has an original and unique character."
How it turned out in the end
Though Zubkova was already well known thanks to the My Imaginary Cat project, she says that stickers contributed to the "popularity of the cats outside the messenger."
She had a collaboration project dedicated to Children's Day with the Mail.ru group, a major internet company in Russia. Apart from merchandise, her cats also appear on several advertisements in St. Petersburg's Ukrop café.
Brilevsky now holds lectures at St. Petersburg and Moscow digital festivals, sells his own merchandise with a "Free from Care" character, and collaborates with a local craft beer brewery. He continues to work on the project as he "feels that it is not fully developed yet."
Zubkova summarizes that Telegram stickers can "showcase your artwork to a wider audience without any financial investments." Besides, she adds, "[creating stickers] is simply so much fun."
How much artists earn with Telegram
According to creative director of Telegram, Andrey Yakovenko, more than 50 Telegram artists have earned a total of $450,000 during the spring and summer months of 2016.
A sticker's price starts at $80 and artists can also get earn-outs, depending on the popularity of their stickers, he added in a conversation with a Russian start-up media project.
Telegram is a messaging app launched in 2013 by brother entrepreneurs Nikolai and Pavel Durov, who previously had founded the largest social network in Russia – VK.
In February 2016 it had 100 million monthly active users.
Telegram is praised for its security, the possibility of building a Telegram client by any developer, no requirements for space or memory and its channels that are used as blogging platforms.
If using any of Russia Beyond's content, partly or in full, always provide an active hyperlink to the original material.