Matryoshka is a fully autonomous vehicle developed by residents of the Skolkovo innovation centerю
Global Look Press
Russia's first driverless bus, Matryoshka, will be tested at the third Eastern Economic Forum, which will be held at the campus of the Far Eastern Federal University (FEFU) in Vladivostok on Sept. 6-7, 2017.
The test drive at FEFU will be held jointly with the company behind the project, Bakulin Motors Group (BMG), reported the university's press office.
Other Russian companies, however, are also deeply involved in the development of autonomous vehicles. For instance, the famous truck maker Kamaz, and the Internet company, Yandex, announced plans to create a driverless buses and cars.
Driverless Matryoshka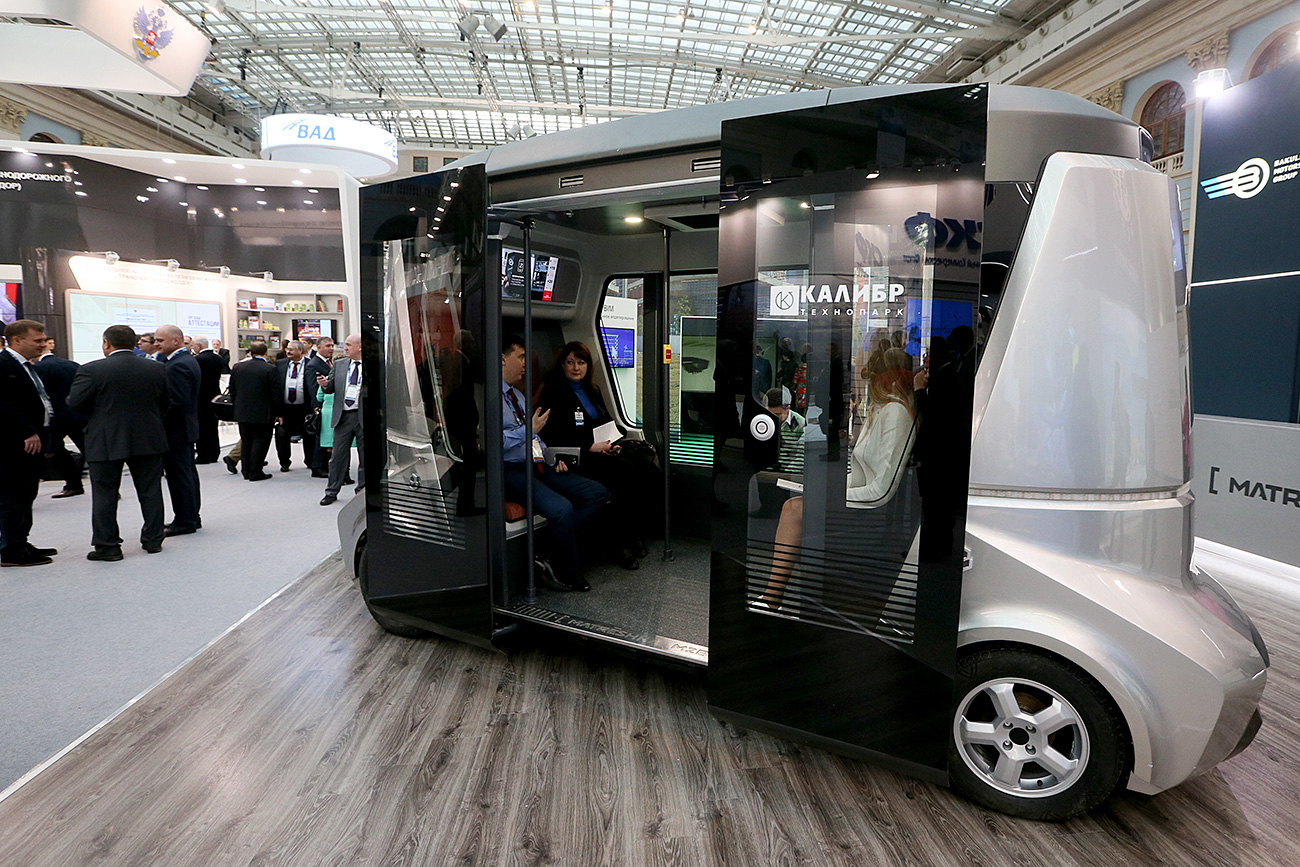 Matryoshka M2B8, a self-driving passenger bus on display at the 10th Transport of Russia International Forum and Exhibition held at Moscow's Gostiny Dvor. / Dmitry Serebryakov/TASS
Matryoshka is a fully autonomous vehicle developed by residents of the Skolkovo innovation center, which can carry passengers, cargo and be used as a public utility vehicle.
The electric bus has a passenger capacity of 8-12 people, and its battery takes four hours to fully charge and can go 80 miles at a speed of 18 mph. If necessary, passengers can call the operator via video call. Some 80 percent of the vehicle's components are made in Russia.
BMG's CEO and owner, Alexei Bakulin, said in May that a prototype bus costs 8.5 million rubles, but when the bus enters serial production the price should go down to 3.5 million rubles.
Since Russia does not yet have traffic rules for driverless vehicles, Matryoshka's first tests were conducted on Skolkovo's closed grounds. BMG's plans include testing the vehicle in city traffic.
Kamaz's smart buses
Kamaz driverless shuttle. / Marina Lystseva/TASS
Another driverless shuttle bus has been developed by the Russian truck manufacturer, Kamaz, in partnership with the NAMI central automobile and automotive engine research institute. Kamaz also provided the bulk of the project's funding.
"The shuttle is fitted with deep machine learning technology, object recognition and detection technology, wireless remote control technology, as well as technology for localizing the vehicle on public roads," said Sergei Nazarenko, Kamaz chief designer for innovative vehicles, adding that the bus will operate in closed areas with the help of sensors whose location will ensure that there are no blind spots.
The work on driverless buses began in 2016, and Kamaz's first was unveiled last summer at the Moscow International Auto Show. The debut was so successful that Kamaz signed an agreement with Yandex on joint development of autonomous vehicles.
At the 2018 World Cup that will be hosted by Russia, prototypes will be demonstrated both in autonomous movement and in remote control. Then, the bus will be fine-tuned and prepared for serial production, which is planned for 2020. The price of a driverless electric bus is estimated at 10 million rubles.
Kamaz expects its bus will first and foremost find interest among closed and semi-closed territories, such as exhibition and recreation areas. The company does not rule out exporting the bus.
Yandex's driverless cars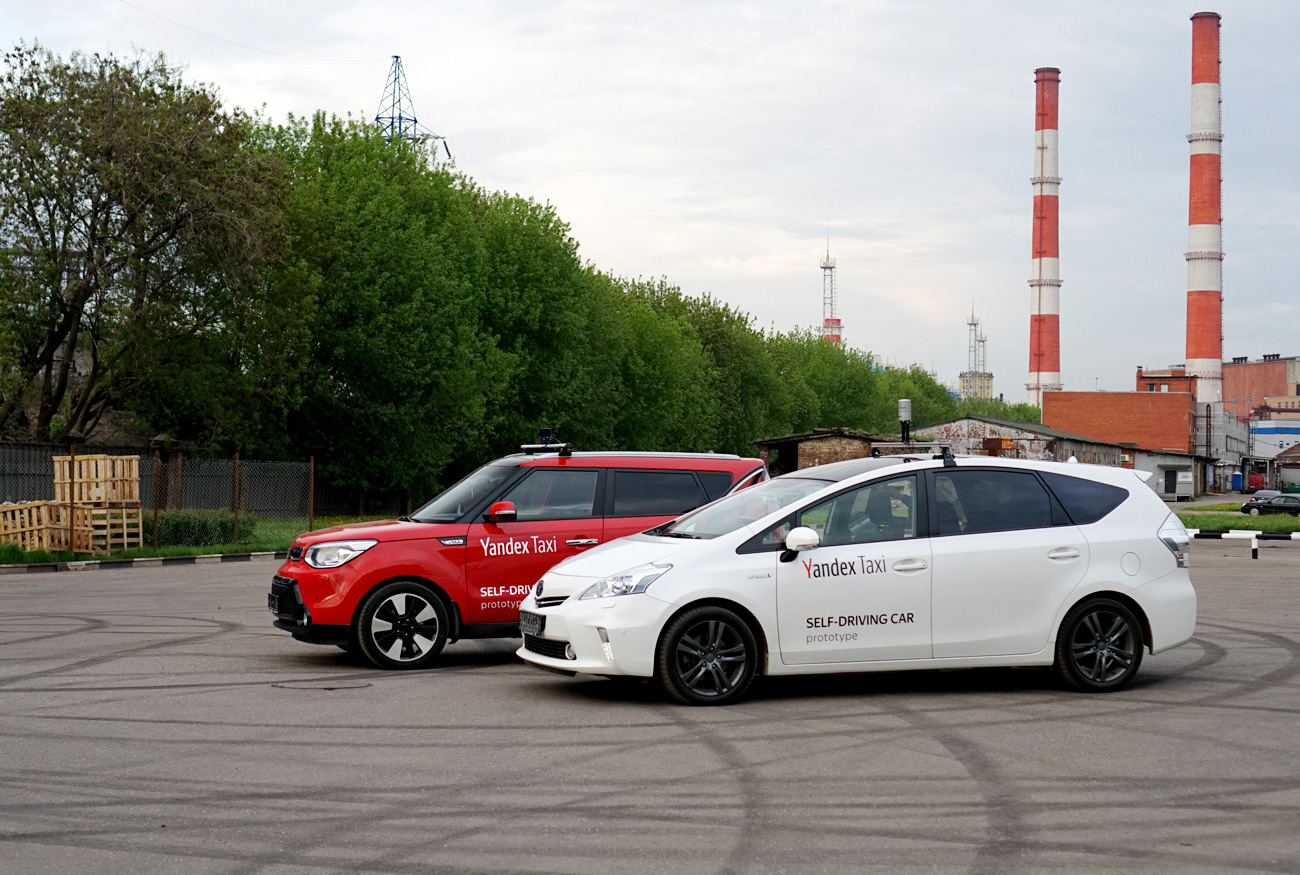 Yandex self-driving car. / Yandex
On May 30, Yandex posted a YouTube video showing the test of a driverless vehicle prototype.
Based on a Toyota minivan, it has software with navigation, geolocation, computer vision and machine learning technologies used in Yandex's geo-information services (Maps, Navigator, Traffic, Panoramas).
"Our prototype can autonomously, without help from a driver, move along a given route from one point to another," said a Yandex representative. The vehicle is able to detect and circumvent obstacles (including other cars and people), stop, and continue moving if necessary.
The first to test the technology will be Yandex.Taxi service, but Yandex is open to cooperation with other companies and car manufacturers. The company plans to start tests on public roads within the next 12 months, but it's too early to talk about the mass use of the technology, said the Yandex representative.
If using any of Russia Beyond's content, partly or in full, always provide an active hyperlink to the original material.