What weapons is Saudi Arabia buying from Russia during King Abdulaziz's visit?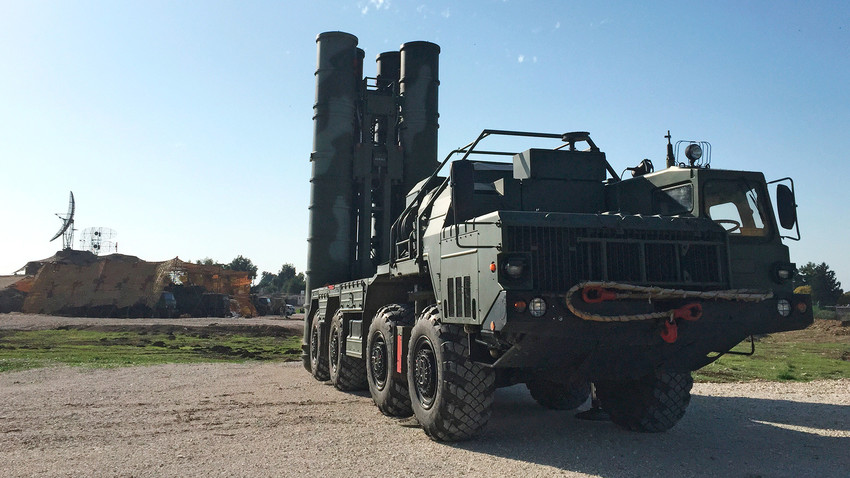 An S-400 air defence missile system is deployed for a combat duty at the Hmeymim airbase to provide security of the Russian air group's flights in Syria.
Dmitriy Vinogradov/RIA Novosti
The royal has booked out of Moscow's luxury hotels, demanded the Kremlin install handrails, and now he's splashing the cash on big guns.
Russia has potentially peddled about $3 billion's worth of weapons to Saudi Arabia during King Abdulaziz's visit to Moscow from Oct. 4 to 5, and wants the money up front - or the deal is off.
A number of arms agreements have been discussed during the last couple of days, including the creation of a Kalashnikov enterprise in Saudi Arabia - which could see AK-103 being made and distributed throughout the kingdom.
Moscow also sold Riyadh a number of heavy weapons, including the TOS-1A flamethrower that can wipe out enemies hiding in caves or underground with its thermobaric warheads. Anti-tank missiles - called Kornet-M - and AGS-30 grenade launchers have also been snapped up.
Big Money Deal
Saudi Arabia's main purchase is undoubtedly four S-400 Triumphs, the Russian-made air defense system. Each costs a cool $500 million and comprises 12 launch machines and support vehicles such as radars and a command center.
The deal also includes technical support for the hardware, so in the coming years Saudi officers will be visiting Russia's military bases to learn how to operate the new weapons.
"Russia will teach the Arabian specialists how to integrate this air defense system with the U.S.'s weapon complexes that the kingdom ordered this summer for $100 billion," Dmitry Litovkin, a military analyst from the Izvestia newspaper, told Russia Beyond.
As he mentioned, Russia and NATO member Greece have a similar agreement. Athens bought the S-300 complex in the late nineties.
"Moscow will earn around $2 billion dollars by selling the S-400s, plus extra throughout the years of technical service, maintenance, and selling additional parts," the expert added.
Why did the Saudis buy Russian Growlers instead of American Patriots
The latest purchase of American weapons by Saudi Arabia didn't include long-range missile defense systems. Why?
The Russian-made S-400 Triumph detects and eliminates all aerial targets (including cruise missiles, guided and unguided bombs, and all modern aircraft) at distances of up to 380 km. The American-made MIM-104 Patriot only has a range of 180 km. Due to this, China and Turkey are also lining up to buy the Triumph.
If using any of Russia Beyond's content, partly or in full, always provide an active hyperlink to the original material.