Visa-free regime for Vladivostok to commence in January 2016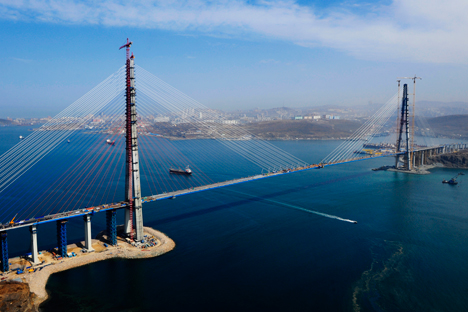 The bridge in Vladivostok links Russky Ostrov to the mainland. It has been constructed before the 2012 APEC summit. Source: ITAR-TASS
Foreign visitors will be allowed to enter to the city without a visa for a period not exceeding 8 days.
The visa-free regime for the Vladivostok free port area will be rolled out on January 1, 2016, Russian Presidential Envoy to the Far East Yury Trutnev told TASS.
Foreigners will be allowed to enter the free port zone, which also includes 14 municipalities in the Primorye Territory for 8 days, Trutnev said. Visitors who enter Russia from Vladivostok will not be allowed to leave the territorial limits of the zone.
The federal law that granted the Russian Far Eastern city free port status came into effect on October 12.
All rights reserved by Rossiyskaya Gazeta.