Siberian Economic Forum 2016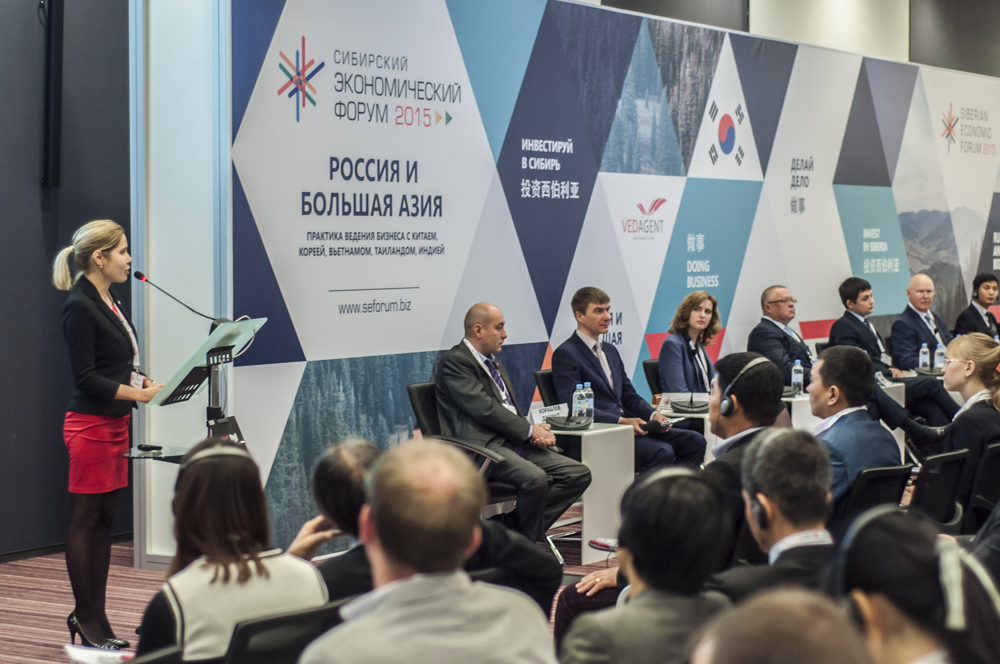 Asian vector nowadays is considered by many entrepreneurs as one of the most promising: officials claim it, the success of "brothers in trade" who managed to establish business with Asian partners gives evidence in support of it. And the geography of the Siberian region itself periodically suggests to tap Asian markets, and economic theory confirms that growing markets afford more opportunities.
All of this provide insight into a false and ease accessibility, but as is well-known, the East is a delicate matter, so rushing for easy profit, great amount of companies retrace back with nothing. What is it? Deceit? Honeytrap? No, it's most likely a lack of knowledge, lack of education. It's obligatory to study a new market, to monitor a familiar market, to transform an old one. To this end, Siberian-Asian international business platform is being created in Novosibirsk - "Siberian economic forum "Russia and Great Asia".
The main outstanding feature of the SEF forum, coincidently the main task of the organizers - high level of practical relevance. Up to 80 percent of formats within the Forum work for this target: contacts' exchange, roundtable discussions, exhibitions of the SME sector's enterprises, business cases on the experience of cooperation between Russian and Asian companies, etc. – on everything that is important when working with Asian partners.
For the current period of preparation for the forum a number of agreements on the participation and support of the Forum with the following organizations have been reached: Ministry of Economic Development of the Novosibirsk region, Centre of Coordination for support of export-oriented small and medium enterprises of the Novosibirsk Region, Russian Chamber of Commerce and Industry in China (Shanghai), "Union of transport workers, shipping agents and logisticians of Siberia", NSUEM, Russian agency for support of small and medium business, Association of Indians in Russia, Confucius Institute at NSTU, Association to promote the development of Chinese-Russian trade, Center for Eurasian Cooperation and Development (CECD), Novosibirsk banking club, Novosibirsk city Chamber of Commerce and Industry, "Business Russia".
SEF-2016 is called "Russia and Great Asia. Import, export, investments. Industry-specific solutions for small and medium businesses when dealing with China, India, Japan, Republic of Korea, Vietnam, Thailand, Mongolia". Forum will be held November 17-18 in the IEC "Novosibirsk Expocentre". It will be attended by entrepreneurs of the Siberian region interested in working with Asian companies, as well as delegations from China, Vietnam, India, Thailand, Japan, Indonesia, Republic of Korea, Mongolia. Even for now a number of strategic meetings of the Asian representatives with Russian companies is scheduled, there is an active registration on the contacts' exchange. Last year, during such "cold" negotiations several contracts for export of Siberian companies' production to Thailand and Vietnam have been concluded. SEF-2016 is the third annual forum, during carrying out it was attended by over 3,000 people - this is the major event for foreign trade operators of the Siberian region.
Forum Organizing Committee: +7 (383) 227-86-75
All rights reserved by Rossiyskaya Gazeta.