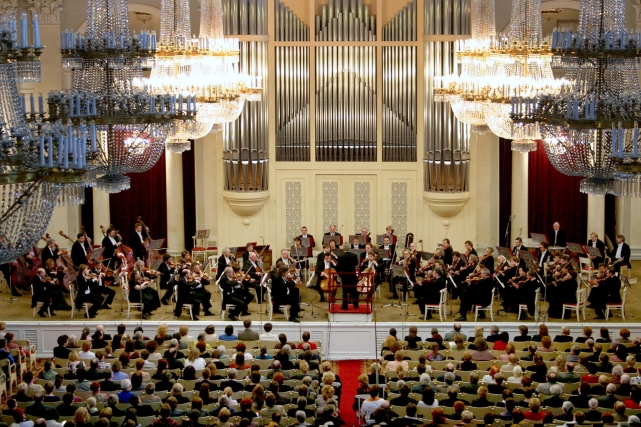 The St. Petersburg Philharmonic Orchestra. Source: Press photo
The St. Petersburg Philharmonic Orchestra, Russia's oldest symphonic ensemble, was founded in 1882. In that year, on the Order of Alexander III, the Court Musical Choir was established - the prototype of today's Honoured Collective of the Russian Federation. Thus, in 2007, the orchestra celebrated its 125th anniversary.
The Musicians' Choir was founded to perform in the royal presence - at receptions and official ceremonies and at the balls, plays and concerts at the Royal Court. The pinnacle of this type of activity was the participation of the choir in 1896 in the coronation ceremony of Nicholas II.
In 1917 the Orchestra became the State Orchestra and following the Decree of 1921 it was incorporated into the newly founded Petrograd Philharmonic, the first of its kind in the country.
In 1918, directed by the composer, the orchestra premiered the Classical symphony of Prokofiev. And in 1926 Shostakovich made his debut as a composer when Nikolay Malko conducted Shostakovich's First Symphony in the Great Hall of the Philharmonia.
In 1938 Evgeny Mravinsky, the First Prize winner of the National Conductors Competition, joined the orchestra and for the next 50 years he gradually transformed it into one of the best orchestras in the world. The orchestra rapidly became the model for the performance of Tchaikovsky and Shostakovich symphonies.
In 1988 Yuri Temrikanov was elected by its musicians to become the principal conductor of the most famous national orchestra, a position he holds to this day. In just the last few years the orchestra gave several world premieres and opened the 2005-2006 Season at Carnegie Hall.
Yuri Temirkanov - Tchaikovsky: Manfred Symphony. Source: You Tube
12-Feb-14 - North Bethesda, MD, Music Center at Strathmore
13-Feb-14 - New York, NY, Carnegie Hall
14-Feb-14 - Greenvale, NY, Tilles Center
15-Feb-14 - New York, NY, Carnegie Hall
16-Feb-14 - Newark, NJ, Prudential Hall
18-Feb-14 - Ft. Lauderdale, FL, Broward Center
19-Feb-14 - Sarasota, FL, Van Wezel Hall
21-Feb-14 - West Lafayette, IN, Elliott Hall of Music
22-Feb-14 - Ann Arbor, MI, Hill Auditorium
23-Feb-14 - Chicago, IL, Symphony Hall
24-Feb-14 - East Lansing, MI, Wharton Center
27-Feb-14 - Palm Desert, CA, McCallum Theatre
28-Feb-14 - San Diego, CA, Balboa Theatre
1-Mar-14 - Las Vegas, NV, Smith Center
2-Mar-14 - San Francisco, CA #1, Davies Hall
3-Mar-14 - San Francisco, CA #2, Davies Hall
4-Mar-14 - Davis, CA, Mondavi Center
8-Mar-14 - Mexico City, Mexico #1, Instituto Nacional de Bellas Artes
9-Mar-14 - Mexico City, Mexico #2, Instituto Nacional de Bellas Artes
For more information visit the website.
All rights reserved by Rossiyskaya Gazeta.