Le Coq d'Or at London Coliseum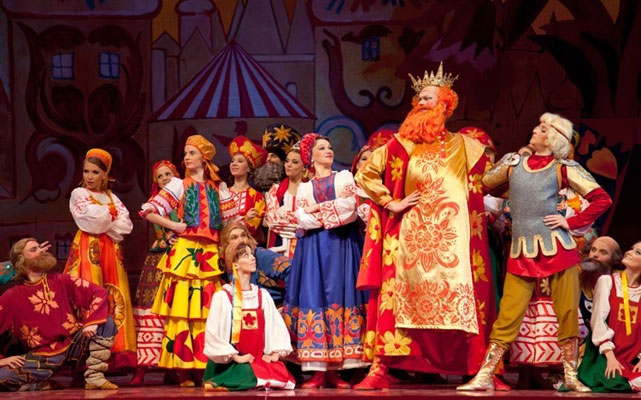 Andris Liepa's Le Coq d'Or. Source: Valeriya Komissarova
The UK premiere of Andris Liepa's Le Coq d'Or promises a spectacular of music and majestic choreographies.
What: Les Saisons Russes du XXIe Siècle. Le Coq d'Or
When: 8 - 10 July 2014
Where: London Coliseum, St. Martin's Lane, Charing Cross, London WC2N 4ES
Why you should go: This summer Russian ballet fans in London couldn't be any luckier, considering the ever-growing schedule of performances to pick from. Among them is the series Les Saisons Russes du XXIe Siècle, under the direction of former Bolshoi Ballet star Andris Liepa. The crown jewel in this year's programme of performances, staged at the London Coliseum, is without doubt the UK premiere of Nikolay Rimsky-Korsakov's Le Coq d'Or [The Golden Cockerel], based on a fairytale by Pushkin. An immersion of fantastical splendor accompanied with aesthetically choreographed movement, Les Saisons Russes is staged by the Moscow State Opera and Ballet named after Natalia Sats.
For more information visit the English National Opera website
All rights reserved by Rossiyskaya Gazeta.