The Andrei Stenin International Press Photo Contest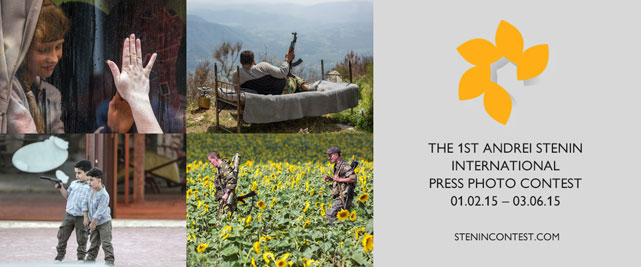 The Andrei Stenin International Press Photo Contest. Source: Press Photo

Over 300 works have so far been submitted to the Andrei Stenin International Press Photo Contest, which is being held by Rossiya Segodnya under the patronage of the Commission of the Russian Federation for UNESCO. The contest includes entrants from Moscow, St. Petersburg, Perm, Novosibirsk, Vladikavkaz, Makhachkala, Vladivostok, Veliky Novgorod, Magnitogorsk and Yekaterinburg. Young foreign photographers also submitted entries for the contest in the first weeks of the application process, including photographers from Moldova, Armenia, Portugal, Iran and Cyprus.
The contest is named after Rossiya Segodnya photojournalist Andrei Stenin, who died at age 33 while on assignment in eastern Ukraine in August 2014. The contest is designed to support young photographers in their pursuit of professional excellence and is open to those aged 18 to 34. Photographs can be submitted from February 2, 2015, to April 15, 2015. Leading representatives of the Russian and international photo community will sit on the jury, including the director of the Multimedia Art Museum in Moscow (MAMM) Olga Sviblova, multiple winner and member of the World Press Photo Contest Yury Kozyrev and heads of the Reuters and Associated Press photo departments Grigory Dukor and Denis Paquin. The award ceremony will take place in Moscow on June 3, 2015.
Olga Sviblova, jury member and Director of the Multimedia Art Museum in Moscow (MAMM) commented on the contest: "Andrei Stenin's creative career may have been brief, but he still managed to add his personal touch to the history of Russia, Moscow and the 21st century as we know it. He was twice awarded for his photo reports on Moscow at the Silver Camera photo contest: in 2010 for a series of photographs of Manezhnaya Square, and in 2013 for the "Parallel Worlds" series. There is an expression, "not a day without a line drawn" – Andrei Stenin was constantly taking pictures, no matter where he was, always on the lookout for new subjects and new forms of artistic expression. The Andrei Stenin International Press Photo Contest, established by Rossiya Segodnya International Information Agency, is much more than a mere contest. In celebrating new talent and supporting young masters by providing an opportunity to engage in new projects, the contest will enhance the importance of photojournalism around the world. It allows everyone to see their world through the lens of the young, and will capture today's world for future generations."
"The Royal Photographic Society aims to promote photography and supporting the Rossiya Segodnya Andrei Stenin International Press Photo Contest helps make available an opportunity for young photographers to raise awareness of important situations that affect all of us, throughout the world", - Dr. Michael Pritchard, Director General for The Royal Photographic Society said.
Photographs will be accepted in four main categories: Top News, Current Issues, Sports and Everyday Life. The jury will award three prizes in each category as well as a Grand Prize, with the recipient to be chosen by a majority of jury members from among the best works in all categories. Prizes for first, second, and third place in each category are 50,000, 35,000 and 25,000 rubles, respectively. The winner of the Grand Prize, exhibiting the most mature, vibrant and exciting work, will receive 500,000 rubles.
The Andrei Stenin International Press Photo Contest
The contest seeks to draw public attention to photojournalism and to support young photographers. It gives members of the global photo community the opportunity to reach a wider audience, support high standards in photojournalism, and establish documentary photography quality standards both in Russia and internationally. More information about the contest and the jury.
Media Partners of International Press Photo Contest are: the Royal Photographic Society, RT, RBTH, Tutto Digitale Magazine, the Academy of Photography, Vesti.ru online newspaper, Foto&Video magazine, Geophoto.ru agency jourdom.ru portal, Fototehnikaportal,the Moscow Union of Journalists, Russian Photoportal, photo-study.ru photography education web site, YOJO.ru web platform for young journalists and Foto.ru club.
All rights reserved by Rossiyskaya Gazeta.