'Cosmonauts: Birth of the Space Age' exhibition at the Science Museum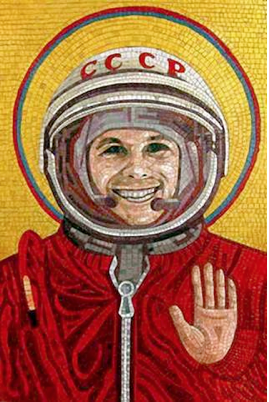 With God (2011), Anatoly Gankevich. Oil on canvas. Source: press photo
London ART RUSSE announces that it will support the highly anticipated Cosmonauts: Birth of the Space Age exhibition at the Science Museum, which will open in London on 18 September 2015. The exhibition will feature the most significant collection of Soviet spacecraft and artefacts ever to be shown in the UK, while also providing an insight into the cultural and spiritual context that started and shaped the Russian space age.
The exhibition tells the remarkable story of scientific and technological ingenuity that kick-started the space age with a record number of firsts for the Soviet Union, including the first human in space, Yuri Gagarin. Amongst the star objects on display at the exhibition will be real cosmonaut-flown spacecraft, including Vostok-6, the actual capsule that carried Valentina Tereshkova, the first woman to travel into space and safely back to Earth in 1963. Visitors will have the rare opportunity to see inside this historic spacecraft in its first ever UK appearance.
The remarkable achievements of the American Apollo Moon programme were widely broadcast at the time, Russia's own competing manned Moon programme was kept secret until 1989. Revealed for the first time in the UK, visitors of the exhibition will see the monumental five metre tall LK-3 lunar lander, the finest example of its kind in existence today. Designed to take a single cosmonaut to the Moon's surface, three Soviet lunar landers were tested successfully in space although none were sent to the Moon.
This period had an important impact on art and the excitement and optimism surrounding the start of the space age are also well captured in two paintings that are part of the Art Russe collection. Andrey Sokolov's The solar lace of Belorus (1983), provides an awe-inspiring view of the Earth, giving the artist's interpretation of what the USSR looked like from the stratosphere. With God (2011), by Anatoly Gankevich, reinterprets the early Soviet socialist realism artworks and depicts Yuri Gagarin, the first man in space, as a saintly figure.
Andrey Filatov, the founder of ART RUSSE, said: "Space exploration was a prominent part of many aspects of Soviet life and was a source of pride and inspiration for millions of Soviet citizens over several decades. Space exploration is a colossal milestone in the history of XXth century Russia. The Soviet Union has made a great scientific and practical contribution to the development of the space age. That's why for us it is a privilege to sponsor this exhibition, which will introduce Western audiences to a unique collection of artefacts, giving them a greater insight into this key facet of Russian history that was also reflected in Russian cultural heritage."
All rights reserved by Rossiyskaya Gazeta.