Moscow's Theater of Nations at Lincoln Center Festival in July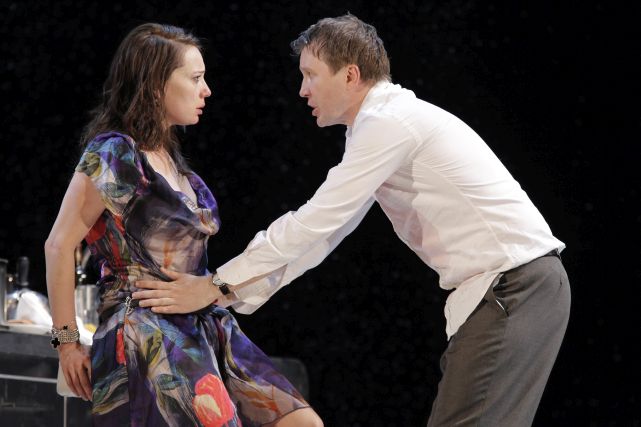 Chulpan Khamatova and Yevgeny Mironov in a scene from Miss Julie. Source: Kirill Iosipenko / Press photo
Celebrated actors Chulpan Khamatova and Evgeny Mironov perform in New York on July 27 – August 2 when Lincoln Center Festival presents Theatre of Nations' production of August Strindberg's poignant drama, Miss Julie.
Adapted by Russian playwright Mikhail Durnenkov this modern production is directed by Thomas Ostermeier, one of the leading forces in contemporary theater and artistic director of Berlin's Schaubühne am Lehniner Platz. Miss Julie will only have six performances at New York City Center.
About Theatre of Nations and Miss Julie
This production premiered in Moscow in 2011. The play was adapted by Mikhail Durnenkov, and hews to the original 1888 Swedish text, but uses contemporary language to characterize life in the new class structure of today's Russia.
Set during a night in and around the kitchen of a large mansion, Miss Julie tells the story of a count's daughter, who, bored with her life in the aristocracy, becomes the mistress of Jean, an educated servant in her father's household. What ensues is a struggle for power as the main characters, representing the seemingly outdated and fading class of "haves," and the rising class of "have nots" fight for dominance in a battle of words, lust, and psychological warfare. Jan Papplebaum's impressionistic stainless steel set revolves, and the open kitchen has a video screen above it allowing the audience to see every aspect of the struggle between Jean and Miss Julie.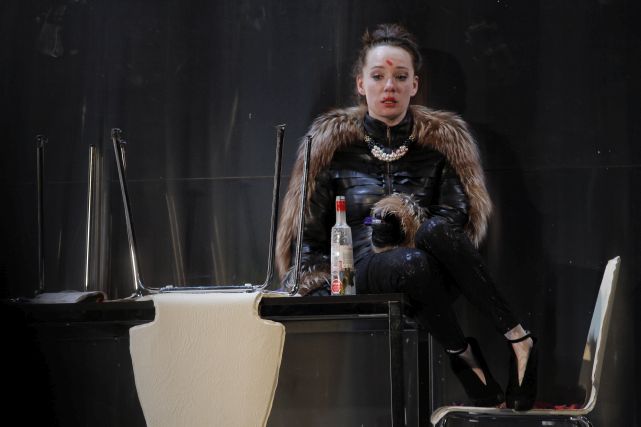 This production premiered in Moscow in 2011. Source: Kirill Iosipenko / Press photo
Film, TV, and theater star Chulpan Khamatova reprises her role as Miss Julie for the Festival. Miss Khamatova is the recipient of numerous awards including the 2012 Russian Federation National Artist Award for outstanding achievements in film and theatrical arts. Her co-star is two-time Russian Federation State Prize recipient Evgeny Mironov, who previously appeared at Lincoln Center Festival 2009 in the acclaimed Chekov International Theatre Festival production of Alexander Pushkin's Boris Godunov, directed by Declan Donnellan and designed by Nick Ormerod, co-founders and co-Artistic Directors of Cheek by Jowl.
Theatre of Nations, founded in 1987 under the name of the Theatre of Friendship, it was renamed in 1991 into the State Theatre of Nations. The Theatre of Nations develops and implements a variety of theatre programs, organizes and holds national and international festivals, presents the best Russian and foreign productions of all genres and trends, produces its own performances, and pursues the ultimate goal of becoming the center for bringing up a new generation of theater practitioners.
The Theatre of Nations dedicates a significant part of its artistic life to its own productions. It is currently working on Pushkin's fairy tales directed by Robert Wilson which premieres in June 2015, and Ivanov, directed by Luc Bondy which premiered in April 2015, and recently produced Hamlet/Collage, directed by Robert Lepage.
The Theatre of Nations has been constantly touring, in most cases, as a member of the major Russian and European theatre festivals. The Lincoln Center Festival 2015 presentation of Miss Julie is made possible in part by generous support from the Laura Pels International Foundation for Theater.
For tickets, visit: LincolnCenterFestival.org.
Tickets are also available via CenterCharge, 212.721.6500, and at the Festival box office located at Avery Fisher Hall, 65th Street and Broadway.
All rights reserved by Rossiyskaya Gazeta.