Faces of War: Russia in World War I (1914-1918)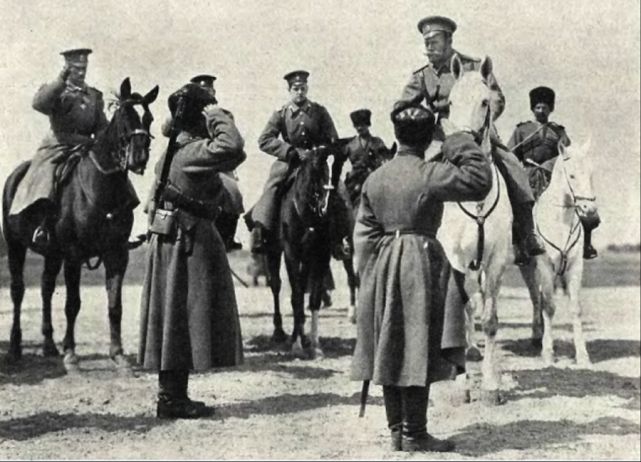 The Supreme Commander Nicholas II accepts his batmen. Left - General A.A. Brusilov, May 1916 (The "letopis voiny 1914-15-16" magazine. No. 97). Source: Press Photo
The multimedia exhibition Faces of War: Russia in World War I (1914-1918) will present a documentary narrative of Russia in WWI drawing on the rich collections of Russian archives and museums, as well as collections from seven countries.
Faces of War: Russia in World War I presents the story of WWI as a historical drama of epic proportions that brought incalculable destruction and suffering to millions of people. The exhibition highlights the fate of soldiers and officers who were killed and maimed in WWI and highlights the fate of Russia's military during World War I.
During WWI, for the first time in history, war was recorded on film and in photographs with remarkable detail. The exhibition's displays are rich with rare documentary footage and photographs chronicling the events. The use of multimedia formats in this exhibition allows visitors to immerse themselves in the atmosphere of the war era.
This major exhibition at The Museum of Russian Art is held in collaboration with The Ministry of Culture of the Russian Federation, The Federal Archival Agency of the Russian Federation, The Russian State Archives, The State Museum and Exhibition Center "ROSIZO" in association with The Russian Historical and Military History Societies. Partners include collections in Armenia, Russia, Ukraine, Belarus, Serbia, Germany, and the U.S. (Minnesota Military Museum, the Foundation of Russian History) as well as private collectors.
The exhibition opens at The Museum of Russian Art (TMORA) on September 26. TMORA is located in a state-of-the-art, historical building at 5500 Stevens Ave. S. (intersection of I-35W and Diamond Lake Road) in Minneapolis. Find more information about the exhibition and opening hours here.
All rights reserved by Rossiyskaya Gazeta.