Art exhibition of Tatiana Bruni & The performance of the Mariinsky Ballet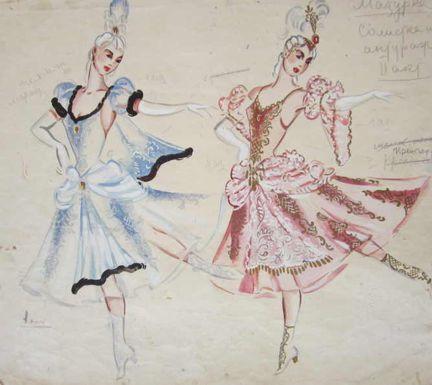 "Legend of the Classical Opera and Ballet Design"
Press photo
Tatiana Bruni - "Legend of the Classical Opera and Ballet Design" (1902-2001), renowned Russian painter, theater designer and graphic artist. She made many outstanding theater settings and costumes for the famous Mariinsky and Alexandrinsky Opera and Ballet houses in St. Petersburg. She was instrumental in developing the famous Constructivist Art Movement in early days of the Soviet Union. Tatiana Bruni was the stage designer of the Kirov Ballet for over 50 years. She also designed the costumes of the famous "Bolt Ballet" by Shostakovich. Her paintings is highly regarded in the art world. Bruni's beautiful paintings of the world of classical ballet and opera allow visitors to see the diamond reflection of the great heritage of the Kirov Ballet and Opera House's past with the beautiful performance and vision of The Mariinsky Ballet moving towards a brilliant future.
This is a once and a lifetime exhibition of her art work that has never been seen before. It is from the private collection of a famous Russian artist who was a friend of Tatiana Bruni. Her art will be available for sale. The Art Exhibition/Reception will feature the performance of Richard Trifan's new Romantic – Global Opera.
Bringing together the Diamond Reflection of the Mariinsky Ballet and Tatiana Bruni's Legacy, Her Exhibition is included in the Post-Reception of The Mariinsky Ballet's Raymonda Ballet, in the Russian Lounge, Participation only through Registration through the Eurasia Center. (Ballet seating inclusive).
Russia's legendary company returns with the last "grand ballet" of the 19th century. Set in medieval Hungary, the story follows a beautiful countess torn between her betrothed, a crusading knight, and the arrival of a handsome warrior.
The Entrance Price includes a Ticket to see the Mariinsky Ballet perform Raymonda in the Opera House at 1:00 pm and entrance to the Exhibition at 3:45 pm after the performance.
This Exhibition will only be on display during the post-performance reception in the Russian Lounge, located on the Box Tier level of the Opera House.
Only those purchasing tickets through the Eurasia Center can attend this special Post-performance Exhibition/Reception.
Come join us for a Post-Exhibition and Reception In the Famous Russian Lounge, also featuring Baltika Beer
Pre-register by January 15th to receive a discounted ticket at $150 per person or $275 per couple.
Regular ticket price after the pre-registration deadline is $200 per person or $375 per couple.
For questions:
Call Michael Cooper, Director, Eurasia Center at 202-494-0773
Email Director@eurasiacenter. org
Please see here for all information on driving directions, metro access, and parking.
All rights reserved by Rossiyskaya Gazeta.