What Remains: Asya Dodina and Slava Polishchuk at Narthex Gallery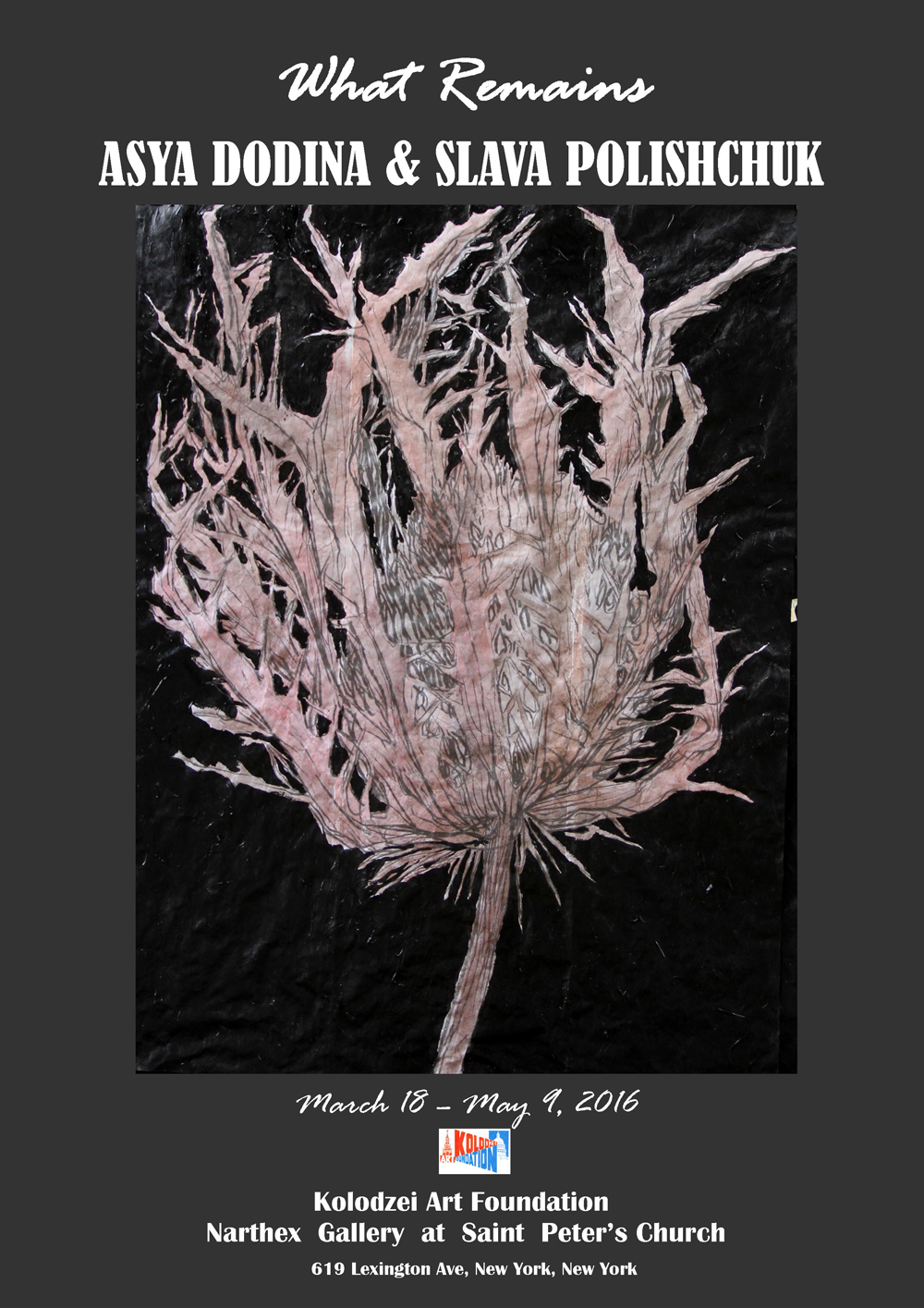 The series What Remains by Russian-American artists Asya Dodina and Slava Polishchuk appeal to the viewer on both analytical and emotional levels: their philosophical reflections on art drive their artistic process, alluding to the ephemeral nature of contemporary society and to the passage of time.
Press photo
Asya Dodina and Slava Polishchuk wrote: "Witnessing the destructive power of Hurricane Sandy and the unspeakable tragedies that it brought, we started our project What Remains. The project is addressed to the themes of loss and memory. Images of empty nests floating in nowhere; fragments of plants, drawn with graphite, juxtaposed to debris of the computers; cell phones, assembled on the canvas and then covered with splashes of paint. Images are symbols of lost lives and homes, but at the same time they are symbols of hope."
Personal and cultural memory acquire a spatial embodiment. The artists extract and elevate visual images from the past, dramatize and transform them in order to arrive at something more universal, something common to the entire human experience. Juxtaposition and collision of different styles, aesthetics, media, combinations of elaborate fine details, textures, and remnants of computers interweaved onto Japanese paper; the artists construct their artworks on the intensity of coexistence of opposite extremes, playing on the ambivalence of meaning, encouraging discussion of their work.
Asya Dodina and Slava Polishchuk have been working on the series What Remains for the last five years.
St. Peter's Church: 619 Lexington Ave. at 54th St. New York, NY 10022.
Gallery hours: daily 9:00 A.M. - 10:00 P.M.
For additional information visit www.KolodzeiArt.org or email Kolodzei@KolodzeiArt.org
About the artists:
Asya Dodina was born in Moscow, Russia. She received an M.F.A. from Brooklyn College, City University of New York (CUNY), and a B.F.A. from The State Moscow Art Institute named after V. Surikov. Her awards and honors include the Medal of the Russian Academy of the Arts, and Project Grants from the New York State Council of the Arts.
Slava Polishchuk was born in 1961 in Klintsy (Russia) and worked in Moscow. He received an M.F.A. from Brooklyn College, CUNY; a B.A from Brooklyn College, CUNY, and diploma from the 1905 Art School in Moscow. His awards and honors include Project Grants for Exhibitions, the NY State Council of the Arts, NY; The Charles G. Shaw Memorial Award for Excellence in Painting, Brooklyn College, CUNY, NY; The Joan Mitchell Foundation Nominee; Jewish Artists Awards Finalist, The Ben Uri Gallery, London.
Asya Dodina and Slava Polishchuk work in collaboration since 2003, they live and work in New York.
All rights reserved by Rossiyskaya Gazeta.