Russia an honored guest at the Thessaloniki International Book Fair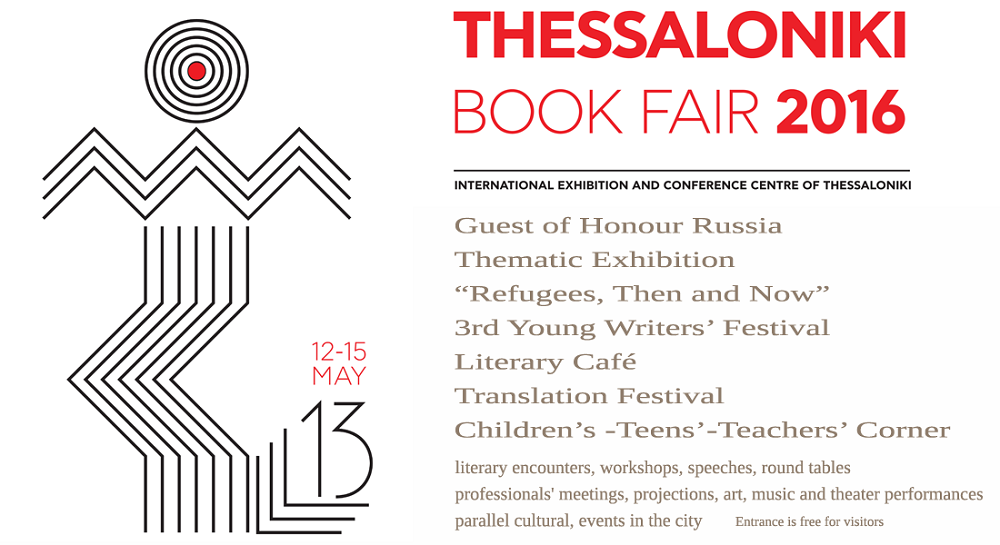 Greece to view Russia's best literature, opera, ballet and visual art.
Russia will participate in the 13th Thessaloniki International Book Fair (May 12-15, 2016), which promises to be a truly dynamic cultural event. The organizers have prepared a saturated program for their Greek visitors. Apart from meetings with contemporary writers and publishers presenting literary output, visitors to the Russian stand will have the opportunity to learn about the country's major art museums, watch recordings of opera and ballet performances produced by the country's leading musical theaters, check out a film festival and practice writing Russian letters at a graphics exhibition dedicated to the Russian alphabet hosted by artist Ivan Yazykov.
Among the writers in the Russian delegation will be:
young author Alisa Ganiyeva, winner of the Debut Award and a finalist for the Booker prize – the most important award in Russian literature;
Sergei Lukyanenko, a science fiction writer and the author of Night Watch;
Maxim Amelin, a poet and translator of ancient Greek poetry;
Olesia Nikolayeva, the winner of a major Russian poetry prize;
Maxim Osipov, the writer, doctor and activist
Representatives of the State Academic Bolshoi Theater, the State Academic Mariinsky Theater and the Stanislavsky and Nemirovich-Danchenko Musical Theater will discuss interpretations of Russian literature in musical culture, including their famous opera and ballet productions based on works by Pushkin, Lermontov, Dostoyevsky, Tolstoy, Chekhov and others.
Rossiyskaya Gazeta's T@KE TWO Film Festival will present screenings of films based on Russian classical literature. Thessaloniki will also host Greek premieres of three 2015 documentaries: Brodsky is No Poet (Anton Zhelnov, Nikolai Kartozia), winner of the most prestigious Russian television award in the "Best Documentary" category, Keep My Words Forever (Roma Liberov), a film dedicated to the life of Osip Mandelstam and Lyudmila Shtern: Life Rewarded Me (Vladimir Makarikhin), about the meetings between one of Russia's finest memoirists and translators with the writers Sergei Dovlatov and Joseph Brodsky.
The program includes a publishing exhibition and educational events dedicated to Russian language and literature. Additional highlights include events on education in Russia, tourism, the history of Russian-Greek relations, the culture of Russian emigres and joint poetry readings by Russian and Greek authors. There will also be lectures about the development of modern Russian museums and their collections presented by specialists from the State Hermitage Museum, the State Russian Museum and the Pushkin State Museum of Fine Arts in Moscow.
The stand will pay special attention to children's programming with videos on Russian writing and calligraphy and screenings of animated films based on classic Russian literature and folklore from the world-renowned Soyuzmultfilm company. This part of the programming is certain to keep the exhibition's younger visitors entertained.
Russia will be the Guest of Honor at the 13th Thessaloniki International Book Fair to commemorate the Russia-Greece cross-cultural year announced by presidents Vladimir Putin and Prokopis Pavlopoulos.
Rossiyskaya Gazeta and its international project Russia Beyond The Headlines are partners of Russia's participation in the fair and organizers of the cultural program.
For accreditation and a detailed program of events please contact:
Irina Dunkova, irina.dunkova@rbth.com, (in Russia) +7 495 775 3114 (ext. 6910), +7 (925) 153 53 09
Lina Yavdolyuk, l.yavdolyuk@rbth.com, (in Russia) +7 495 775 3114 (ext. 6905), +7 (916) 569 77 35
Elena Sartori, elena.sartori@rbth.com (in Greece) 697 868 68 98
All rights reserved by Rossiyskaya Gazeta.